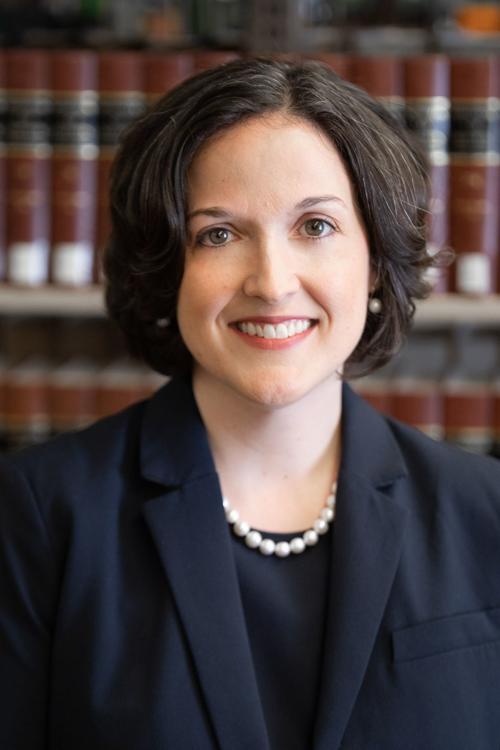 ST. LOUIS — A St. Louis anti-abortion and religious rights lawyer, Sarah E. Pitlyk, is the front runner to become President Donald Trump's pick for an open federal judgeship in St. Louis, sources with direct knowledge of the process told the Post-Dispatch.
Pitlyk, a Yale Law School graduate, is special counsel to the Chicago-based Thomas More Society, which describes itself as a "not-for-profit, national public interest law firm dedicated to restoring respect in law for life, family, and religious liberty." Her biography there says she worked to defeat an "abortion sanctuary city" ordinance in St. Louis, and on "several landmark pro-life and religious liberty cases" in addition to contract, employment, and tax cases.
"The Federalist Society has been keen on finding nominees that have a profile like hers," said University of Richmond law professor Carl Tobias, an expert on the judicial nomination process. Lawyers "who are fairly young, have strong credentials and who have a fairly fixed perspective on some of the issues that they would see in federal court and have actually litigated them."
Anti-abortion advocates applauded the choice on Monday. "From what I have read on her qualifications she would be an excellent candidate," Mary Maschmeier, founder and president of Defenders of the Unborn, said in an email. "Anyone who worked for (the) Thomas More Society has to be a good fit."
Pitlyk did not return messages seeking comment. Aspiring judges are typically quiet about the process, but the Post-Dispatch has learned that Pitlyk is among a short list of lawyers who went to Washington earlier this year for interviews. FBI agents have contacted those who may know Pitlyk as part of a background check, an essential step in the process that is not being done for the others on the list, sources told the newspaper.
Pitlyk, if nominated by President Trump and confirmed by the U.S. Senate, would replace U.S. District Judge Catherine Perry, who took senior status — a form of semi-retirement in which judges can take a reduced caseload — effective Dec. 31. The American Bar Association says there are 111 current vacant district judge positions.
But Pitlyk is unlikely to have an easy path to confirmation. Election years often lead to divisive nominations. And while senators have historically been deferential to presidential picks, St. Louis University law professor Greg Willard said the deference and courtesy that once existed has "gone forever."
Representatives of U.S. Sen. Josh Hawley and U.S. Sen. Roy Blunt, both Republicans, did not return messages on Monday seeking comment.
Pitlyk formerly worked at the Runnymede Law Group, formed by the last Trump pick for federal judge, Stephen R. Clark, and for Clark and Sauer LLC, a predecessor firm.
Clark is the past president of the St. Louis chapter of the Federalist Society. Pitlyk is listed as a "contributor" to the society.
Clark was approved by the U.S. Senate in a party-line vote in May, more than a year after his nomination was announced. His appointment had been opposed by a handful of civil rights and gay rights groups concerned about his position on abortion and LGBTQ rights. 
Federal court records show Pitlyk as a listed attorney in at least eight cases across the U.S. They include a 2017 case in St. Louis that challenged an ordinance that barred discrimination against someone who had an abortion. That case settled in January.
In an unrelated California case, Pitlyk argued in 2018 to a federal appeals court that a federal judge should be disqualified from overseeing the case. Pitlyk and colleagues cited a Facebook profile of the judge's wife as well as the judge's prior position on the board of a health clinic that donated space to Planned Parenthood, Courthouse News reported.
Pitlyk graduated summa cum laude from Boston College before receiving master's degrees in philosophy from Georgetown University and in applied biomedical ethics from the Katholieke Universiteit Leuven in Belgium, where she was a Fulbright Scholar, her bio says.
After graduating from Yale in 2008, she practiced food and drug regulatory law at the Covington & Burling firm in Washington and clerked for Brett M. Kavanaugh, who was an appeals court judge at the time and now sits on the U.S. Supreme Court.
In July, 2012, Pitlyk placed her Missouri bar license on inactive status, as she "was not planning on practicing law for the foreseeable future," according to a February 2013 filing when she sought to re-activate the license. She asked the Missouri Supreme Court to expedite the process, citing her unnamed prospective employer's need to have her on active status as soon as possible.
Pitlyk praised and defended Kavanaugh before his confirmation both in a National Review article and on CNN, saying he'd been her mentor for more than a decade.
Pitlyk and her husband live in the St. Louis area with their four children, her bio says.