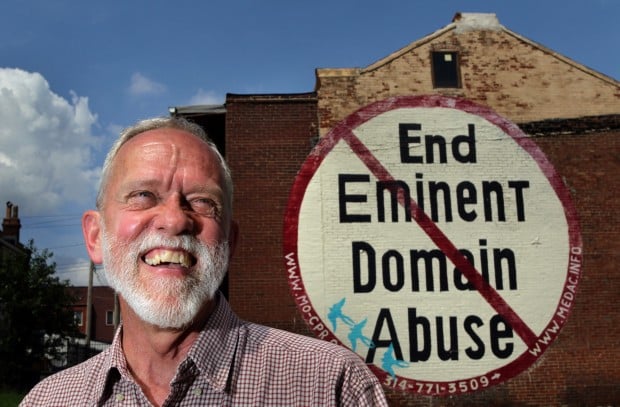 ST. LOUIS • The survival of a two-story mural against eminent domain was assured Tuesday when the U.S. Supreme Court declined to review a lower court's ruling that struck down part of St. Louis' sign ordinance.
A lawyer for Jim Roos, who put up the mural after losing 24 buildings to eminent domain, called it a "clear victory" and said that he was "very happy" that the ruling would stand.
"By declining review, the Supreme Court let stand a very strong 8th Circuit opinion that provides strong free speech protection, not only for Jim Roos but all citizens in the 8th Circuit," said Michael Bindas, a senior attorney with the Institute for Justice.
The case will now go back to U.S. District Judge Henry Autrey, to determine if the rest of the city's sign regulations will survive or must be entirely rewritten, Bindas said.
In a prepared statement, City Counselor Patti Hageman said the city was disappointed and pointed out that appeals courts are split on an area of this law that "continues to evolve." She noted, "In the meantime, the city will continue to look at its own ordinances and amend them as necessary."
Roos' commissioned the 360-square-foot mural in 2007 on the side of an apartment building at 1806 South 13th Street, near Soulard. It proclaims "End Eminent Domain Abuse" inside a red circle with a slash, and is visible from Interstates 44 and 55.
The city ordered Roos to remove it, saying it violated city sign regulations, and Roos and two groups he founded sued.
In 2010, Autrey ruled that the ordinance was content-neutral and therefore constitutional.
But in July, a three-judge panel of the 8th U.S. Circuit Court of Appeals disagreed. That court said that a sign the same size as Roos' would not be regulated if it were a religious, fraternal or civil symbol. The city code used the content of a sign to determine if it was, in fact, a 'sign," the ruling said.
Earlier this year, Bindas said, the institute and Roos appealed in hopes that the Supreme Court would "make clear, once an for all, that municipalities cannot regulate signs based on subject matter."
Appeals courts have split on the issue, he said.
"We had hoped that the Supreme Court would use this case to provide that uniform guidance on sign codes ... to ensure that citizens across the country are free to speak."