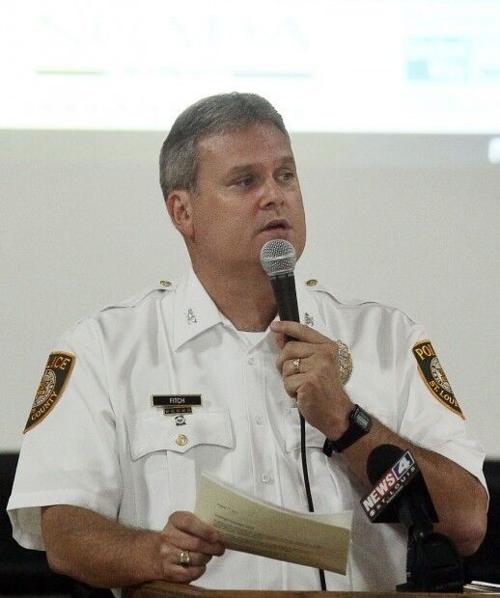 CLAYTON • The St. Louis County police have arranged to meet privately this week with education leaders to discuss safety measures — including the possibility of arming some school staff members.
Police Chief Tim Fitch said the county already employs 33 school resource officers — police assigned to schools — who work in 12 districts and are mostly based in high schools. But concern is now focused on elementary schools, after Friday's shooting spree that killed 20 students and six staff members in Newtown, Conn.
Not every district can afford more officers to patrol elementary schools, and the county force can't pull enough officers off their beats to do it immediately, Fitch said. So, he said, training and arming selected school workers is an option that must be considered.
"We can talk on the back end of the need for funding of mental illness programs and gun control, but as a law enforcement officer, I'm focused on that five-minute window that it takes for the cops to get there while people are getting killed," Fitch said. "There is somebody out there right now trying to figure out how to do something worse than this guy did, and there is only one way to end a threat, and that's with lethal force."
Such a proposal would require a change to Missouri law, which forbids anyone but law enforcement from carrying a weapon into a school, noted Roland Corvington, a member of the county's police board.
"We made the law, we can change it," Fitch responded during the board's monthly meeting Monday.
The idea provoked discussion among politicians, school districts and police agencies — many of which also beefed up patrols in and around schools Monday and planned their own meetings with school officials.
Capt. Sam Dotson, who becomes St. Louis police chief Jan. 1, said his department is reaching out to public, parochial and charter schools. He noted that the city's situation is different from the county's because many of the St. Louis public schools have armed guards already. "More guns aren't the answer to this, guns in the hands of the right people are the answer."
Said Collinsville Police Chief Eric Van Hook: "You can't take anything off the table right now. But you really have to take 360-degree view and approach to make sure you're not making too quick of a decision just based on a tragedy. Police go through a lot of training to handle the mental aspects of a shooting, and you would hate to put someone who's not technically proficient in that position.
"If one person got hurt as a result of that person being armed, does that outweigh the whole program?"
Some school officials said they will spend days reviewing security. They say they are open to recommendations but are guarded when it comes Fitch's.
"That certainly would be a pretty radical step for any school, not just for our schools," said Alan Winkelmann, an associate school superintendent for the Archdiocese of St. Louis.
Fred Crawford, chief of security for the Parkway School District, said he would favor more police in schools over gun training for school officers.
Explained Fitch, "I'm not saying we should hand out a gun at the door when you come to work, but in the absence of an armed police officer, we need to consider arming school officials with the proper training."
Fitch said Rockwood School District Assistant Superintendent Dennis Griffith asked Monday what it would cost to employ 19 additional resource officers, as well as stationing a police car outside each school. The county charges schools about $50,000 per officer per year, which covers salary and benefits for nine months. Adding a marked car would cost about $8,000 a year, Fitch said.
Griffith, through a spokeswoman, denied "initiating a request" to Fitch, noting that existing resource officers periodically patrol elementary schools, too.
Told that, Fitch reiterated the conversation with Griffith and added that the district might be afraid of public perception. "They don't want to look like, 'We have trouble in our schools,' " Fitch said. "But schools have to come to grips with this."
In Kirkwood, school officials asked police to walk through their schools for a security review. They will consider adding police officers to elementary schools in that review. Florissant police said they are meeting with public and private school officials today and Wednesday.
For bigger districts, which may have more than a dozen elementary schools, the financial challenge is greater.
St. Louis Public Schools officials tabled the idea of adding officers to elementary schools at a recent security meeting, pending further discussion, spokesman Patrick Wallace said. For now, roving security officers visit daily.
The county's meeting is planned for Thursday morning at Parkway Central. Members of the Safe Schools Partnership — including police, school officials, prosecutors and others — are invited. The group was formed during the anxiety that followed the Columbine High School shootings in Colorado.
There was some post-shooting anxiety Monday as well. In Granite City, for example, some parents rushed to the high school to pick up students after a brief lockdown. Granite City Police Chief Richard Miller said a student had said something to a friend last week about having a gun, and when the student didn't show up to school on Monday, the friend informed administrators. Police later learned the student was out with the flu.
Fitch said county police could offer "active-shooter scenario" training to school officials — whether they be teachers or other designates proficient in firearms — as well as verify their concealed carry permits. Part of that training would include what to expect from police when they arrive.
"We don't want our officers to see some guy in jeans with a firearm when we get to one of these scenes and not know who he is," Fitch said.
In the St. Louis area on another matter, U.S. Sen. Dick Durbin, D-Ill., also reacted to Fitch's remarks.
"I am not a supporter of the concept that if everyone is packing a gun, we'll be a safer place," Durbin said. "Too many times, those guns end up being the sources of accidents and even turned on the owners. And I cannot imagine teachers, charged with our children's safety, carrying firearms in the classroom."
Joel Currier of the Post-Dispatch contributed to this report.