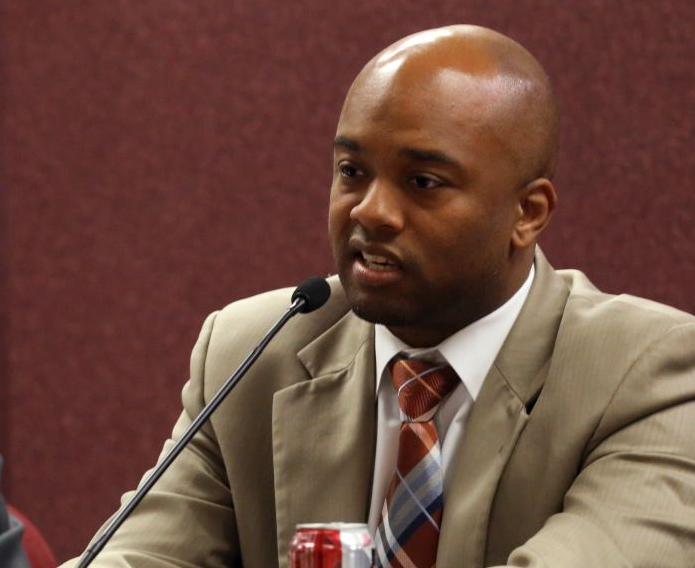 ST. LOUIS — Former state Rep. Courtney Curtis was sentenced Wednesday to 21 months in prison for misusing campaign funds for personal expenses and also was ordered to repay $47,867.
Curtis, 39, pleaded guilty in U.S. District Court in St. Louis in November to three counts of wire fraud and admitted defrauding campaign donors by using approximately $47,000 for personal expenses in 2016 and 2017. He then filed false campaign finance reports to cover up his crimes.
Federal sentencing guidelines recommended 15 to 21 months in prison, and Assistant U.S. Attorney Hal Goldsmith asked for a sentence in that range.
Curtis' lawyer, John Stobbs, asked for six months of house arrest and probation, saying Curtis was well-respected in the community and worked hard in the Legislature, but was not adept at managing campaign money.
Curtis was ill-prepared for the pace and stress of the job, Stobbs wrote in a sentencing memo, and became a binge drinker. He also didn't follow "the intricate campaign financing rules."
Curtis told U.S. District Judge Stephen R. Clark that he accepted responsibility for his actions. He said he would "work each and every day" to correct the wrongs and serve the community.
Goldsmith said Curtis owed it to his constituents and taxpayers "to follow the rules and follow the laws," and pointed out that he misused half the campaign contributions that he received in 2016 and 2017.
Curtis took 14 trips over 18 months, often with companions, Goldsmith said, paid his rent and utilities, bought meals and took out numerous cash withdrawals.
Goldsmith said Curtis lied to FBI agents who interviewed him on Aug. 13, 2020, claiming the personal purchases "might have been an accident," and that a "bank mistake" caused donations to be deposited into his personal account. He also claimed that personal travel was for legitimate "conferences and such," Goldsmith said in a sentencing memo.
Clark, before sentencing Curtis, tallied up the 822 financial transactions representing misuse of campaign funds, including cash withdrawals in or near casinos. He said he was troubled by Curtis' "financial dealings," referencing two companies from which Curtis received money under unclear circumstances.
Curtis, a Democrat, was elected in 2012 to represent Missouri's 73rd District, which includes 10 municipalities in north St. Louis County.
In 2017, he was fined $114,050 by the Missouri Ethics Commission for campaign law violations that included accepting cash donations in excess of state limits and depositing contributions into a personal bank account. The commission at the time indicated he may have used campaign money for personal use.
He resigned in December 2018 after his party blocked him from running for the state Senate for failing to pay the fine.