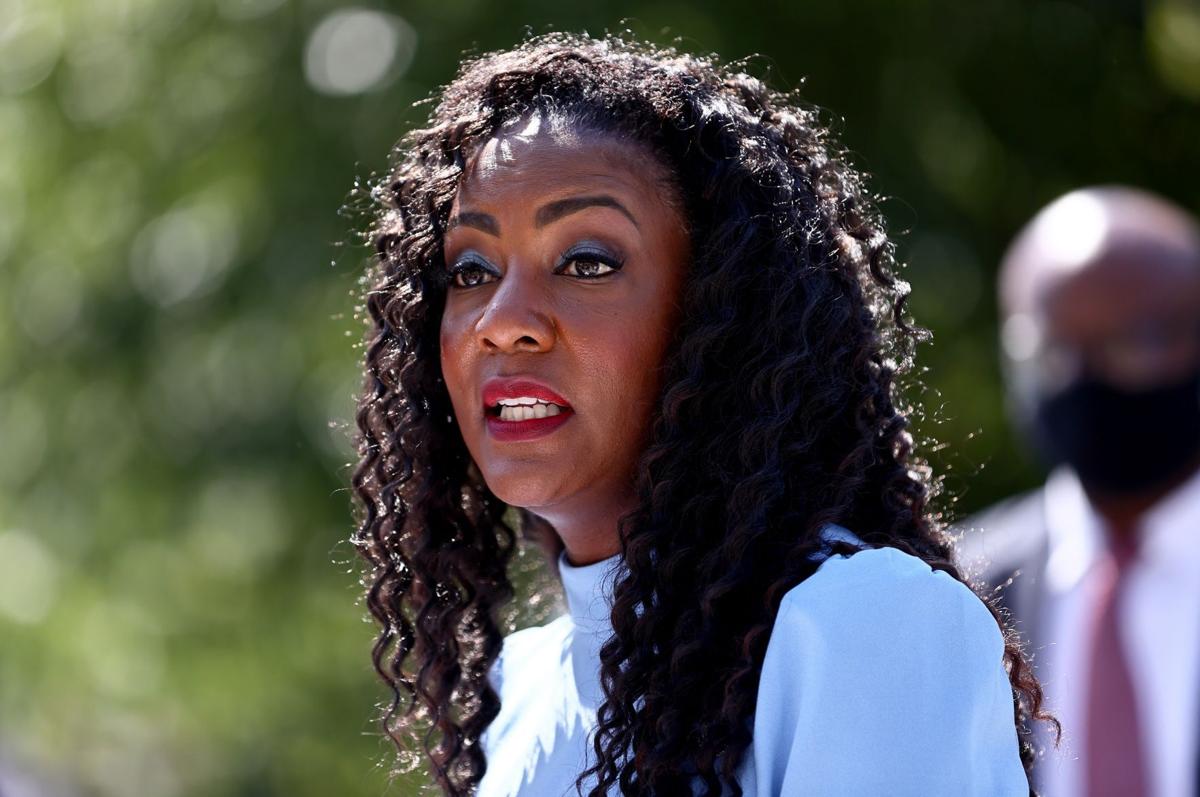 ST. LOUIS — A coalition of social justice and political groups on Tuesday attacked Mayor Tishaura O. Jones' plan to increase police presence downtown, complaining that it veers from her commitment "to reject the status quo" in city policing.
Two of the better-known groups signing on to the joint statement, Action St. Louis and ArchCity Defenders, are headed by members of Jones' own transition team that she appointed after she was elected in April: Kayla Reed and Blake Strode. And a former ArchCity fellow, Nahuel Fefer, is a top Jones aide.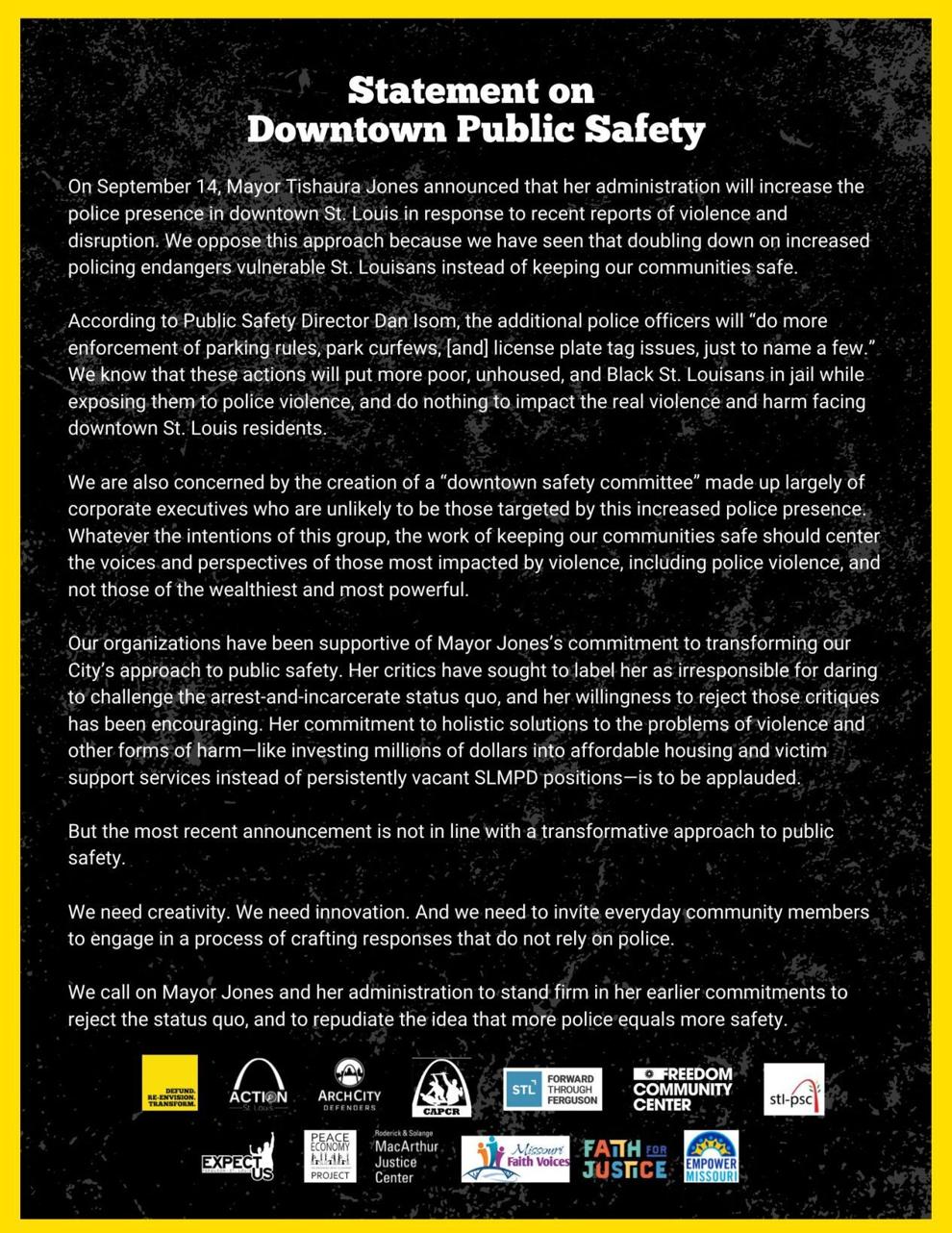 The criticism from groups tied to Jones' progressive base of support follows her move last week to boost patrols downtown amid pressure from business interests concerned that high-profile incidents were marring the image of the region's front door.
Those include a shooting after a disturbance in a public plaza that left bullet holes in a Market Street office building and a homeless encampment that popped up next to the offices of a major new corporate tenant — a camp where a man was murdered last month.
Among other things, the groups took aim at interim Public Safety Director Dan Isom's comments that officers will attempt to better enforce park curfews, expired vehicle license tags and parking and traffic violations in addition to responding to trouble.
"We know that these actions will put more poor, unhoused and Black St. Louisans in jail while exposing them to police violence, and do nothing to impact the real violence and harm facing downtown St. Louis residents," the coalition said in a statement.
Business leaders joined Jones to announce the plan last week, which called for reassigning about 30 police officers on weekends to downtown patrols for the next month. The business community applauded the move and said it was necessary to discourage a perception of lawlessness downtown.
However, Jones emphasized she also would push for events and other gatherings meant to boost the amount of activity and pedestrians downtown.
The coalition issuing the statement Tuesday, though, said it was concerned about the number of business executives on a downtown safety committee announced by Jones last week. That committee has started holding regular briefings about downtown public safety and other initiatives.
Whatever the intentions of the committee, the progressive groups said, "the work of keeping our communities safe should center the voices and perspectives of those most impacted by violence, including police violence, and not those of the wealthiest and most powerful."
In response, Jones spokesman Nick Dunne said in a statement Tuesday evening that "our commitment to alternatives to policing has not wavered in the effort to protect the people of St. Louis."
"Mayor Jones has stated repeatedly that police are not the only solution to public safety," Dunne said. "Transforming public safety requires a shared commitment from all stakeholders, and Mayor Jones has allocated $11.5 million in American Rescue Plan Act funds to kickstart youth programs, community violence intervention initiatives, and much more."
The coalition said it had been supportive of the mayor's commitment to transforming the city's approach to public safety and commended her efforts to "challenge the arrest-and-incarcerate status quo."
It also applauded her push to delete money from the city budget allocated for vacant police positions and to channel it to victim support services and other efforts.
But the coalition said her downtown anti-crime initiative "is not in line with a transformative approach to public safety" and called on the mayor "to repudiate the idea that more police equals more safety."
'Rock and a hard place'
It's not the first time the realities of governing have gotten in the way of Jones' campaign promises to activist groups.
Following unrest in the city's downtown jail, Jones was forced to reverse one of her major campaign promises at the end of July and move some inmates back to the Medium Security Institution on Hall Street, also known as the workhouse.
The "Close The Workhouse" campaign has been among the most active progressive groups in the city, and it has since started a petition "demanding that the Jones administration provide a clear commitment and timeline for the permanent closure of the Workhouse!"
"We are not going to sit back and wait to see if it happens," the group tweeted this month. "We demand a timeline. The longer the workhouse stays open, more people will suffer."
ICYMI the Workhouse is not actually closed. We are not going to sit back and wait to see if it happens. We demand a timeline. The longer the workhouse stays open, more people will suffer. Sign and share this petition to #closetheworkhouse: https://t.co/c6Ws1wv8k9

— CloseTheWorkhouse (@CLOSEWorkhouse) September 2, 2021
Ken Warren, a political science professor at St. Louis University, said "she's caught between a rock and a hard place."
He said Jones won't be able to both adhere to the ideological purity of the progressive activists that supported her — some like Action St. Louis that call for defunding the police — while dealing with pressure from businesses to address crime downtown.
It's similar to criticism President Joe Biden gets from the left flank of the Democratic Party over some of his administration's moves, Warren said.
Every mayor faces pushback from his or her base of support at some point as they juggle demands from a range of interest groups, he said.
"How can you avoid it?" he said. "They can't please everyone."
Besides Action St. Louis and ArchCity, groups issuing Tuesday's statement were the Coalition Against Police Crimes and Repression, Empower Missouri, Expect Us, Faith for Justice, the Freedom Community Center, Missouri Faith Voices, the Peace Economy Project, the Roderick and Solange MacArthur Justice Center, the St. Louis Palestine Solidarity Committee and a group called Defund. Re-Envision. Transform.
Originally posted at 6:53 p.m. Tuesday; updated at 8 p.m.