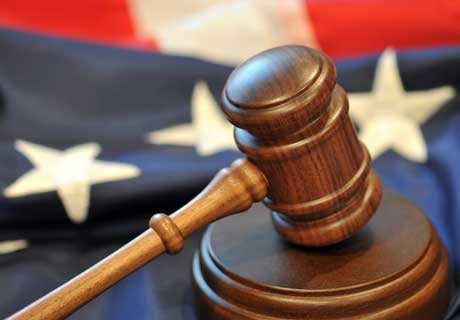 EAST ST. LOUIS • The Aaron's Inc. chain of more than 1,800 stores made a profit of $118 million last year, and a jury here says it owes the vast majority to a former employee of the Fairview Heights branch in a sexual harassment case against her boss.
The woman, whose life struggles became part of the case, is entitled to $95 million in compensation, U.S. District Court jurors decided Wednesday. But a cap on damages in federal sexual harassment cases will reduce that to about $41.6 million.
Attorneys for the plaintiff, Ashley Alford, of Fairview Heights, said the award of $15 million in compensatory damages and $80 million in punitive damages could be a record. "From what we can tell, this is the absolute largest sex harassment verdict in the country for an individual plaintiff," said lawyer David S. Ratner.
The rent-to-own company, which formerly operated as Aaron Rents, vowed Thursday to appeal, calling the verdict the work of a "classic runaway jury."
Alford, in her mid-20s, had a turbulent early life and struggled for years to make ends meet, she told a forensic psychologist as part of the suit.
She said she was elated when hired at the company on Halloween in 2005. The job was within walking distance of the first home she was able to call her own. She said she loved her work as customer service representative, liked her co-workers and was optimistic about advancement.
But in her lawsuit and in court documents, Alford claimed that a sexual assault by her supervisor came after almost a year of escalating harassment in a workplace "rife with sexual jokes and lewd propositions."
The store's then-general manager, Richard Moore, began by making inappropriate comments, nicknamed her "Trixie" and "Trix," and pinched her, the suit says. It claims that he gave her clothes and chocolates, progressed to groping, and that he sneaked up behind her as she was sitting on the floor of the stockroom and hit her on the head with his penis in the fall of 2006.
On Oct. 12, 2006, the suit alleges, Moore threw Alford to the ground, lifted her shirt and masturbated over her as he held her down. He was arrested later that day and awaits trial in St. Clair County Circuit Court on a charge related to the accusation. His attorney did not respond to a message left Thursday.
He never returned to work. Alford stayed for roughly six more months.
The suit says Alford called a company harassment hotline in May 2006, but an investigator never contacted her. At some point after the call, the suit claims, she was approached by Moore's supervisor, who confronted her in front of Moore about his alleged harassment and warned Moore to "watch his back" because of the complaint.
The suit also says Alford was denied a promotion for complaining about the alleged assault.
Company lawyers said that Alford called the hotline but hung up after saying no more than her name and that she needed help. She also never complained to a supervisor about the other incidents, they said, and was not qualified for a promotion.
In their verdicts, jurors this week found that Moore had assaulted and battered Alford, and found Aaron's liable for "negligent supervision," 'sexual harassment" and "intentional infliction of emotional distress." They did not find the company liable for retaliation.
"Aaron's is extremely disappointed with the jury's verdict and believes that the award does not accurately reflect the evidence that was presented in this case," said Chad Strickland, its vice president of associate resources in a prepared statement.
Ratner said Alford was now married, had one child and was working for another company and attending community college.
Her attorneys bristled at the "runaway jury" comment.
"This company has always denied responsibility and continues to deny its responsibility to its workers," said lawyer Judy Cates, who originally filed Alford's suit. She said she thought the jury "wanted to send a message to Aaron's to change the culture and environment for their employees."
The U.S. Equal Employment Opportunity Commission originally filed the suit in 2008; Alford later joined and sued Moore and his supervisor.
The EEOC and Aaron's entered a consent decree in December 2009 in which the company agreed not to discriminate against employees or subject them to sexual harassment or retaliate against them for reporting harassment. It also provided St. Louis area managers three hours of sexual harassment training, among other requirements.
Although the jury awarded $54 million on claims under federal law, caps will hold it to $600,000, Ratner said. The law also allows for attorneys' fees and costs, he said. The remainder of the award came in allegations under Illinois law, which has no caps.
As part of the case, jurors were told that the company's net worth is $980 million and net profit in 2010 was $118 million. The company, based in Atlanta, has 1,146 corporate-owned stores and 664 franchise stores in 48 states, and more than 10,000 employees.