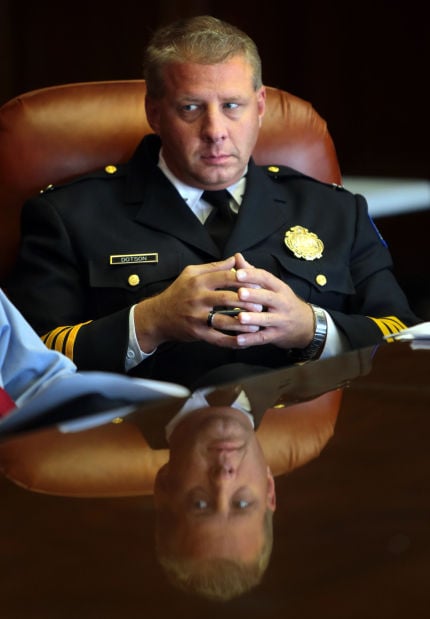 The militarized police response to protests in Ferguson has driven a rare wedge between two forces that often work closely together – the two largest police departments in the area: the St. Louis Metropolitan Police Department and the St. Louis County Police.
St. Louis Police Chief Sam Dotson said in an interview this afternoon that he does not support the county police tactics in Ferguson, and has not sent officers to help them, aside from four officers to direct traffic.
He said he made the decision earlier this week, long before the confrontation between police and protesters on Wednesday night that saw the St. Louis County respond to protests with armored vehicles, tear gas and officers toting cannons and assault rifles.
"One side, the chiefly side of me, wants to always be there to support law enforcement in the city or in the county," Dotson said. "My personal side was concerned about the things I saw transpiring in Ferguson."
"My gut told me what I was seeing were not tactics that I would use in the city and I would never put officers in situations that I would not do myself," he said.
He emphasized that he was not criticizing his counterpart in the county police, Chief Jon Belmar, but said he did not agree with Belmar's tactics.
"This is going to drive a further wedge, without question," he said. "I have two responsibilities: to protect our community and to keep it safe and to protect my officers. After two nights of not making any progress in Ferguson I was concerned about both of them."
Terry Kennedy, alderman of the city's 18th Ward, emailed Dotson on Wednesday night to discourage him from sending city police officers into Ferguson. A copy of the email exchange was posted on Twitter.
Kennedy wrote: "The possibility of having St. Louis Police Department personnel present with the Ferguson Police in what appears to be a racially-charged and possibly discriminating environment could make it appear that the St. Louis Police Department supports racial discrimination and disenfranchisement."
Dotson's response: "I agree and removed our tactical assistance. We did not send tactical resources to Ferguson on Tuesday or Wednesday. Our only assistance was that of four traffic officers to help divert traffic and keep both pedestrians and motorists safe. On Thursday we will have no officers assisting Ferguson."