ST. LOUIS • Facing a five-hour drive back to Iowa with two young boys, Mike Jacobs and his pregnant wife hatched a quick plan at the end of their family vacation.
"Burn some energy off before we go home," said Jacobs, 34, an IT manager from Des Moines.
They decided to do that on a recent afternoon at City Museum, which drew a record 843,000 visitors last year. The only thing in the way was choosing a place to park.
There are hundreds of spaces on the street and in private lots. Anything from $1.50 a day to $15 for garage access, complete with attendants, more than 30 surveillance cameras and a two-story sign featuring security guards on the side of the building.
Jacobs followed the herd to an unlit lot at 14th Street and Delmar Boulevard that has a $3 honor box. The tall black fence was peeled back in a few places, and there were warning signs to store valuables out of sight.
"We just figure there are a lot of cars, probably be OK," Jacobs said.
Turns out it was the worst area in the city for car break-ins, according to a Post-Dispatch analysis of police data.
While gun violence grabs most crime headlines, St. Louis is so dogged by petty theft that it's become part of the culture, along with baseball and grain barges.
After dropping in 2016, car break-ins have risen 28 percent so far this year, the largest increase of any of the more common crimes. Break-ins haven't been this high through the first five months of any year since 2010.
The break-ins are disproportionately occurring downtown, where total incidents shot up 45 percent and 53 percent in Downtown West. An area stretching from 14th Street west to 17th Street and from Martin Luther King Drive south to Washington Avenue had 390 car break-ins reported since the beginning of 2015.
Within that area, 78 of those incidents were recorded at 14th and Delmar, more than any other intersection in the city.
Annual car break-ins by block* in St. Louis, Jan. 2015-May 2017


*Adjusted for block size
Map by Walker Moskop
City Museum is the closest landmark. Police say tourists are often targeted because they haul a lot of stuff and aren't around for prosecution. Travel season is like harvest time for criminals.
The 24 break-ins this year at the intersection of 14th and Delmar is one shy of the total for all of 2016.
Told of the statistics, the Jacobs family got back in the car and drove off the $3 lot.
The unsecured area is risky, said Tim Maier, an attendant trying to flag traffic into a more expensive lot across the street that has new fencing, gates and an $8,000 real-time camera plugged into the police network.
"Every once in a while, I hear the glass shatter," Maier said of the nearby lot. "It's somebody trying to get a quick buck."
One case
Of the 78 reported break-ins near 14th and Delmar since 2015, just one case has been cleared by police.
Katie McGaha and her fiancé were the victims. She recalled having a great time at City Museum in May 2015, but when they came back to the parking lot, they saw telltale broken glass on the pavement by their car. A backpack stuffed with her purse, phone, $100 cash and a few other items was missing. She blamed herself for drawing attention.
"It's our fault for putting the backpack in the trunk," McGaha, 22, said by telephone from Louisville, Ky.
Not long after the incident, a detective from O'Fallon, Ill., contacted St. Louis police about a car break-in at a popular family sports park on the other side of the river. Video surveillance showed Montrae Hardy, of East St. Louis, using a stolen credit card from that vehicle, according to police records. He was arrested at a gas station.
Officials also found McGaha's stolen iPod in his vehicle. Montrae told police that he bought it from somebody at a QuikTrip in south St. Louis but couldn't remember which one. He said he hadn't been near 14th and Delmar in years. In fact, police noted, Hardy was arrested in 2010 for theft and tampering near 14th and Delmar.
That case involved a doctor from Champaign, Ill., whose car was broken into while he was visiting City Museum. A tow truck driver for St. Louis Auto and Truck Repair, which used to be in the area, saw it all unfold.
Apparently, it was a slow day towing vehicles. The driver was on the roof, scanning surrounding parking lots with binoculars, when a suspicious driver caught his eye. The man eventually parked near a new Toyota Camry and rifled through it, according to an incident report.
Police showed up just in time. The tow truck driver and a manager at the repair shop identified Hardy as the alleged thief. Hardy told police that he did it because he wasn't making enough money working part time at a temp service. He told police that a juvenile girl with him wasn't involved in the crime.
Police noted in the report that Hardy had a history of petty larceny.
Hardy, 47, could not be reached for comment. Last week, he was staying at the St. Clair County Jail in lieu of posting $75,000 bond for burglary and credit card fraud charges.
Hard to catch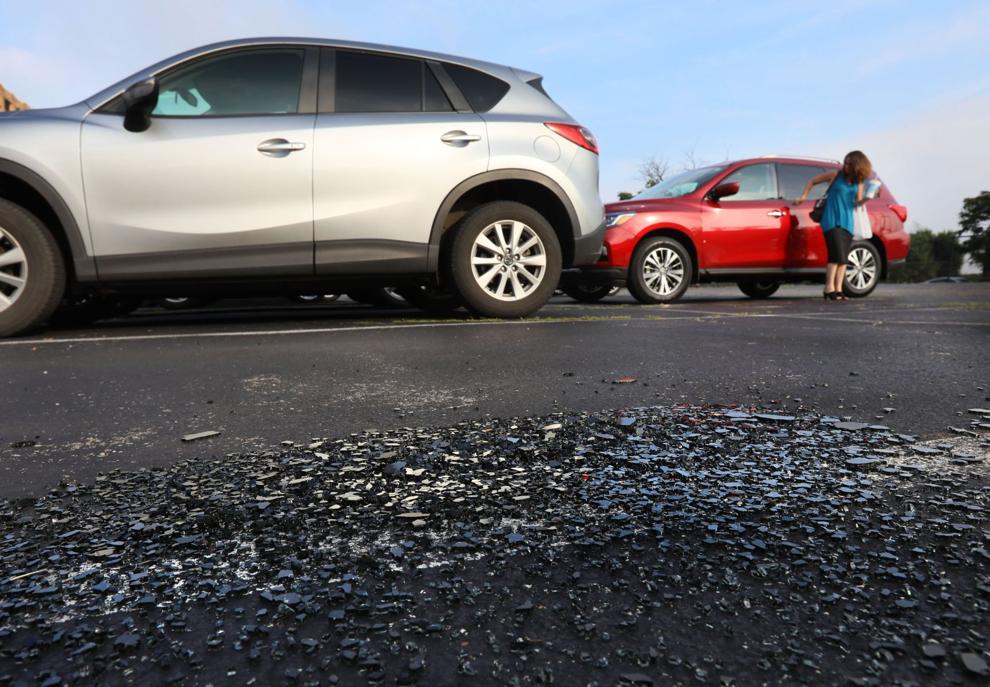 St. Louis police Capt. Renee Kriesmann, commander of the Fourth District, said there's a mix of chronic offenders and new faces breaking into cars. Some use rental cars to shuttle stolen goods and avoid easy detection.
"It's a fast crime," she said. "They are in and out. You almost have to catch somebody in the act in order to clear a case."
She said daytime hours are the worst and out-of-state plates are targeted because they often have a lot of items in the vehicle. The large number of people around City Museum partly explains why there is so much more petty theft in that area.
She said warm weather drew more people downtown last winter and spring and may have caused some of the recent spike.
"Obviously, this isn't exact science, but that's part of it," she said.
After 131 break-ins in 2015, the area stretching from 14th to 17th streets and from Martin Luther King to Washington Avenue saw 179 last year. The 80 so far this year through May is well above the 2016 pace.
Car break-ins have also recently heated up at Laclede's Landing since the Arch grounds reopened. Kriesmann said visitors shouldn't leave valuables in clear sight and suggested using lots with parking attendants. She specifically asked that firearms be left at home.
"I usually have several weapons stolen out of cars almost every week in the district," she said.
Though the numbers speak for themselves, Kriesmann said a few of the lots around City Museum have recently become more secure. One family said it bought a lot at 14th and Delmar for $2.4 million and invested an additional $400,000 in lighting, asphalt, fencing and video surveillance that plugs into the police system.
City Museum, known for its wild slides, architectural curiosities and rooftop Ferris wheel, is in the process of hooking up a similar camera for its private lot of about 90 parking spaces. Museum Director Rick Erwin III said police have open access to the 10th-floor balcony as a lookout spot.
For years, Erwin said, museum employees used to chase thieves until one of the workers was hit by a car.
"He rolled off the hood," Erwin said of the employee, who was hospitalized. Now they just try to get a good description.
He said the museum has posted more warning signs and improved lighting. He encouraged visitors to use the coat check, which costs $1.
"They will keep anything from an iguana to your suitcase," he said. "There was a ferret down there a few weeks ago. I don't think we'll turn anybody away if they have something they really want us to watch."
Making a choice
The cycle of break-ins continued last week at the worst intersection in St. Louis, 14th and Delmar, especially on the $3 lot.
"It was really awesome," Nancy Ivetic, 55, a nurse from Fort Myers, Fla., said of City Museum, "but I am really tired now."
Her family's 2014 Hyundai Santa Fe had just vanished from the lot. Somebody smashed through the side window and must have been overjoyed by what they found: Purses, wallets, camera equipment, a drone, luggage and jewelry. A cargo rack on the back was stacked with camping equipment that Ivetic, her husband, son and his girlfriend intended to use at Garden of the Gods in Southern Illinois.
They had just attended a wedding in Chicago and were making their way to another celebration in Kentucky.
"We were just starting a trip," said Dan Ivetic's girlfriend, Michelle Roman, 23. Her first visit to St. Louis was ruined within three hours of pulling off the highway. "It's a big bummer."
Nancy Ivetic said they had passed up St. Louis Auto Park, the garage with $15 slots, and chose to park in the $3 lot because it was the easiest one to get into. But after they realized their vehicle had been stolen, they ended up at the garage, hoping there was retrievable video.
It turned out the car was parked too far away in the nearby lot. They could only confirm the vehicle was taken around 4:40 p.m. Monday.
"Welcome to St. Louis," Patrick Hamill III, owner of the garage, told them.
He said break-ins seem like a daily occurrence in the area, which recently motivated him to put an enormous sign on the side of his building saying as much.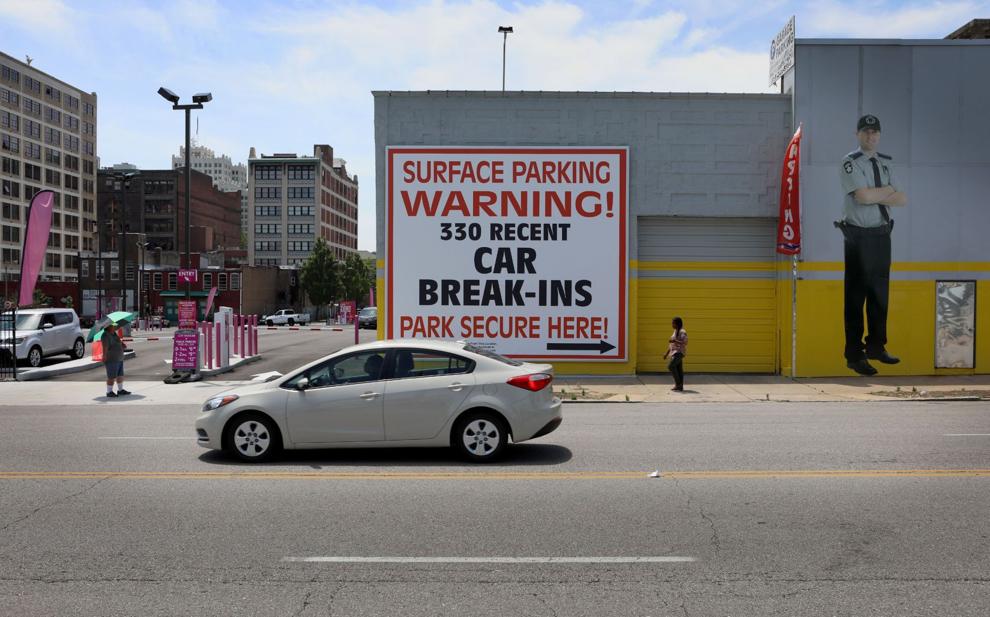 "SURFACE PARKING WARNING!" the sign reads in large red letters.
The fourth-generation family business grew out of the former auto repair shop that had the tow truck driver doing surveillance on the roof in 2010. Hamill said he hasn't been able to sell the building. Nor has he been able to make money from the garage, which is why he recently raised the rate to $15 a day from $10. Still, he's committed.
"We should have parked here," said Ivetic.
"That's what everybody says," said Hamill, 76, who claims that his garage is the safest place to park in St. Louis.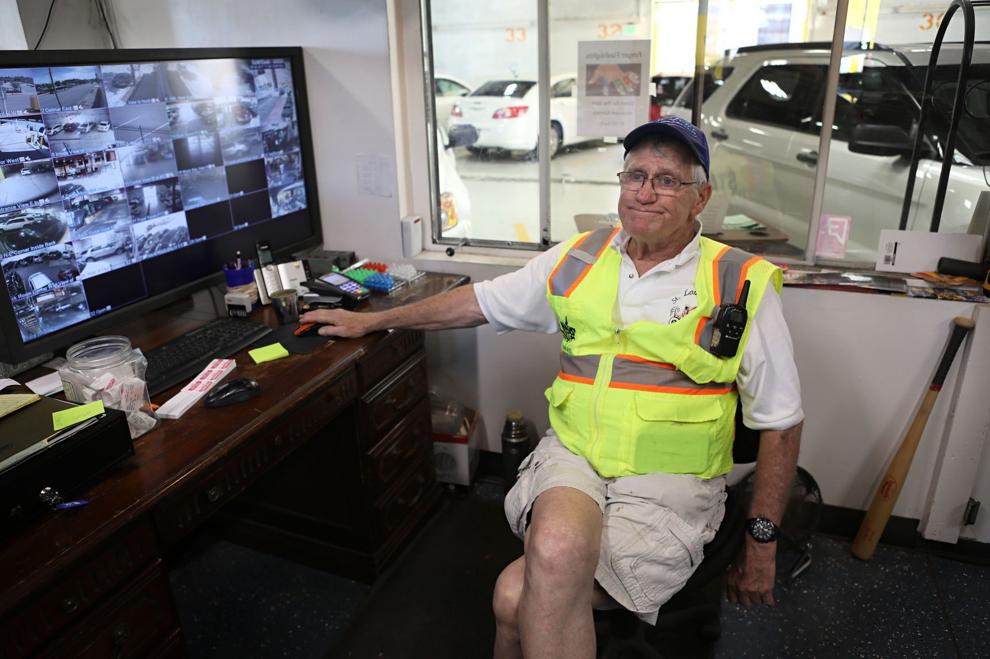 Police fielded the Ivetic family's complaint by phone and didn't show up at the scene. Meanwhile, the Ivetics rushed without success to find tracking information on the stolen car and a cellphone left in it.
"This is all the stuff the police should be figuring out," said Hamill.
"Why isn't there a cop sitting over there?" asked Ivetic.
S and H Parking Services runs the $3 lot. Owner William Bialczak said there were more break-ins when New Life Evangelistic Center, a downtown homeless shelter, was open.
"They leave their valuables laying out so people can see them and take them," he said.
Still, he said, one of his employees sometimes hides in a car to monitor the lot. Bialczak said a couple of thieves have been run off that way.
He said electricity isn't hooked up to the property to provide lighting. Asked about holes in the fence, he said: "We keep it up as much as we can."
The company leases the parking lot from Kaufladen Properties. Its Clayton-based registered agent said he would relay a message to the owner but that a call probably would not be returned soon.