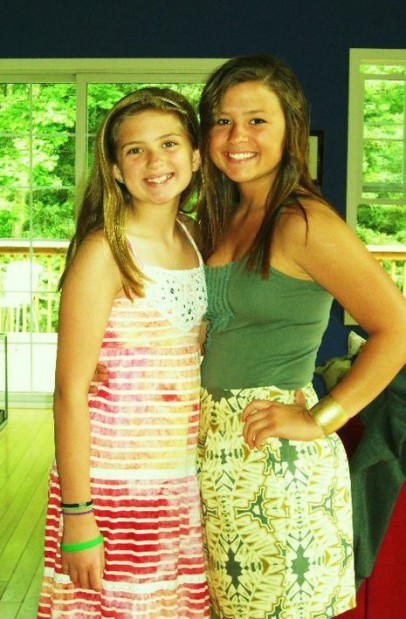 UPDATED 10:30 a.m. Monday with more information on victims.
The Missouri Highway Patrol has identified Katherine Campanella, 11, of Hazelwood as the girl killed in a multi-vehicle crash on Interstate 170 Saturday afternoon.
Katherine, who was known as Katie, was a passenger in a Nissan Maxima driven by her sister, Elizabeth Campanella, 16.
The car was heading north on I-170 just south of Natural Bridge Road about 4:20 p.m. Saturday when it was hit by another northbound vehicle, the Missouri Highway Patrol says. The car that hit the Campanellas' car was a blue Mazda Tribute SUV that left the scene.
After being hit, the girls' Nissan went off the left side of the road and struck the median cable barrier, then spun into the path of a southbound Chevrolet Blazer, which struck the girls' car. The Blazer then was hit by a third car, the patrol said.
Katie Campanella died at the scene of the accident. Her sister, Elizabeth "Beth" Campanella, was flown to St. Louis Children's Hospital with serious injuries. Her condition was good Sunday night, the hospital said.
Beth Campanella suffered two broken arms and broke her pelvis in four places, said Randy Berzon-Mikolas, president of Incarnate Word Academy, the school in Bel-Nor that Beth attends. Beth's family told the school officials that she might be hospitalized for two months.
Beth is a junior at the school, is a National Honor Society member, a tennis player and vice president of the Student Council.
Katie, her younger sister, was a student at Our Lady of the Pillar School in Creve Coeur and planned to attend Incarnate Word Academy too, as her mother and two aunts did, Berzon-Mikolas said.
"She wore the red and gold and was quite an advocate," Berzon-Mikolas said of Katie. "She was just a delightful young girl."
On Sunday night, about 300 current and former students of Incarnate Word and others who knew the family gathered on the school's soccer field for a prayer service. The school held another prayer service on Monday morning for the students.
Authorities are still seeking the driver of the blue Mazda Tribute, which continued north with damage to its driver's side.
The driver of the Blazer, Grace Matney, 36, of Florissant, suffered serious injuries and was taken to Barnes-Jewish Hospital.