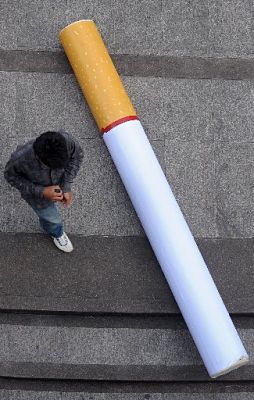 EDWARDSVILLE • A lawsuit that led to a $10.1 billion Madison County Circuit Court verdict against tobacco giant Philip Morris — once thought dead after the Illinois Supreme Court overturned it — has been revived by a lower appeals court.
In a ruling Thursday, the 5th District Illinois Court of Appeals cleared the way for the plaintiffs, represented by St. Louis class-action lawyer Stephen Tillery, to argue that a favorable U.S. Supreme Court decision in an unrelated case may be applied to reinstate his case.
Now, the case will likely return to Madison County, where Circuit Judge Nicholas Byron in 2003 ordered the massive damages to smokers in a civil trial over whether Philip Morris violated an Illinois statute in marketing "light" and "low tar" cigarettes as safer. Byron has since retired.
The case quickly became part of Madison County lore. Business groups protested the county as a so-called "plaintiffs' paradise." Interest on the county's investment of the bond Philip Morris had to post during its appeal helped buy and refurbish a building to house the criminal courts. Tillery and other lawyers stood to collect $1.8 billion in attorney's fees.
William Schroeder, a law professor at Southern Illinois University Carbondale, predicted Friday that the court battles on it will go on "forever and ever."
"This brings the case back from the dead, but it has a long way to go," Schroeder said.
Philip Morris can appeal Thursday's order to the Illinois Supreme Court. The company said in a statement on Friday that it will continue to fight.
Schroeder said Tillery can move to reinstate the $10.1 billion judgment in Madison County — but that it may require more litigation on the legal merits of the case.
"I see a mess happening," Schroeder said. "To me, finality is important in the legal process." The immediate issue was whether Tillery met a statute of limitations to press his issue. A three-judge panel of appellate judges, sitting in Mount Vernon, Ill., decided that he did.
"The court's decision ... was based solely on a procedural question around a timing issue and not the merits of the plaintiffs' request to reopen this closed case," said Murray Garnick, a lawyer speaking on behalf of Philip Morris USA.
He added: "This case ended in 2005 when the Illinois Supreme Court reversed the damages award against Philip Morris USA. Since that time, the plaintiffs have made multiple unsuccessful attempts to reopen the case. We believe that the plaintiffs' latest attempt is equally without merit."
The Illinois Supreme Court had found that the descriptive terms for the cigarettes were permitted by the Federal Trade Commission and thus did not break state law. The U.S. Supreme Court refused to accept the plaintiffs' appeal.
More recently, Tillery argued that a U.S. Supreme Court decision in 2008 should apply, since it rejected what he called an "identical" Philip Morris defense in a similar case in Maine.
Tillery said in a written statement on Friday that his firm is "eager to return to the courtroom to seek the justice our clients deserve."