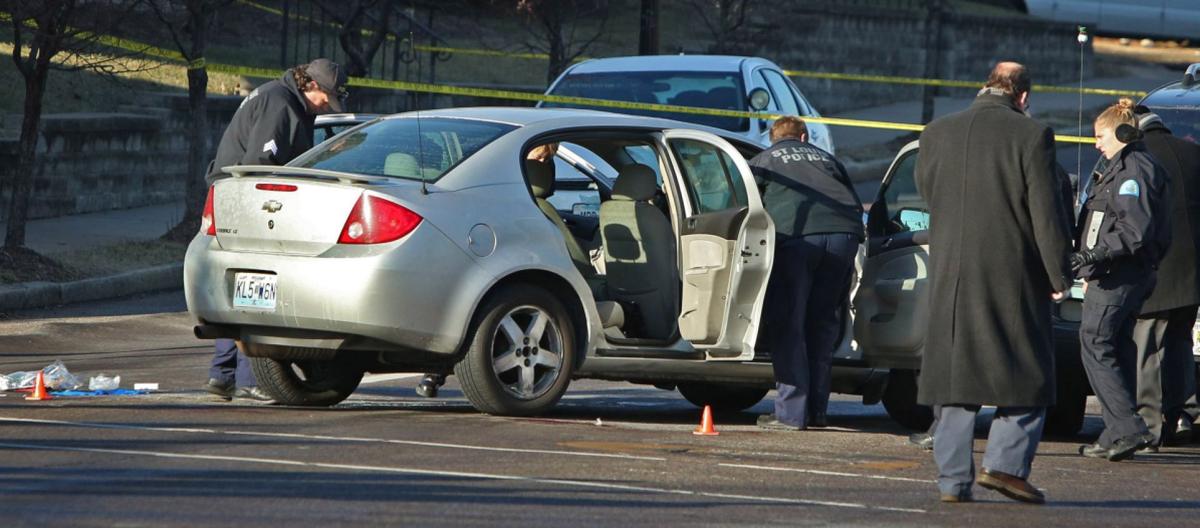 ST. LOUIS • Top law enforcers were already looking at new tactics that might stanch violence here when seven homicides in almost 24 hours added to a fear that an especially bloody 2014 would carry into the new year.
Some concepts are familiar, such as City Hall's continuing press for a specialized gun-crime court that judges have resisted.
Others are relatively new, reaching across the state to Kansas City, and across the nation to New York City, to examine innovations that might persuade people here to put down their guns.
Experts always underscore such efforts with the caveat that some emotionally charged homicides may be especially hard to prevent. Circumstances suggest that domestic issues may have figured into three of the deaths in the violent string Wednesday night and Thursday morning.
While the intensity of the murder spate was shocking, the nine homicides recorded in the city so far this year put 2015 barely ahead of the pace from the past two years. In 2014, there were 14 in the whole month of January; in 2013, there were 15. But it was a disappointing fresh start after 2014 ended with 159 killings, up almost one-third from the year before.
"Crime is the absolute No. 1 issue in the city of St. Louis," he said. "Right now nothing else is close."
The vice president of a nonprofit group fighting poverty in greater St. Louis says people need to stop thinking of crime as a problem police can solve.
"If we continue to expect police to solve this thing, then we're pointing in the wrong direction," said James Clark, vice president of Better Family Life. "It's a family problem and a neighborhood problem. We too often make the police the scapegoat."
He said pockets of the urban core are incubators "producing people who are not prepared to live in society, so they become criminals." He said the answer is to go door to door, find these people and help them. "Give families the resources to make their families stronger" by providing everything from drug rehab to anger management to employment.
He predicted violence would get worse this year. Working with young teens, he says he knows more of them carry guns than wallets. "We are in a new era, and we're not prepared."
One thing Dotson thinks will help is a simple return to normal for a department that faced exhausting challenges to answer protests that started with the racially charged shooting in Ferguson in August.
He blames the so-called "Ferguson effect" for distracting officers who were diverted to special training and riot duty, and causing a 40 percent decline in arrests in 2014. The chief said arrests now seem to be climbing to previous levels, as officers return to their normal responsibilities and resume hot spot policing.
But city homicides were already climbing last year before the Ferguson controversy — a point Dotson said made him renew a push to get judges to run routine gun possession cases through a special court for consistent handling and tracking, and to set high bail for them.
"When are the courts going to be serious about having outcomes that keep our community safe?" Dotson asked. "They don't seem to be right now."
Thom Gross, spokesman for the 22nd Circuit judges, said the proposal is flawed, partly because it ignores a provision in the Missouri Constitution that bail be considered on an individual basis. He said judges believe the proposed standard of $30,000 bail would fall to a challenge, and discriminate against the poor.
He also noted that judges have adopted other methods to reduce gun-crime backlogs.
Circuit Attorney Jennifer Joyce, who long ago joined Dotson and Slay in trying to push for local court reform, said she is broadening her approach.
"The difference for me this year is I'm not going to spend a lot of energy on solutions that require someone else to do something, like the gun docket," Joyce said. "We're working on things we can do within the perimeters of our office."
One was to join in meetings with prosecutors from even bigger cities, such as New York and Los Angeles. She said she was particularly impressed with a Manhattan-based initiative that officials there credit for helping reduce the borough's homicides to 36 last year from 70 in 2010.
Unlike "hot spot policing," which focuses on neighborhoods, this process identifies and bears down hard on potential killers themselves.
That also is at the heart of an initiative in Kansas City, where the No Violence Alliance provides a classic carrot-and-stick approach. It maps a fork in the road for people identified as potential killers. They can accept help to escape their violent lifestyles or face dire consequences from a justice system that will focus on them, their relatives and their social circle.
Officials there say it helped bring homicide totals there to nearly 50-year lows.
Dotson said he, Joyce and U.S. Attorney Richard Callahan are sending people to Kansas City. "I want to make sure that the program is having an impact, and I want to make sure that this wasn't an anomalous year," Dotson said.
Joyce and Dotson noted that the St. Louis Probation and Parole Division already operates a smaller-scale version, with research pending on its effectiveness.
Richard Rosenfeld, a criminologist at the University of Missouri-St. Louis, said the concept is promising but that the murder total depends upon many variables, and the effect has not been scientifically proven.
Rosenfeld also is co-author of a report from July that found suspects in illegal gun possession cases whose bail was set at less than $30,000 were three times more likely to be arrested on another gun charge in the following 2½ years. He noted that it was "at least in part" because the others "spent considerably more time in jail..."
The report helps feed the refrain from Dotson and other advocates of a special court to manage gun crimes, with high bail and tough sentences.
"There has to be a fear of consequences," he said. "It's not the time you spend in jail, it's the fear of jail that is actually the deterrent. If there is no fear of going to jail, criminals feel much more empowered and emboldened."
Joyce said longer pretrial jail stays that come with higher bail for people caught carrying guns can interrupt the cycle of violence and provide time to obtain social services. She said it also emphasizes that, "We do not consider this a minor crime."
Judges declined to be interviewed, but had Gross speak on their behalf. He suggested that deterrence goes only so far, pointing out that Missouri has both a busy execution chamber and a murder problem.
"I don't know of another major metro area anywhere that has anything like the armed offender docket that's been proposed by the mayor's office, which makes it a purely hypothetical concept," Gross said. "So the benefits are based on speculation and not hard evidence."