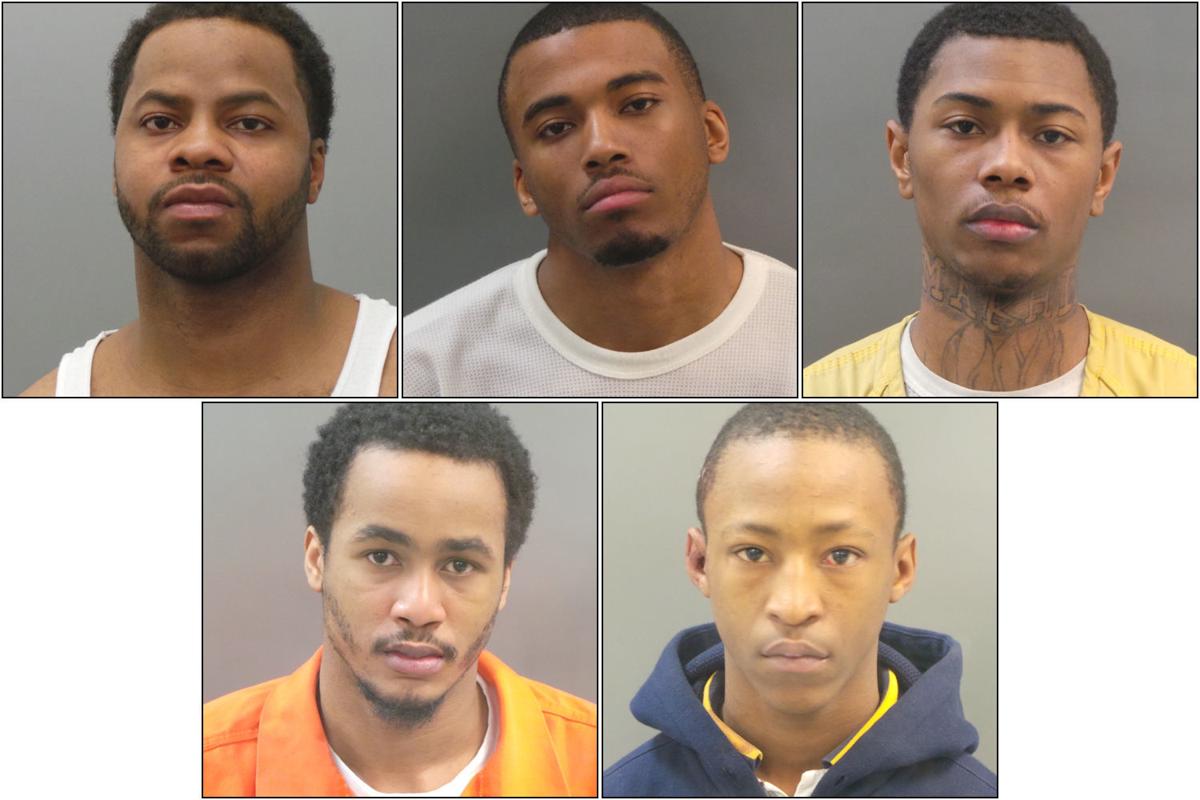 ST. LOUIS • Five men, four homicides, more shootings and one carjacking have been tied to guns police seized in February from a home in south St. Louis.
Police Capt. Mary Warnecke said all of the crimes were tied to the heroin trade.
"This is pretty big," she said Monday.
Indictments unsealed Monday afternoon name Marquise R. Henderson, 26, of Bellefontaine Neighbors, and Marcus T. Jackson, 21, of St. Louis, on charges of first-degree murder and other major felonies. Jordan Brown and Nathan Tilson, both 22 and of St. Louis, were charged with first-degree assault. All were in custody.
A fifth man, Cortez Smith, 18, of Pine Lawn, was charged with second-degree robbery in a carjacking that was linked by shell casings to the same home, officials said.
The charges follow a grand jury investigation in conjunction with the St. Louis circuit attorney's office and police department.
Warnecke noted that the extensive investigation was expedited by a policy started last year to involve a prosecutor in murder cases early on. "We wouldn't be where we are today if we would have had to do it the old way," she said. "It's been a huge success. I can't credit the detectives enough."
Officials asked for people with knowledge of these and other crimes to come forward.
Beth Orwick, chief trial assistant for Circuit Attorney Jennifer Joyce, said, "We believe there are more incidents. But we cannot do this without the public's help. Ballistics will get you so far, but we need information, and that's why we're asking for help."
Court records say that when police arrested them at a home in the 4500 block of Minnesota Avenue, officers seized a .45-caliber pistol, an AR-15 rifle and a 9mm pistol. Ballistics tests on those guns matched evidence at three shooting scenes a month earlier in which four men were slain:
• Jan. 12: Patrick Hunter Jr., 23, died at a hospital from a gunshot wound to the head sustained while driving a Chevrolet Impala in the 1500 block of Destrehan Street. Officials said he had been looking to buy heroin.
A witness in Hunter's car reported seeing a passenger fire shots from a red Jeep Grand Cherokee. Casings at the scene matched the AR-15 taken from the home on Minnesota Avenue. Police later linked the Jeep to Jackson from receipts he signed to have it repainted at a shop in Cool Valley. The guns also matched casings found at the scene of a nonfatal shooting on James Cool Papa Bell Avenue.
• Jan. 18: Lenny Hogan, 29, was found fatally shot in the passenger seat of a Ford Crown Victoria about 10:45 a.m. in the 4000 block of St. Ferdinand Avenue. Police seized casings from five guns at the scene. Ballistics tests matched the three guns taken from the home on Minnesota Avenue. Shell casings found at a nonfatal shooting that day in the 3200 block of Martin Luther King Boulevard also matched two of the seized guns.
Henderson is charged in the shooting deaths of Bogan, Williams and Hogan. Jackson is charged with killing Hunter. Brown is charged in two nonfatal shootings, along with Henderson and Jackson. Tilson is charged in one of the nonfatal shootings.
Smith was charged with one count of robbery after two 9mm shell casings found in a Chevrolet Malibu taken in a Jan. 21 carjacking and abandoned in East St. Louis matched a pistol seized from the home on Minnesota. Smith is not charged in any of the killings.
Police said shots were fired from a vehicle at the unmarked county police car near West Florissant and Partridge avenues. The attackers eluded officers in a chase but were soon tracked to the address on Minnesota.
Henderson and Jackson were being held without bail. Brown's bail is $1 million, Tilson's $900,000 and Smith's $100,000.
Court documents show that Henderson pleaded guilty in St. Louis in 2008 of robbery, armed criminal action and resisting arrest, and was sentenced to 10 years in prison.
Brown pleaded guilty in St. Louis in 2012 of unlawful use of a weapon and received probation but it was revoked, and he was sentenced to three years in prison.
Jackson pleaded guilty in 2012 in St. Louis County of stealing a car in Florissant and was sentenced to three years in prison.
Tilson has pending charges in St. Louis of first-degree assault, armed criminal action and unlawful use of a weapon for allegedly shooting at county officers.
Smith has pending charges in St. Louis of selling drugs, unlawful use of a weapon and vehicle tampering.