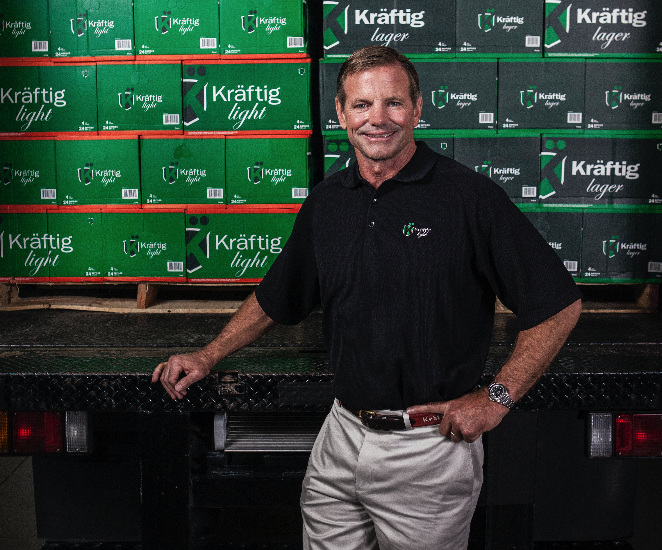 CREVE COEUR   •  Anheuser-Busch heir William K. "Billy" Busch faces an assault charge stemming from his intervention in an altercation between his son and a fellow sixth-grader at a basketball practice, police say.
The incident took place Nov. 16 at the gym at Chaminade College Preparatory School, Creve Coeur police said in a news release Saturday.
Police said it had been reported that during the incident Busch, 58, grabbed the 11-year-old student and pushed him into a wall. The parties were separated by other adults attending the practice. The alleged victim told investigators he wasn't injured, according to police.
Based on statements from witnesses along with other evidence, police said, a summons was issued to Busch for assault fourth degree, a municipal ordinance violation.
Busch's attorney, Scott Rosenblum, said in a statement that Busch had intervened after school personnel failed to react when his son was "bullied — actually sucker-punched — by a much larger middle school student directly in front of him."
"He did what every parent would have done in that situation," Rosenblum said. "The school's video of the event clearly shows that Mr. Busch did not act with any maliciousness, and that his actions were directed at protecting the safety of his son and others involved."
Rosenblum said he would represent Busch in Creve Coeur Municipal Court on Wednesday.
Derek Falb, the father of the boy grabbed by the senior Busch, in a lengthy statement emailed to the Post-Dispatch, called Rosenblum's statement "inaccurate for several reasons."
"First, the statement attempts to paint a grown man with a history of erratic behavior (such as biting a man's ear off) who physically assaulted an 11-year-old boy as a sympathetic figure.
"Second, it attempts to paint the victim as a bully when it was Mr. Busch's son who was the initial aggressor in the incident between the two boys. It just so happens in this instance, Mr. Busch's son instigated an altercation with another middle schooler of his same age and grade level who defended himself. While Mr. Busch may not have liked seeing his son receive a dose of his own medicine, him attempting to resolve his son's conflict with another 11-year-old boy, let alone physically, is shameful. When the victim's father pulled Mr. Busch off his son and confronted him, Mr. Busch's behavior changed dramatically and he was clearly more comfortable addressing an 11-year-old boy than another grown man.
"Third, it suggests the school failed to react. In fact, the school administration and basketball program acted swiftly and decisively in calming the situation, investigating what happened and removing Mr. Busch and his son from the facility. The school's response could not have been better.
"In summary, Mr. Busch's behavior was highly inappropriate. For Mr. Rosenblum to excuse Mr. Busch's behavior as without malice and as something any father would do is ridiculous. The actions and language used by Mr. Busch during the incident and as documented on the school's video clearly and incontrovertibly show otherwise. The fact is a grown man manhandled a child in response to an altercation his son initiated but could not finish. We have no ill will toward Mr. Busch's son and wish him the best."
Falb, in the statement, said the family does not intend to sue Busch for his actions, but planned to cooperate with prosecutors.
The Falb family was contacted by Creve Coeur police after police were notified by a state social worker. The incident had been reported anonymously to the Missouri School Violence Hotline, according to the police report.
In an interview at the police station, where he was accompanied by his parents, the Falb boy told police that the scuffle began when the younger Busch pushed him two or three times, then raised his arm and a closed fist, according to a police report. After the Falb boy slapped the younger Busch, Billy Busch approached him "from behind and began shouting profanities."
The boy described his fear at that moment to police. "On a scale of 0 to 10 of being afraid at that moment, with 10 being the most afraid he's ever been, … he was at a score of '9'," according to the police report. The boy said Busch grabbed his shirt collar, pushing him backward. In response, the boy said he "slapped Mr. Busch on his left temple with an open hand." The boy told police that Busch then pushed him into a wall at the base of a stairwell. The back of his head hit the wall and his nose began to bleed, the boy said. After his father intervened, the boy returned to the gym, he told police.
Busch never struck the boy with an open or closed fist, the Falb boy told police — and he wasn't nauseous after striking his head, his head didn't hurt, he never applied ice to the back of his head and he slept normally. His nose was neither swollen nor bruised, the police report states.
On Dec. 18, after reviewing a DVD copy of video of the incident, taken by the school's security cameras, police called Billy Busch and gave him the option of either coming to the station to provide his account of what had happened or getting a summons to appear in municipal court on a simple assault charge.
"Busch indicated he would like to consult with an attorney first before making a decision," the police report states.
Busch, of the 10000 block of Winding Ridge Road in Ladue, is the great-grandson of Adolphus Busch, who founded the Anheuser-Busch brewing empire, and son of the late Anheuser-Busch leader August A. "Gussie" Busch.
Billy Busch never worked at A-B, which was sold in 2008 to InBev, but in 2011, he founded William K. Busch Brewing Co., which produces the Kräftig beer brand.
As a young man, Busch had several widely reported scrapes with the law.
In 1981, prosecutors declined to press charges after Busch bit off another man's ear during a late-night brawl outside a south St. Louis County tavern. Busch, then 22, told police that the other man started the fight.
A year later, Busch was charged with assault after an employee of a Naugles restaurant in Fenton accused him of reaching through the drive-in window and striking him in the throat. Busch was acquitted after testifying that the worker made an obscene remark over a loudspeaker about Busch's mother, and that his hand barely grazed the worker.