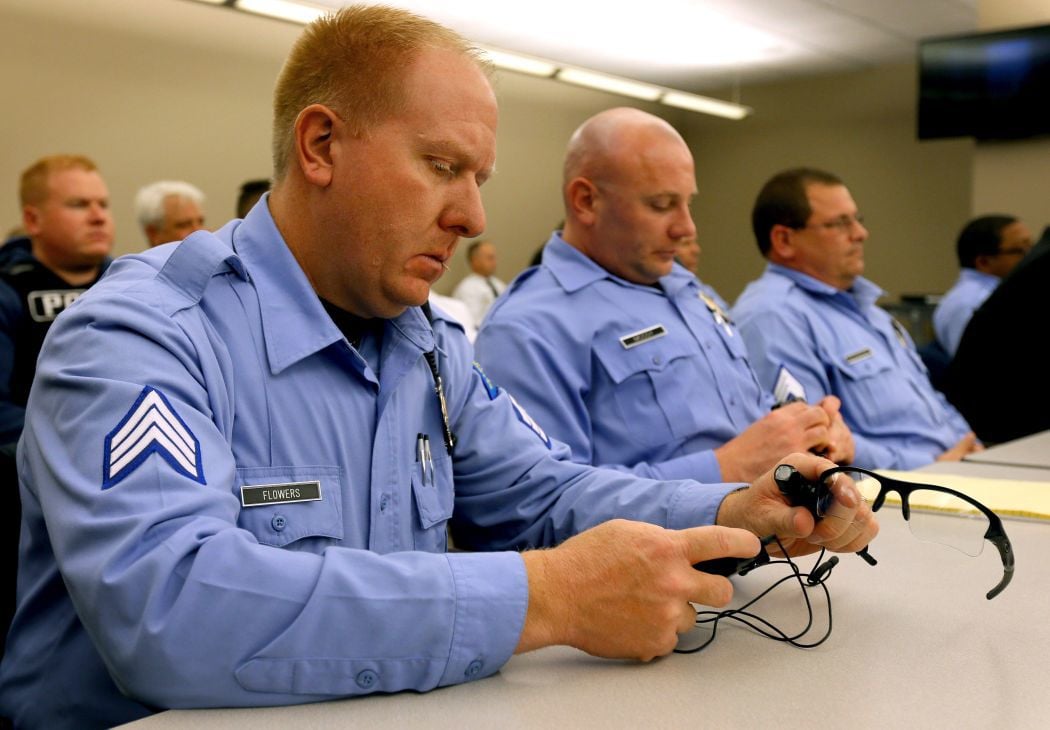 ST. LOUIS — A day after St. Louis County police announced that officers will get body cameras by next April, St. Louis Aldermanic President Lewis Reed complained that efforts to outfit city police with the devices "are at a standstill."
The city's top fiscal body, the Board of Estimate and Apportionment, voted in September 2017 to accept a free one-year trial offered by one camera company and to seek bids from various firms for a longer-term contract.
But neither that trial nor a longer-term deal has happened.
On Thursday, Reed said, "687 days later, the city of St. Louis still does not have body cameras." He sits on the board with Mayor Lyda Krewson and Comptroller Darlene Green.
Reed urged body camera advocates to contact Krewson's office to ask that an inactive committee set up to consider bids on a camera contract resume the process. The panel hasn't met for more than a year.
In response, Krewson's public safety director, Jimmie Edwards, said he, the police department and the mayor also support the idea of body cameras but that the city just can't afford the cost. He estimated that at about $20 million over five years.
"If he came up with a way of funding it, I would love to be able to reignite" the process, Edwards said of Reed.
Edwards added that a police financial analysis of the proposal for 50 free cameras for a trial period showed that "free was not actually free."
"The devices were free, putting (data) in the cloud was free," he said. "For us to access it would have cost us money."
Edwards said a three-year trial period with the company, Arizona-based Axon, would have cost the city about $4 million annually.
Because of that, he said, he decided last year not to move ahead with a trial deal . A spokesman for Green, Tyson Pruitt, said she also had concerns about the cost.
Edwards said the bid process for a longer contract also stopped cold last year. "Our concern was the long-term cost," he said of the mayor's administration.
Reed on Thursday disputed the financial analysis and insisted there would have been "zero cost" to the city. He also said the trial proposal was for one year, not three.
He acknowledged that the price tag for a long-term program conceivably could be $4 million to $5 million a year under models used in some police departments.
But he said there are newer versions that allow cities to ramp up their programs gradually, adding cameras year by year without a massive capital outlay at the start.
He also said costs could be held down through lease-purchase deals. He added that officials can always inflate costs to argue against something "they're not really interested in doing."
"The city cannot afford not to do something that would create a better environment between the community and the police," he said.
Edwards said he and the police department support the body camera idea because it could help keep officers and the public safe and provide accountability.
But he said he decided it would be better to spend money in the short term on pay raises for officers, in-car computers, in-car cameras and radios for officers.
"We have to spend our money wisely," he said.
While the trial deal accepted by the estimate board in 2017 didn't materialize, city police in 2015-2016 did run a 90-day pilot program in which sergeants tested the equipment.
City officials said 18 companies expressed interest in bidding on a long-term contract and the selection committee reduced that early last year to a short list of five, one of which was Axon.
Edwards said the selection committee then got proposals from four of those firms; those were then turned over to the police department for evaluation.
In St. Louis County, the County Council in July approved a $5 million purchase of body cameras for county police and marked police cars.
Shake off your afternoon slump with the oft-shared and offbeat news of the day, hand-brewed by our online news editor, Mandy St. Amand.