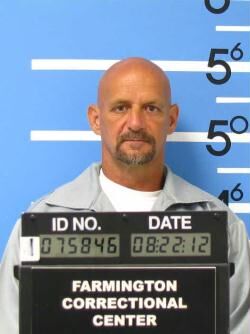 UPDATED at 8:30 a.m. Thursday with information from man's daughter
CRAWFORD COUNTY • A Bourbon police officer shot and killed a man Wednesday morning after he eluded police during a pursuit, according to authorities.
The incident happened at about 10:30 a.m. Wednesday in Crawford County. Gary E. Wenzel, 50, was killed.
The Missouri Highway Patrol said a Bourbon police officer tried to stop a black Chevrolet Cavalier in Bourbon after recognizing it as a vehicle that had eluded police in Sullivan during a pursuit. The vehicle did not stop, and the pursuit continued north from Bourbon and into Gasconade County, and then south back into Crawford County.
The pursuit ended at Route J and Fann Road, where the Cavalier crashed and the officer shot Wenzel.
The officer was not hurt. The investigation is continuing.
In a press release, the Missouri Highway Patrol did not say why Wenzel was being pursued in the first place, nor did it give details as to what prompted the shooting. The patrol referred questions about what prompted the chase to Sullivan police, who could not be reached for comment. The Sullivan police chief did not return a phone call seeking comment Thursday morning.
Wenzel's criminal past includes convictions for a drug charge and property damage, which happened in 2001 and 2002. He was released from prison on those charges in 2012 and his most recent charge was a 2013 misdemeanor for littering.
Wenzel's daughter, Annie Alley of St. Clair, Mo., accused police of murdering her father. She is demanding to see video from the police car's dashboard camera that would show how the shooting unfolded.
"My father was an unarmed man," Alley said. "He was shot multiple times in cold blood. We have laws in Missouri that protect animals better than my father was protected."
Alley, the oldest of her father's five children, said he was living with her at her St. Clair home and working construction jobs to hang drywall. She said she was not allowed by police or the coroner to see her father's body Wednesday. She said the sheriff of Crawford County told her that he identified her father as the victim. Alley said she is his next of kin and should have been the one to make the identification.
Alley said her father was on parole for property damage. State Department of Corrections records also say he had an active case involving drug possession. Alley said the property damage stemmed from an incident about 13 years ago that included accusations that Wenzel tried to outrun police in Bourbon. She said Bourbon police "had it in" for her father. She said police told her that Wednesday's initial chase started because Wenzel had outstanding warrants. 
---
EDITOR'S NOTE: A previous version of this story misidentified the agency the officer was from.  The officer involved is a Bourbon police officer.