ST. LOUIS COUNTY — A 15-year-old boy was gunned down before sunup Friday when someone fired a flurry of shots into a home in the north St. Louis County area of Glasgow Village. He had been getting threats, his mother said.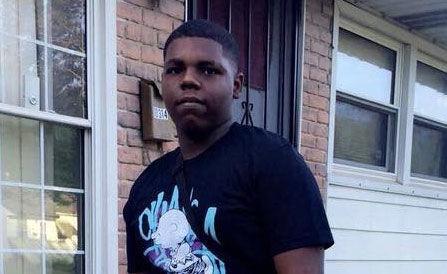 The victim was identified by his mother as Antoine Brown. Police and the medical examiner's office spell his first name Antione. He was shot to death while in bed about 5:30 a.m. in the 10300 block of Ross Circle, off Riverview Drive.
Antoine's mother, Ebony Davis, 31, said in an interview that her son had been getting threats through texts and social media. She said when she heard the gunshots, she dropped to the floor and crawled into Antoine's room. She couldn't see, so she reached up onto the bed.
"I pulled his leg and said … wake up," Davis said. When she was able to turn on the light, she saw her son had been shot in the head. He died at the scene.
St. Louis County police Sgt. Benjamin Granda said police don't think it was a random shooting, although investigators haven't said why they think that.
Proof of the flurry of shots was clearly visible on the street, where crime-scene technicians had placed nearly a dozen evidence markers along Ross Circle, a dead-end road of modest homes.
There was a bullet hole in the headboard of Antoine's bed. "They knew where he slept," Davis said.
Hours after the shooting, as police canvassed the neighborhood, St. Louis County Prosecutor Wesley Bell arrived to talk with police about the teen's death.
"They keep getting younger and younger," Bell told reporters. "Obviously, it's tragic. It's something we're going to have to deal with as a region. And that means, and I've said this before but: All hands on deck."
A woman who owns property on Ross Circle knew Antoine and called him sweet. The woman said she helped him by paying his football fees. "He was a good kid, to me," said the woman, who asked that her name be withheld because she was fearful. "He called me grandma, and I called him baby. He was always respectful, mannerable."
The last time she saw Antoine, she had come to the block to check on her tenants and he was sitting on his front porch waiting for his mother. "He said, please be safe, grandma." She said his meaning was obvious to her. "We're black," she said, "and it's crazy out there."
Antoine, who went by the nickname Bruh Bruh, is at least the seventh child to die from gunshot wounds in St. Louis County this year; St. Louis city has had at least 13 children killed by gunfire this year.
A spokesman for the Riverview Gardens School District said Antoine attended the district's alternative learning program. Earlier he attended Central Middle School and Riverview Gardens High School. The district's crisis response team will be available to help students and staff deal with their grief, he said.
Davis said Antoine's father, Antoine Lamar Brown, was shot to death in front of his mother's home in Jennings in 2004. Antoine, a baby, was in the car with her when a man shot his father.
Bell, the prosecutor, stood in front of the crime-scene tape Friday and told reporters that the community has to step up. "We can't work in our silos, we have to look at not only how we deal with serious crime but we have to look at the preventive measures that we can implement to avoid these situations."
Bell wouldn't say anything about the crime itself, saying instead that he wanted to give police time to complete their investigation.
Davis said a vigil is planned at 7 p.m. Saturday in front of the family home.
Anyone with information about Friday's shooting is asked to call the St. Louis County Police Department at 636-529-8210 or CrimeStoppers at 866-371-8477.
---
David Carson of the Post-Dispatch staff contributed to this report.
Editor's note: This story has been updated to change the spelling of the victim's first name, to match the spelling provided by the victim's mother. 
Coverage of children who died in the St. Louis area in 2019
These are the local incidents of homicide or neglect involving children, based on Post-Dispatch reporting. This list doesn't include children killed in car accidents (unless a criminal charge was filed) or incidents not being investigated by homicide detectives.