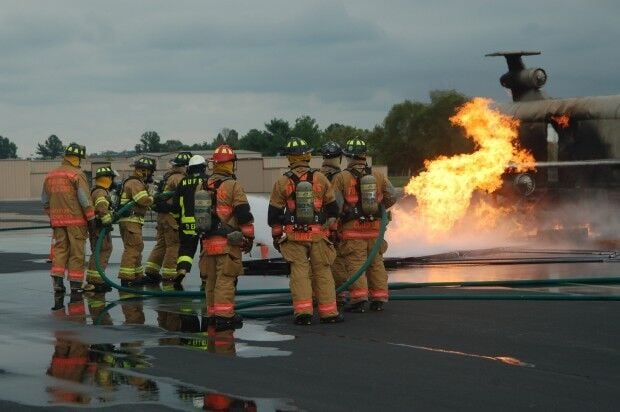 CHESTERFIELD • The members of Monarch Fire Protection District's Board of Directors have bought used bulletproof vests from police to help protect themselves during meetings, firefighters said.
"We'd heard rumors about it, and it's been the big running joke around here that they're going to do it, because it's sounded absolutely ridiculous," Capt. Chris Gelven, a shop steward for the firefighter's union, the International Association of Fire Fighters Local 2665, said Tuesday night. "But apparently it's actually happening."
The district's board members will not wear the vests, however — the vests will line a half-wall that sits in front of the desk they use at board meetings, Gelven said. The vests are supposed to be installed by the end of the week, Gelven said.
Gelven hasn't heard of any threats against the board members, or Chief Tom Vineyard or Assistant Chief Cary Spiegel, who sit behind the desk at meetings. Board members are President Robin Harris, secretary Jane Cunningham, and treasurer Steve Swyers. Two or three off-duty police officers usually attend the district's meetings to provide protection, Gelven said.
Cunningham, reached Tuesday night, said she could not speak about any security plans and blasted Gelven for doing so. "Anything we have to do to keep our employees or officers safe is obviously private information, and for him to leak any kind of information like that only jeopardizes his safety and those of his colleagues," she said.
Gelven said he suspects the vests are a ploy by the board members to make the public think they're scared of the union. "It's just another tactic to make people think we are bad guys," he said.
The union strongly opposed the rehiring of Spiegel, who was fired from the department in 2011 when he was accused of misdeeds. Spiegel was rehired in March as its new assistant chief.
The majority of the fire protection board determined that the misdeeds were "unfounded," according to a statement from the board.
Cunningham pointed out the positive changes the department has made in recent months, including starting drug and alcohol testing of employees, opening collective bargaining to the public, and placing a "transparency portal" of expenses online. The portal does not yet appear to mention the vests.
"There's still a lot of ugly, horrible things going on," said Cunningham. "There's some good things happening in the middle of it."