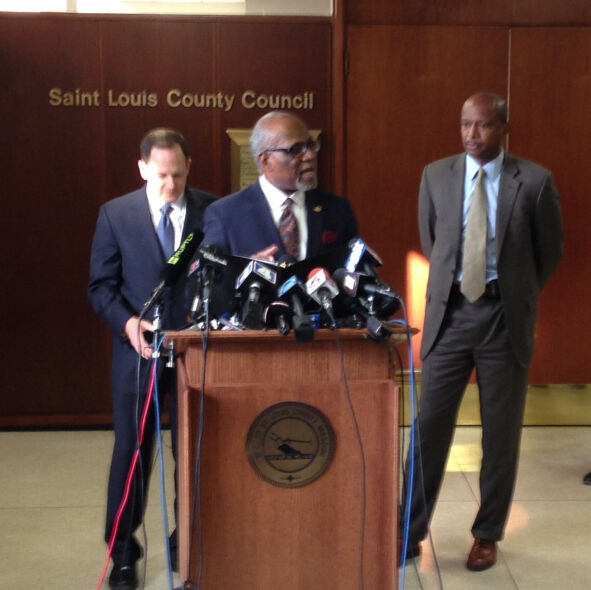 CLAYTON • Workers put protective film on jail windows. Protest leaders called for peace. The St. Louis mayor and county executive promised cooperation. A school district canceled classes.
The region, as a whole, scrambled on Friday to prepare for what many assume is an imminent grand jury decision in the fatal shooting of Michael Brown.
The pleas for calm came all the way from the top. U.S. Attorney General Eric Holder exhorted protesters and police, in a video posted on the Justice Department's website, to "minimize needless confrontation.
And late Friday, ABC released excerpts of an interview with President Barack Obama in which the president had a similar refrain. "This is a country that allows everybody to express their views. Allows them to peacefully assemble, to protest actions that they think are unjust," Obama told anchor George Stephanopoulos. "But using any event as an excuse for violence is contrary to rule of law and contrary to who we are."
Even the protesters called for calm.
"Let's just face it," said Anthony Gray, attorney for the Brown family. "The city is really in a panic at this point."
Brown was shot Aug. 9 by Ferguson police Officer Darren Wilson. A St. Louis County grand jury is reviewing evidence and considering whether to indict Wilson on criminal charges.
Area officials have been preparing for weeks for an announcement. They expect protests in Ferguson and in Clayton, where some protesters have pledged to shut down the business district on the first business day after the decision is announced.
Friday saw a flurry of last-minute communication, largely aimed at calming nerves and easing minds.
At Greater St. Mark Family Church near Ferguson, Gray addressed a throng of reporters — local, national and international — with a message from the Brown family. "They wanted me to make crystal clear," Gray said, "they do not advocate any violence, any looting, any rioting."
Gray also introduced the Disciples of Justice, a group policing the protests. Eddie Hasan, director of the Disciples, said they had signed up at least 50 people to monitor police and protesters. "We want peace in the streets," Hasan said. "We also want justice for Michael Brown's family."
In Washington, Holder posted a video Friday morning with new guidelines for law enforcement agencies nationwide, hoping to help "maintain public safety while safeguarding constitutional rights."
Demonstrators are preparing to gather in at least 100 cities, according to the Ferguson National Response Network, from Seattle to Carbondale, Ill., to Tampa, Fla.
In Clayton, workers finished putting opaque film on the windows of the county Justice Center, in hopes the film would stop glass from shattering should a brick fly through.
Across the street, St. Louis Mayor Francis Slay, St. Louis County Executive Charlie A. Dooley and Missouri Public Safety Director Dan Isom announced together that they would agree with some parts of a 19-point request from protest leaders.
A coalition of roughly 50 groups asked officials this month to agree to "rules of engagement," ranging from a ban on armored vehicles to safe-space churches.
On Friday, the unified police command agreed to some of the group's proposed rules, such as the first priority's being the preservation of human life. They also agreed to a series of measures intended to facilitate communication, encourage professionalism by police, discourage aggressive acts and allow those not involved in protests to go about their lives.
They declined, however, to commit to rules about arrests, court procedures and the use of crowd-control measures such as armored vehicles and tear gas.
Slay and Dooley also had a warning. "Violence will not be tolerated," Slay said.
"They're going to be arrested," added Dooley.
And in Jennings, school district officials were alerting parents with automated calls on Friday that classes were canceled Monday and Tuesday.
"With the heightened anxiety and activity, we thought it would be better for students and staff to extend the holiday at this point," said Superintendent Tiffany Anderson.
School officials weren't worried about student safety in the buildings but on streets near them, and Anderson wanted to give parents as much time as possible to figure out child-care arrangements.
Other area districts — Hazelwood, Riverview Gardens and Ferguson-Florissant — had not made the same decision as of Friday afternoon.
Chuck Raasch, Robert Patrick and Elisa Crouch of the Post-Dispatch contributed to this report.