JENNINGS • The second half of their shift on Tuesday started out as most do for officers Kevin Kasper and Trevor Voss. Roll call. A sergeant's overview of the previous shift's calls and the latest officer safety precautions. And a weapon check.
But when it came time to start their patrol, a computer guided their moves.
The partners' SUV is one of two St. Louis County police vehicles equipped with computers with software that predicts where crime is most likely to happen based on mathematical algorithms.
The system, called HunchLab, bases its predictions on variables beyond crime statistics, including weather conditions, public transportation routes, vacant properties, foreclosures, parks, libraries and housing density. The department began using the system this week and demonstrated it Tuesday for the Post-Dispatch.
The areas the system pinpoints can be quite small, but the default is a square 250 meters on a side, or the equivalent of about 12 football fields. They change about every four hours as new data upload to the system. And the program predicts the type of crime that's most likely to happen within them.
As with traditional hot-spot policing, officers are being told to make themselves visible in the areas for about 20 minutes at least three times per shift. Research has shown that anything beyond that time limit has diminishing returns.
Hot-spot policing has been around for more than two decades and forms patrol plans based on crime trends. Voss said HunchLab was like hot-spot policing on steroids.
"We're talking about focusing on not even a city block of an area," he said. "It's really the next evolution of hot-spot policing."
Generally, the county's new system is part of what's known as predictive policing. It's an emerging field, with only a few police departments in the country using various systems. Time magazine called the concept one of the best inventions in 2011.
"I don't see this going away," St. Louis County Police Chief Jon Belmar said. "Five years from now, I hope that we are wondering what we would do without this.
"This is the way of the future for law enforcement."
But with so many different programs out there, varying widely in price, research as to whether one approach to predictive policing is better than another is hard to come by.
And its effectiveness is entirely dependent on its users.
Police in Greensboro, N.C., have been using HunchLab for about a year. They, too, have been experimenting with different "treatment" options for the areas that the computer identifies, whether it be simply driving through in marked cruisers or going door to door to warn residents of a particular type of crime, said Lee Hunt, manager of the Information Systems Services Division there.
He calls the targeted areas "mission cells." In one cell, Hunt said, officers who didn't use Hunchlab reported 13 residential burglaries within a 90-day period. Those who used Hunchlab in the same cell saw only seven. There were also fewer officers in the group who used the software, and they tended to have less time for patrol because their call volume was higher.
Based on that experiment, it seems the program allowed fewer officers to prevent more crimes. But not every officer followed the 20-minute patrol rule exactly. And, Hunt acknowledges, his research on the efficacy of the software has only just begun.
"The researcher in me wants a larger more systematic study, so we have a better set of numbers to compare," he said.
He also compared his department's hot-spot map against the areas identified by the software, and found that roughly a third of the "mission cells" fell outside of the hot-spot boundaries.
"Our hot-spot map takes three years of data into account, and the predictive map takes the last five years of data into account up until the most recent shift, so it has a temporal aspect to it," he said.
In St. Louis County, Sgt. Colby Dolly, who oversees the recently created crime analysis unit, said predictive policing was "refining," not replacing, hot-spot policing.
Dolly said the county paid $45,000 for the initial contract with HunchLab, a division of the Philadelphia-based company Azavea, and expected to pay about $35,000 for every subsequent year. Other programs Dolly reviewed cost three times as much.
"If you look at the cost of crime, if you prevent a handful of aggravated assaults, this thing recoups its cost pretty quickly," he said.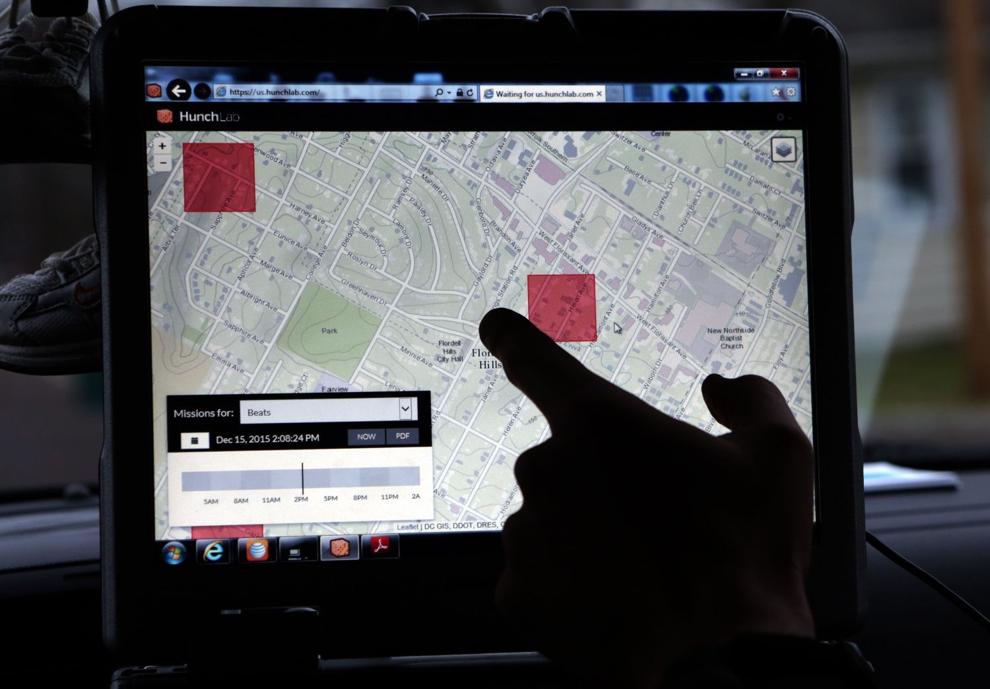 One category of data that the program purposefully omits from its algorithms is race, said Jeremy Heffner, product manager for HunchLab.
"We don't use race because we feel that it would distract from the end goal, which is to prevent crime," he said. "This isn't about profiling individuals, this is identifying the places where people are the most likely to become victims of crime."
Heffner said the name HunchLab was a play on the software's mission, which is to build upon an officer's hunch and prevent crime.
"It's like data-validated hunches," he said.
It's unclear when all of the county's 900 or so officers will be using the system. Dolly said all of the browsers on the department's laptops would have to be updated before the software could work.
In initial training sessions, Dolly said, officers have expressed skepticism that the system will tell them something they don't already know about their beats.
For Voss, a predicted gun crimes area in Jennings came as no surprise, but a separate area identified for a high probability of car break-ins did.
"I would have never thought to look there," he said.
Once there, a black Honda Accord caught the eye of his partner, Kasper, after the car circled the block several times within the small space.
"Usually people don't just drive around that many times without a destination," Kasper said as he accelerated to get a closer look at the license plate.
It turned up nothing suspicious.
And the driver didn't do anything illegal. But he did stop circling the area.
And Kasper and Voss moved on to the next cell, wondering whether they had just prevented a crime.
---
EDITOR'S NOTE: An earlier version of this story gave an incorrect size for each area of crime prediction.