BRECKENRIDGE HILLS • Dwayne Furlow and Latoya Jones Furlow live in a small house near Glasgow Village. The only piece of furniture in their front room is a tattered couch. Sheets cover the windows.
The couple live day to day, trying to earn enough money from a landscaping business to put food on the table for their two kids, Taniyah, 7, and Lamount, 11. Some days, they don't eat so that the kids can.
It was from this house in unincorporated north St. Louis County that the couple left for Breckenridge Hills on April 8 last year, headed to a community action agency that offers financial assistance for low-income people behind on their utility bills.
They weren't expecting any trouble. Then police pulled them over.
According to a police report, a man who lived along that stretch of Woodson Road reported someone named "Ken" had made repeated threats. He pointed to the couple's car. It looked like the one "Ken" drove.
The apparent case of mistaken identity escalated quickly. The Furlows were suspicious of police, who didn't explain why they pulled the couple over. In the end, it didn't matter. Police found a new reason to arrest Dwayne Furlow when he gave another person's name.
Shouting turned to shoving, then the husband and wife were in handcuffs. Police say Dwayne Furlow continued to resist, so an officer used a stun gun on him.
There was no further mention in police reports of threats or a man named Ken. But the couple now faced an array of charges, unrelated to the reason for the stop.
It was just the start of their problems. They were about to become intimately familiar with the Breckenridge Hills municipal court system and a jail fee that penalizes those who are too poor to bail out.
Breckenridge Hills is one of several local municipalities that has taken advantage of a state statute allowing the government to recoup what it spends on jailing people. St. Ann charges Breckenridge Hills $39 a day to host its inmates; up until recent months, Breckenridge Hills would pass that cost on to the defendant.
It's a small amount if you're held only a day or two. But when paired with high cash bail and an unbudging court system, it can mean thousands in extra costs for the poorest of defendants.Some, like the Furlows, are still trying to pay off those costs.
Each was held in lieu of $1,700 cash bail. They were told they'd have to pay it in full, or else be held until their first court date — which was set for 50 days out.
They say they didn't get to talk to the judge. And no lawyers were provided to them, even though most court systems would consider them indigent and constitutionally entitled to representation.
So they sat for 29 days, while a cousin watched their kids, and the daily jail fees mounted.
Their two mothers were finally able to hire an attorney, who obtained a plea deal from prosecutors to release the couple on time served.
But by then, they owed the court $2,694. At least $2,000 was for jail fees; the rest was fines for the charges they pleaded guilty to: providing false information to police for Dwayne Furlow, and resisting and assault for Latoya Furlow.
The attorney, Adam Olszeski, recalled urging the couple not to take the deal because he didn't think the charges would hold up. But they were desperate to get out of jail, for their kids and so they wouldn't lose work, he said.
He said the court insisted the couple had seen a judge but could not prove it. Olszeski said he even found court records that showed one of the mothers had attempted to pay the bail but was refused until the scheduled court date.
"That is absolutely ridiculous. That is a total miscarriage of justice," said one municipal prosecutor, when told of the couple's experience.
The prosecutor, who asked not to be named given the politically sensitive atmosphere surrounding the municipal courts, said no court should hold someone longer than 24 hours, let alone nearly a month, without seeing a judge.
To then assess fines for each day they are unable to bail out is "disgusting," he said.
Thomas Harvey, of the nonprofit lawyers group ArchCity Defenders, was shocked by the situation.
"In one story, you've highlighted everything that is wrong with the municipal police and court structure," he said. "These people should never have been stopped in the first place, they should have been let go once it was realized they were not the person you were looking for — it sounds made up, this 'Ken made threats' — but even if you were going to ticket them, to hold them on $1,700 cash bail is unconstitutional, immoral, illegal, unethical, never should have happened."
He added, "To then charge them the jail fees once they get out is adding insult to injury."
Breckenridge Hills' current judge, William Buchholtz II, said he could not comment on the case because payments are due so it is still pending.
He said he stopped charging jail fees when he became judge in April and could not speak to the court's collection of them in the past. Buchholtz said any defendant who cannot make their bail payments can talk to him at their next court date.
Sam Alton, the prosecutor at the time, said he wasn't aware of the daily jail fees and couldn't speak about the case because he wasn't familiar with it. He disputed that jail fees target the poor and said it would be unusual for someone to be refused the chance to pay bail or be held that long without seeing a judge.
The last year has brought new scrutiny to bail systems across the country that use money as a primary means of securing court appearances. Critics say the wealthy can almost always afford to bail out, while the poor fill the jails, sometimes waiting more than a year before a judge or jury decides whether they are guilty.
St. Louis County's municipal courts are easy targets for such criticism. Their jails have for years been crammed with small-time offenders who were locked up because they couldn't afford the cash bail set at their arrest or when they missed a payment.
In some courts, bail has been set without a judge's involvement or factoring in a defendant's ability to pay, even though both are constitutionally required.
A new municipal court law adds protections on both fronts, but some are skeptical of how effective it will be with courts that have a history of constitutional violations. Breckenridge Hills is one of many courts that have erased warrants and changed jailing procedures amid the intense scrutiny, but people such as Harvey worry they will revert to past practices once the attention fades.
Harvey also noted the new law doesn't prevent a judge from setting high cash bail on a minor offense, which he noted, "is the biggest problem."
And there is nothing in the legislation that addresses daily jail fees, something that has drawn little scrutiny.
Lawyers for the poor say jail fees are part of a trend toward monetizing just about everything in the criminal justice system.
"What you've described is both outrageous and very common," said Ernie Lewis, executive director for the National Association for Public Defense and a retired public defender, who rattled off a host of charges for everything from ankle bracelets to ignition interlock devices.
He said the Furlows' experience is part of a nationwide problem and "demonstrates the two-tiered nature of our justice system."
"We didn't used to think of poor people as a source of revenue, but it's really out of control," he said. To be thrown in jail, without access to a lawyer or a meaningful chance to bail out, "guilt or innocence is almost irrelevant at that point because they're already doing their time."
As is often the case, the police account of the couple's arrest differs from the story the Furlows tell.
The couple couldn't understand why they were being pulled over and suspected it was due to racial profiling. They said they didn't see any man standing with police, and no witness or victim was asked to identify Dwayne Furlow.
Breckenridge Hills police Capt. Scott Robinson said police had reasonable suspicion to pull the car over, and wouldn't concede that Dwayne Furlow might not be "Ken." He said police didn't ask him about the threats because the situation escalated too quickly. He said they didn't further investigate after the arrest because the man who reported the threats didn't have any more complaints.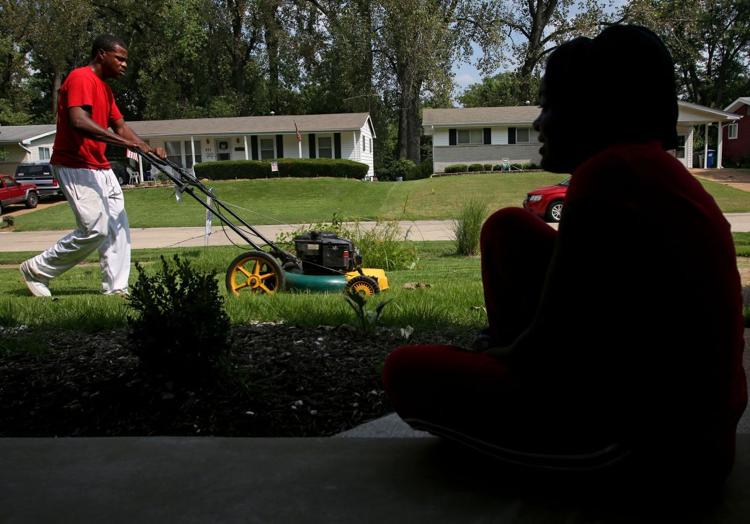 "It could have all been easily rectified if he had just given his real name," Robinson noted.
Dwayne Furlow said he was afraid to give his real name because of past encounters with police.
Robinson painted the Furlows as the aggressors, noting, "The officers were called every name in the book. You know officers are human, right? That's why it went the way it did. He wouldn't even get in the car."
The couple said police grabbed them out of their car, then punched Latoya Furlow in the face.
The police report says Dwayne Furlow tried to head butt and kick the officers after ignoring their commands.
"Just because he's in handcuffs does not mean he's not a threat," Robinson said, as to why a stun gun was used. He denied anyone punched Latoya Furlow.
The Furlows said an officer choked Dwayne Furlow while he was handcuffed and in the police cruiser, prompting another officer to warn him that the cameras were on.
Robinson said Breckenridge Hills didn't have working dashboard cameras then. The newspaper obtained footage from St. John police, who also responded, but shortly after Dwayne Furlow is handcuffed the police cruiser pulls forward, leaving the rest of the encounter unseen. All that can be heard is screaming and pounding.
By that time, according to a St. John police report, a crowd of people had gathered, shouting things like, "Hey, man, why you doing him like that?" and "Y'all some crooked (expletive) cops. He ain't doing nothing!"
After about two weeks at the jail, Latoya Furlow said she and her husband were taken to Breckenridge Hills for court, but then the officers wouldn't let them see the judge. She said an officer told her Dwayne had been acting up, and that another officer told him the same about her. They went back to St. Ann.
"My family couldn't come up with the money, and I was just freaking out," she said. "I broke down and just cried and cried, and I just read the Bible the whole time."
Latoya Furlow didn't have a criminal record and had never been jailed before the traffic stop. She turned to her cellmates for distractions and support.
When the day finally came for the plea deal, she said, "I was going to say no because I don't see myself pleading to something I didn't do."
But then she thought about her kids. They had already missed Easter and her daughter's birthday.
"I'm not ever going to get that time back," she said.