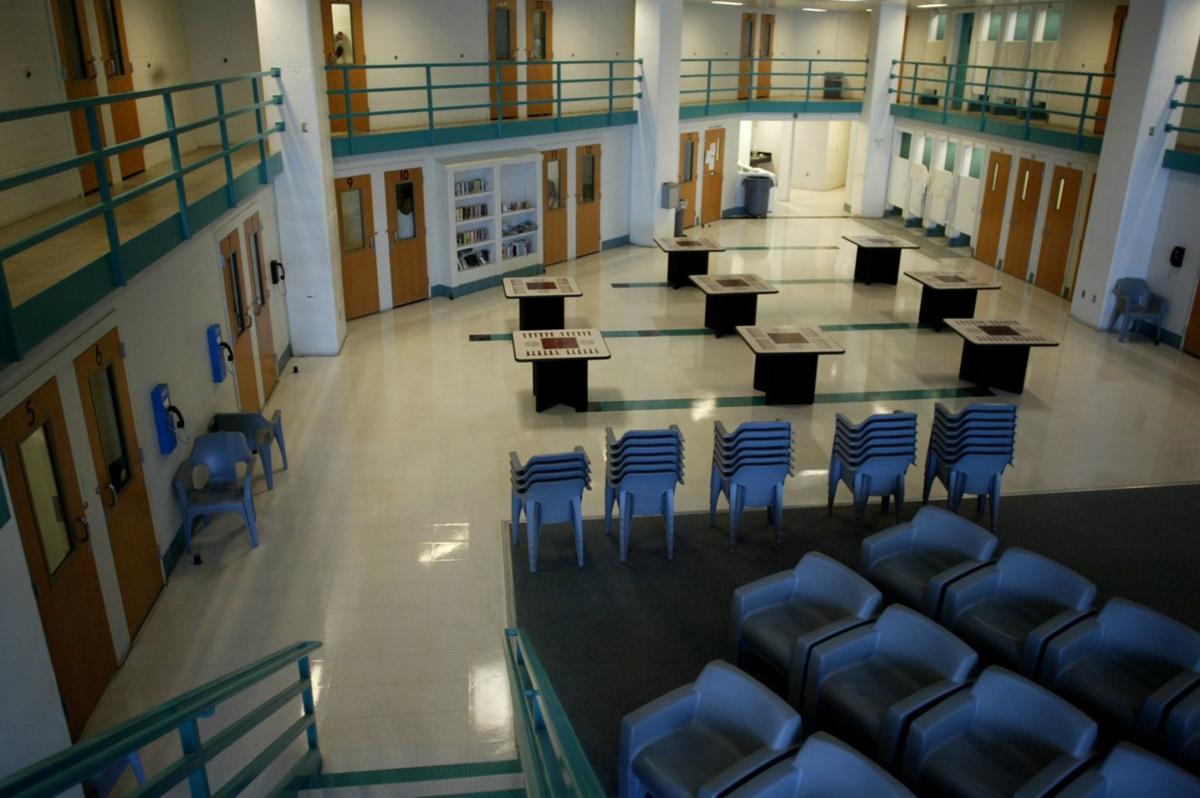 CLAYTON — An inmate at the St. Louis County Justice Center who died last month was gravely ill and unable to get to his feet for an entire day before jailers took him to get medical treatment on Dec. 25, his cellmate said in an interview on Thursday.
Jo'von Mitchell, 31, could not get to his feet for three head counts over a period of several hours, but jailers did not take action to help him, the cellmate, Ricardo Cueto, told a reporter in an interview at the jail .
The county's statement said Mitchell had been taken to the infirmary on Dec. 25 after complaining to corrections officers that he had a headache. It said he refused a meal at 5:11 p.m. and was observed as unconscious four minutes later. Clayton EMS arrived at 5:25 p.m. to take him to the hospital. He died on Dec. 27. His cause of death remains under investigation by the county medical examiner's office.
Cueto said the county's statement omitted details of what he called a "disturbing" lack of urgency to treat his cellmate, who had been in distress beginning the early morning of Dec. 24. Two other inmates wrote letters to the Post-Dispatch with similar claims.
Doug Moore, a spokesman for Page, said in a text: "We appreciate the paper bringing this inmate's story to our attention. We hope inmates alert the jail staff immediately when their cellmate is sick or has a headache. Thankfully, in this situation, the inmate received treatment within two minutes of reporting his symptoms to jail staff."
Nearly six months have passed since the fourth and most recent death associated with the jail.
Cueto insisted it took much longer than that. He said several corrections officers and nurses were aware Cueto was ill all day on Dec. 24 and into the next morning.
Cueto has been in custody since June 2016 on charges of first-degree murder and armed criminal action. Mitchell had been in custody since October 2016 on charges including unlawful use of a firearm from a vehicle, armed criminal action, first-degree assault and assault on a law enforcement officer. Cueto said they had been cellmates for 2½ years as they awaited trials.
Mitchell's death was the first to occur after a host of reforms by Page, culminating with the appointment in November of Raul Banasco as director. Under a new policy, a death in the jail will trigger the formation of an "in-custody death investigation team" involving jail and medical staff to jointly analyze the root causes of the death and set up a schedule for following up with changes, if needed. But the policy does not say how much of that process could end up in the public domain.
Page also revived a long-dormant civilian advisory board to bring independent review to the jail operations. The chairman of the board, the Rev. Phillip Duvall, said Thursday he had no comment on the Mitchell case.
Cueto said Mitchell was able to stand for an inmate count at 6 a.m. on Dec. 24, but said he wasn't feeling well shortly after that and vomited repeatedly into the cell toilet. He was unable to get back into his top bunk and instead lay on a mat on the cell floor, telling Cueto he was trying to sleep off the headache.
They each had visitors at 1 p.m. on Christmas Eve, but Cueto said Mitchell told him to tell the corrections officer to relay to his visitor that he was unable to get to the booth. Cueto said Mitchell did not get up for the count at 2 p.m.
"He didn't stand up," Cueto said. "You're supposed to stand up for the count. It's mandatory." But he said Mitchell told him, "I really can't do it. I can't stand up, bro."
Cueto said a nurse came into the cell to take Mitchell's vital signs about 3 p.m. and 7 p.m. on Dec. 24, but he was not taken to the infirmary either time. Cueto said he thought his cellmate was given nausea medicine. He said Mitchell remained on the floor and again did not get to his feet for the next count at 10 p.m.
Cueto said Mitchell woke him up at 4 a.m. on Dec. 25 and asked him to press a button to summon help, saying, "I've got to go to the hospital."
"He told the C.O., 'I need to go to the hospital. I feel like I'm going to pass out,'" Cueto said. A nurse came and took his vital signs again and told him to talk to a nurse later in the morning. He said the nurse seemed bothered that she had been summoned to the cell in the middle of the night. Cueto said he was trying to tell the nurse about his cellmate's history. "He could barely speak for himself," he said. Cueto said the nurse responded, "I'm not talking to you. I'm talking to him."
"I told him, 'Man, I don't think they are going to do anything with you until you talk to the morning nurse,'" Cueto said.
Mitchell did not get to his feet for the 6 a.m. head count, Cueto said. He said Mitchell asked him to tell the corrections officer conducting the head count that he needed to go to the hospital, but the officer moved past the cell too quickly. A lieutenant came to the cell and told Mitchell he had to wait for the morning nurse, Cueto said.
A nurse arrived between 6 and 6:30 a.m. to give insulin shots to diabetic inmates, and Cueto said he helped Mitchell get to his feet, and other workers helped him stagger to the sally port at the end of the cell block.
Cueto said Mitchell was returned to the cell again. "I had to help lay him back on the floor," he said. He said he believed Mitchell had been given medicine to help him sleep.
Around 7 a.m. Cueto heard a worker say that a nurse said Mitchell didn't look good. Cueto said it wasn't until at least 12:30 p.m. that his cellmate was taken to see the doctor in the infirmary. He never came back.