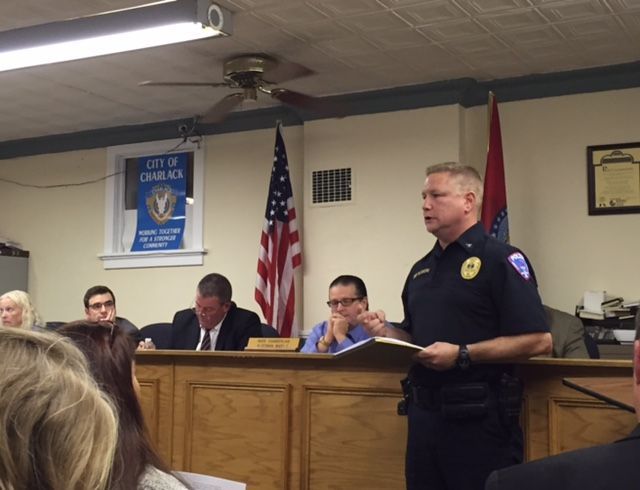 CHARLACK • The City Council here voted Thursday night to hand policing duties over to a neighboring department.
The Vinita Park-based North County Police Cooperative was set to begin patrolling Charlack's streets at midnight.
The unanimous vote came after the city was given a last-minute option from the Velda City Police Department, which offered its services for $80,000 less than the $356,496 contract that the cooperative proposed.
Velda City said it would keep two officers on Charlack's streets at all times; the cooperative could promise only one, but with guaranteed backup.
The city's police chief, Steve Runge, already took a post with the cooperative. He recently became a lieutenant there and officials said he would head up a Charlack precinct if the contract was approved.
The meeting drew a full house of about 50 residents, some of whom grew emotional over the prospect of losing their department and its officers. Five of the department's eight officers, including Runge, would stay on with the cooperative.
Some residents also complained that the decision was being made too quickly and without resident input.
But some residents also voiced support for the change.
"I hate to lose them, too," resident Doris Wynn told the crowd. "But when you don't have a dollar to buy something that costs two dollars, what do you do? You go to a neighbor to help you out."
The North County Police Cooperative has 25 full-time and five part-time officers. Velda City has eight full-time and three part-time officers.
Velda City officials said they would hire up to three officers from the Charlack force, but the North County Police Cooperative promised to bring on as many as five. Officials with that department have already interviewed the five who applied and said they easily passed muster. Those five have essentially been interviewed and offered jobs tentatively. Three other officers choose not to apply.
Velda City would have started officers at $15 hour; the cooperative said hourly pay would start at $19.81.
The relatively new North County Police Cooperative is an extension of the Vinita Park police. It also patrols Wellston, after it disbanded its department, and Vinita Terrace.
Meanwhile, another north St. Louis County town, Hanley Hills, voted Thursday night to extend its contract with the St. Louis County Police Department.
The 7-2 vote approved a new contract for $239,408, a 5 percent increase from the previous year.
Under the contract, the county force will continue to police Hanley Hills for at least five more years.
The vote came after both St. Louis County police and the North County Police Cooperative made presentations.
Representatives from the county department maintained that it has superior resources and is fully accredited.
Wellston Mayor Nathaniel Griffin argued on behalf of the North County Police Cooperative, noting that that police force had managed to turn his city around. "Everything they've promised me, they have done," Griffin said. "The community loves them."
Still, it was clear the majority of residents gathered for the meeting were in favor of St. Louis County police remaining in Hanley Hills. One resident presented a petition with approximately 200 signatures in favor of the county department.
Matthew Hill, Hanley Hills' civilian police commissioner, said his recommendation was for the village trustees' vote to reflect the wishes of the community — that is, for St. Louis County police to stay.
"I want to make this plain and clear, this is not a personal decision," Hill said.
After the vote, the room erupted in applause.
Shake off your afternoon slump with the oft-shared and offbeat news of the day, hand-brewed by our online news editor, Mandy St. Amand.