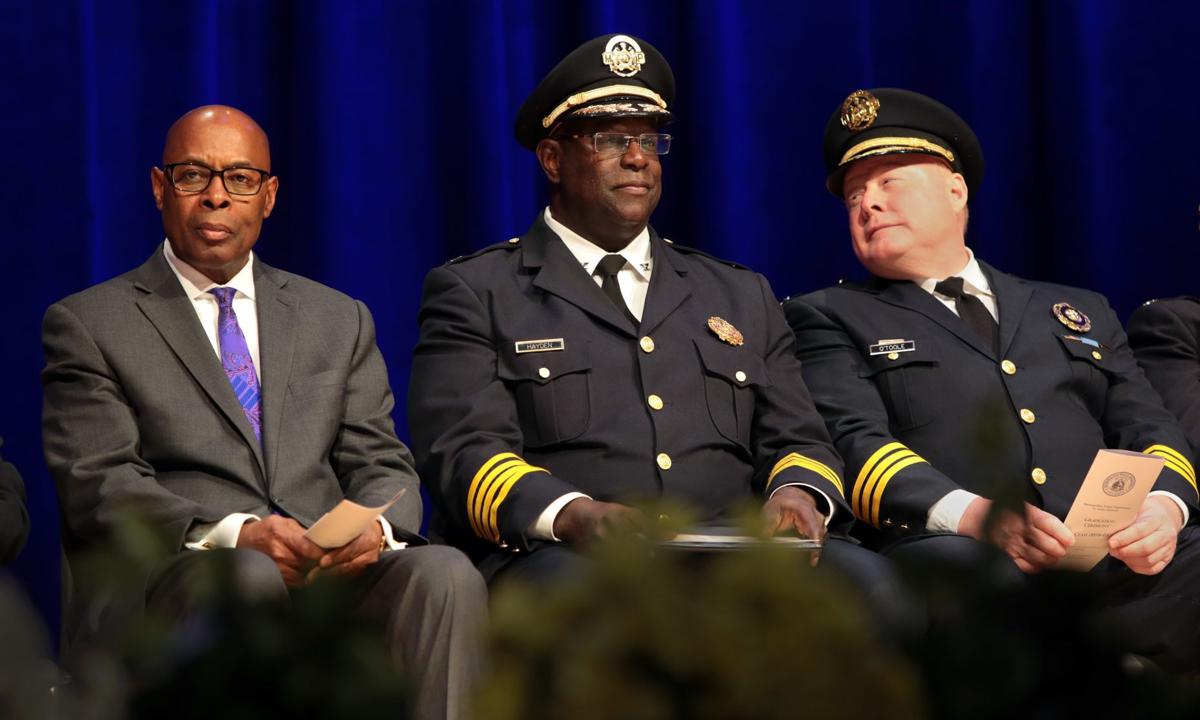 A new city-funded violence reduction program is likely to get off the ground in 2020, and St. Louis officials will entertain proposals from several programs vying for $500,000 in funding, Public Safety Director Jimmie Edwards said.
The $500,000 has been approved for the 2020 budget by the Board of Estimate and Apportionment, funded using part of the money paid by the federal government for housing federal prisoners in the city jail downtown. The entire budget will come before the Board of Aldermen this week.
One of the groups vying for the funds, Cure Violence, which was founded in Chicago, held a three-day "assessment" of the city from June 18 to 20, giving several presentations across St. Louis. Cure Violence touts studies and assessments from across the country that indicate the program can cause a significant reduction in crime in the neighborhoods where the program takes root, but it hasn't been without its detractors in some cities.
Cure Violence is a "health approach" to violence reduction, representatives say — the method utilizes "violence interrupters," people from the affected community who undergo training to help stop potential retaliatory shootings and mediate conflicts, and then try to gradually change the culture of a community to decrease the prevalence of violence.
"The biggest resource is the actual human body that's in the neighborhood," Cure Violence training specialist Marcus McAllister said before a group at the Thomas Dunn Learning Center on June 20. "We need to get those resources (so we can) change the culture."
The city of Baltimore has decided to invest more in its Cure Violence program, called Safe Streets, expanding from four neighborhoods to 10. Safe Streets Director Dedra Layne in the Mayor's Office of Criminal Justice pointed to a study by the Johns Hopkins Bloomberg School of Health, which credited Safe Streets Baltimore with preventing roughly 5.4 homicides and 34.6 nonfatal shootings from its inception in 2007 until October 2010.
"We are feeling pretty good about the impactiveness and effectiveness of this program," Layne said.
Layne admitted, though, the program has had "growing pains" since its launch, because hiring credible "violence interrupters" sometimes means hiring people with a criminal past.
"This is not traditional work," Layne said. "This is not for the faint at heart … this is a redemptive opportunity for citizens. You have to embrace the totality of the individual doing the work and provide them with what they need to be successful in it. (Because) for some of these citizens, they're being hired into legitimate jobs for the first time in their lives. The learning curve is very sharp at every level."
Other cities have invested millions in Cure Violence models, with New York seeing the operation of 22 sites across the city, McAllister said. The John Jay Research and Evaluation Center evaluated the program's effects in portions of the Bronx and Brooklyn and found that "the presence of Cure Violence in a neighborhood was associated with greater reductions in social norms that support violence when compared with similar neighborhoods without Cure Violence programs."
Meanwhile, Louisville's violence reduction program, which is referred to as "Cure Violence" but does not have a contract with the national organization, has been in hot water following one "violence interrupter" being charged with rape in March and another indicted on drug charges in the same month, the city's Courier-Journal newspaper reported.
"Things happen, unfortunately," McAllister said. "We're pretty good about hiring — we have a lot of staff around the country on hiring panels with people being vetted … we try to help the process to make sure the individuals are doing the work correctly and not involved in the life (of crime)."
The Louisville crime reduction program also lost city funding when it didn't provide necessary financial documentation, and now the city has cut much of its funding to the local organization, the Courier-Journal reported. Calls to Louisville director of safe and healthy neighborhoods Rashaad Abdur-Rahman went unanswered.
Edwards said he was impressed with McAllister when he and Mayor Lyda Krewson met with him to discuss Cure Violence. But it's just one crime reduction technique on the table for St. Louis, though he can't name all of the programs that are interested in launching in St. Louis.
"It will be bidded out, we'll put out a request for proposals," Edwards said. "I've probably been contacted by at least three different programs (from) California, Indiana, and there are local people interested."
Edwards called the $500,000 "woefully low" for starting up a full-fledged violence reduction program, adding that he thinks a proper program will be "much more expensive, I think."
"We need the powers that be to say 'yes, we want to do two sites," McAllister said in his presentation before a group June 20. "St. Louis is too critical to kind of play with this. With the level of violence in this city, we need two sites."
This story has been corrected to reflect that the "Cure Violence" program in Louisville does not have any association with the Cure Violence national organization.