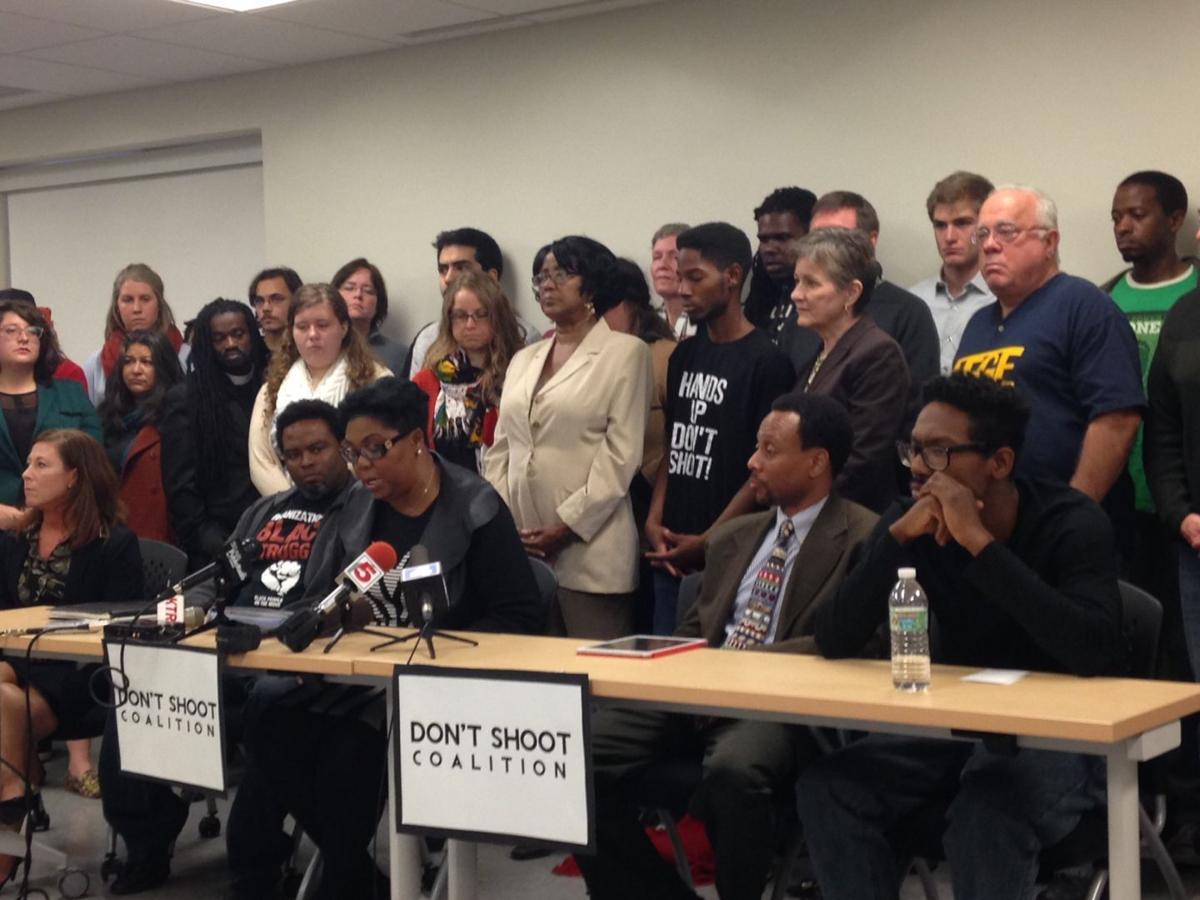 ST. LOUIS • A coalition of roughly 50 groups, concerned about issues brought to prominence by the fatal shooting of Michael Brown, asked officials Wednesday to agree to "rules of engagement" for protests expected to follow a grand jury decision about whether the killing was justified.
At a news conference here, "Don't Shoot Coalition" members said police should value safety first, and agree to a "de-militarized response" that would bar the use of armored vehicles, rubber bullets, rifles and tear gas.
The group seeks 48 hours' advance notice of the public announcement of the decision. And members are asking police to respect safe spaces set up in houses of worship near each anticipated area of protests, and to ensure protesters can reach those spaces.
Coalition co-chair Michael T. McPhearson, executive director of Veterans For Peace, said the group "must do what we can to ensure there's not loss of life." He said, "We want to de-escalate violence, but we do not want to de-escalate action."
They said they had been attempting, unsuccessfully so far, to negotiate key elements with local and federal officials. And they said they were offering training in de-escalation and for legal observers.
A St. Louis County grand jury has been considering whether Ferguson police Officer Darren Wilson should face charges for the fatal shooting Aug. 9 of the unarmed Brown, 18. Prosecuting Attorney Robert McCulloch said Tuesday night that the jury was still hearing evidence and that he didn't expect a decision until mid- to late November.
Coalition members said tension was growing, fueled by other fatal police shootings and long-term problems of racial profiling, a lack of diversity and accountability in law enforcement, inequality and a lack of trust in police and the judicial system. They also cited failure of authorities to arrest Wilson and leaks to news media about the investigation.
The group blamed police for escalating peaceful protests into violence, saying that given proper space, protesters had been self-policing.
Montague Simmons, chairman of the Organization of Black Struggle, said he expected Clayton and the Ferguson police station to be "natural gathering areas" after the decision was announced.
People "are going to pour into the street," he predicted, adding that no amount of force would prevent that. But he said that the coalition would engage in "peaceful, nonviolent civil disobedience" in the tradition of Mahatma Gandhi and the Rev. Dr. Martin Luther King Jr.
"Every injury, every bullet that flies, every drop of tear gas," he said, will be on the hands of elected officials if they fail to act.
The coalition also has called for a special prosecutor to replace McCulloch and recommended a series of reforms to the Department of Justice's Civil Rights Division.
A spokesman for McCulloch's office said the request for advance notice was "being considered."
The county police provided an email saying it "endorses the statement from the Don't Shoot Coalition regarding the sanctity and preservation of human life. To that end, and in the spirit of building communications, members of the Unified Command have met with the coalition to define common goals."
A Missouri Department of Public Safety spokesman did not respond to requests for comment.
In a letter to the Justice Department dated Tuesday, Adolphus Pruitt, president of the St. Louis Chapter of the NAACP, reiterated a call for independent observers to monitor police activity during protests.