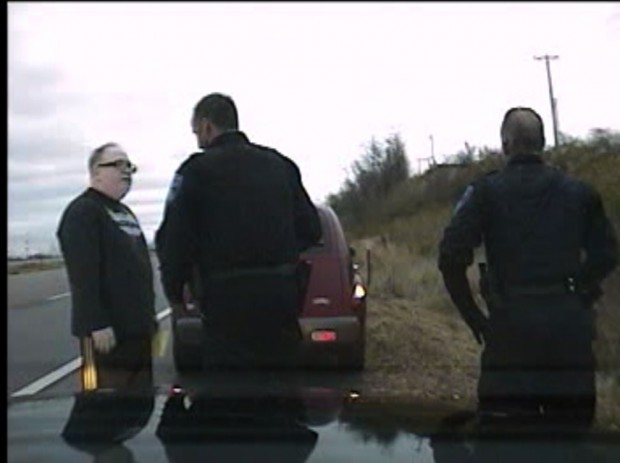 COLLINSVILLE • A man whose edited video of a Collinsville police traffic stop garnered national attention online filed a federal lawsuit against the department today.
Terrance Huff, of Hamilton, Ohio, claims that Officer Michael Reichert, who stopped him for allegedly swerving out of his lane on Interstate 55-70, was a bad cop who unlawfully searched his vehicle in December. Huff was sent on his way after Reichert found no drugs in the car.
In the lawsuit, Huff claims unreasonable seizure, false arrest, unreasonable search of person, unreasonable search of vehicle, and intentional infliction of emotional distress. The suit also alleges that the department rewards officers for asset forfeitures, leading to aggressive tactics.
Huff is represented by Louis J. Meyer, of the Chicago-based law firm Meyer & Kiss. The suit, filed in U.S. District Court in East St. Louis, seeks unspecified financial damages.
Huff, who works on documentary movies, obtained a video from the patrol car's dashboard camera and edited it into an 18-minute piece he posted online, with a score of Star Trek-themed music.
Police Chief Scott Williams has said the video shows a search being conducted properly. He said today he has not yet seen the lawsuit.
The incident happened on a Sunday morning, Dec. 4, as Huff and friend Jon Seaton, also a plaintiff in the suit, headed home to Ohio from a Star Trek exhibit at the St. Louis Science Center.
Reichert stops them and, after making a computer check from his patrol car, asks Huff about a previous arrest for marijuana possession. Huff, 50, admits he was once arrested but never convicted. "It was thrown out," he says.
After some conversation about drugs, in which Reichert observes that Seaton seems nervous, the officer asks to search the vehicle.
"There are no drugs in the car," Huff says. "I would just like to go on my way if I could."
Reichert separately tells Seaton, "We have a major problem ... with people running guns and drugs and other illegal stuff up and down the highway. I'm not overly concerned about a little bit of a personal amount of marijuana. We're looking for big drug traffickers and people that are running loads of dope."
Interstate 55-70 is a heavily patrolled, known drug corridor. In Illinois, police departments can keep a portion of drug money they seize.
The video shows Reichert walking around the car with a dog that does not appear to sense anything. They go again, and Reichert is heard saying: "Show me where it's at. Show me where it's at." They're out of the camera's view when the dog barks.
Reichert searches the car for about 15 minutes, looking underneath seats and in compartments. He tells Huff he found only some marijuana 'shake," essentially loose leaves, on the floor, and sends the men off with a warning.
Huff said he believes he was targeted because of his out-of-state license, and suspects that Reichert cued the dog to bark.
Although there was no formal complaint, Williams asked Madison County State's Attorney Thomas Gibbons to review the incident. Gibbons told the Post-Dispatch that the complete video "speaks for itself" and shows Reichert doing everything correctly.
The prosecutor said Reichert had every reason to be suspicious of Huff, because of the previous arrest.
Reichert also is named as a defendant in the lawsuit. In 2006, he was fired from the force and pleaded guilty of a federal commerce-related charge in the selling of counterfeit designer sunglasses. He received probation and won a lawsuit to get his job back.
Shake off your afternoon slump with the oft-shared and offbeat news of the day, hand-brewed by our online news editor, Mandy St. Amand.