Bells tolled. The trumpets of the brass ensemble hit a single, long note. Husbands in dress uniform put their arms across their wives' shoulders. Wives in dress uniform put their arms across their husbands' shoulders.
Pallbearers brought the body of Sgt. Richard Weinhold -- father, Scout leader, trumpet player, teacher, believer and fallen officer -- down the aisle in a dark, cherry wood casket. The organ pipes sounded notes so regal that floors and chests rumbled. Members of the children's choir, standing high in the choir loft, cried as they sang along to a mournful hymn.
"The golden evening brightens in the west;
Soon, soon to faithful warriors comes their rest . . ."
Weinhold, 44, a 13-year-veteran of St. Louis County's police force, died Tuesday afternoon when a squatter fired a single deer slug into his shoulder and chest, missing his bulletproof vest, police say. His family, friends, and hundreds of police officers from at least 50 different police departments mourned him at his funeral at Immanuel Lutheran Church in St. Charles and his burial at Memorial Park Cemetery in north St. Louis County on Saturday.
In its 44-year history, the St. Louis County Police Department has honored nine officers after their deaths. Weinhold, the latest of those, is one of several officers throughout the metro area to die on duty in the last few months.
St. Louis Police Officer Robert J. Stanze was fatally shot while arresting a suspect on Aug. 8. Thomas F. Henry Sr., a detective with the Bel-Ridge Police Department, died Aug. 29 after suffering a heart attack while running after a suspect. And Capt. Gregory R. Moore, chief of detectives in Bridgeton, died, apparently of a heart attack, while on duty Thursday.
On Tuesday afternoon, Weinhold and three other officers answered a call in the 1900 block of Chambers Road. A homeowner said that a squatter had barricaded himself inside the home. He wouldn't let the owner inside. Officers searched a basement area of the home and then decided to search the home's first floor.
A young officer started up the basement stairs when Weinhold grabbed his arm. "I'll go first, " he said. He stepped forward, and the squatter sprung around from a corner at the top of the stairs and fired, police say.
Thomas Meek, 43, whom the owner identified as the squatter, has been charged with murder.
Chief Ronald Battelle, his voice wavering, stood at the lectern Saturday in front of the somber crowd and told how Weinhold left his sales job to feel more rewarded and helpful as a police officer. Weinhold flourished on the streets and then as a favorite teacher at the county's p olice academy.
Battelle told the congregation what Weinhold said upon learning he had received a statewide award for teaching last year: "I'm just doing the best I can so that no one out there gets hurt."
Battelle looked up. "That's exactly what happened that tragic afternoon when he sacrificed his life. It speaks volumes about what type of person he was, what type of leader he was, what type of man he was."
Officers filled the church and a fellowship hall next door, where they watched the funeral on a large closed-circuit screen. Rows of uniformed officers, their hands clasped in front or behind them, stood on the parking lot and listened to the service broadcast over loudspeakers. A 32-inch television stood in a corner of the lot, broadcasting the funeral for a handful to see. Most of the officers stared straight ahead, stoic.
Inside, as the children's choir broke into a choral anthem, Weinhold's wife, Julie, craned her neck, looked upwards, and managed a smile. Many children's choir members are classmates of the couple's four children: Sam, 11; David, 8; Natalie, 6; and Christine, 3. Sam sat in the crook of his mother's arm; Natalie slept in the arms of a relative, clutching a stuffed dog, white tights and red patent leather shoes dangling.
Pastor Allen Schade based his sermon on Psalm 33. Weinhold had it marked in his devotional Bible, which sat on the family's hearth in their home in St. Peters. Schade spoke of Weinhold's faith, humor, devotion to his wife and children, and his devotion to God.
"Rick knew another man who put his life on the line, " said Schade. "He knew about Jesus Christ, who left his cushy throne job in heaven overseeing the universe to put himself in danger. "
Weinhold, Schade continued, "knew that body armor was no comparison to the breastplate of righteousness, the shield of faith, the helmet of eternal salvation, and the sword of the spirit."
After a hymn, the Lord's Prayer, and a benediction, the organ pipes and chests rumbled once more. Son, David, still tucked in the crook of his mother's arm, followed his father's casket down the aisle and raised a fist to his eye, kneading away tears.
Outside, the rows and rows of officers had moved to either side of the doorway of the red brick church. Eight pallbearers, all officers wearing white gloves, brought the casket out the door, and the rows of officers stood silent, saluting.
Son David, wearing a suit and carried by a relative, looked wide-eyed at the scene. The only sound, the muffled rumble of police and television helicopters, bore down from the clear blue sky.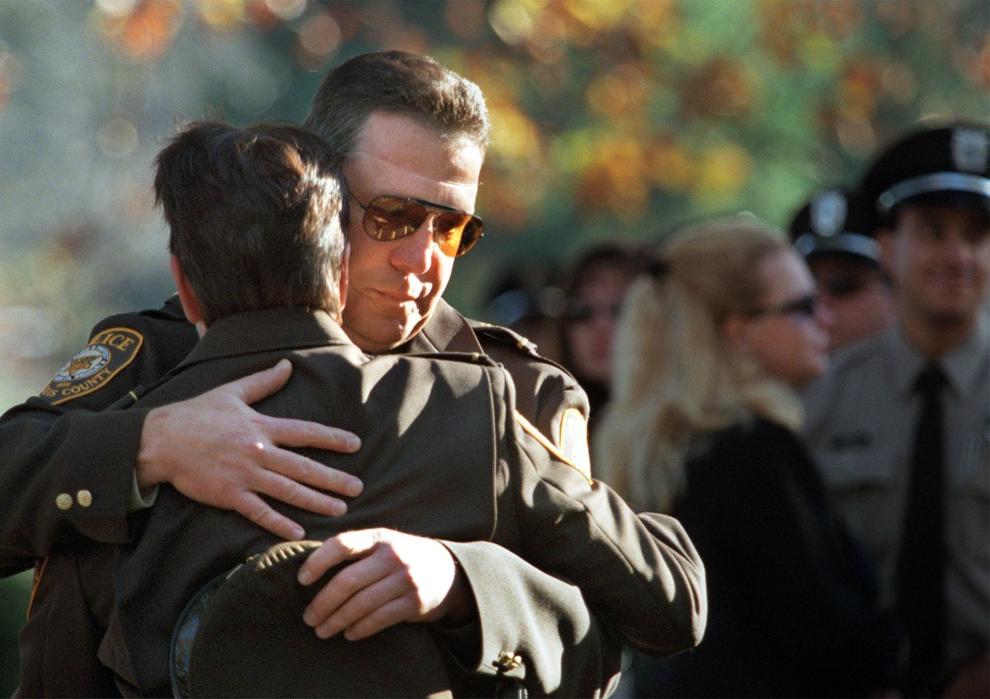 The eight-mile long funeral procession, mostly hundreds of police cars with sirens off and lights flashing, took a half hour to leave the church, passing crowds of people who stood on curbs, some with hands over their hearts. The procession wove from Interstate 70 to Interstate 270, through North County, and past the precinct station where Weinhold worked as a supervisor this past year. At the station, officers stood in line out front, saluting. The procession moved back to Lucas and Hunt Road, where officers with black bands over their badges guided vehicles into the cemetery.
At the grave site, officers stood at attention, forming a silent, saluting line on either side of a grassy aisle. The pallbearers carried Weinhold's casket between the officers, and the family followed. Chaplain Stephen Lee, who worked with Weinhold as a member of the Peace Officer's Ministry, offered a prayer and read a letter Weinhold had written to him. In the letter, Weinhold had thanked Lee for the police officer's Bible he received from the ministry and asked Lee for another Bible - Weinhold had someone in mind who needed one.
Lee implored the hundreds of officers standing at rank to follow their colleague's lead and find backup in each other and in their faith. As Weinhold would tell you, Lee said, "Take care of yourselves, take care of those you love. Never forget the peace officer who comes to protect and serve you."
The officers stood at attention, many not even shivering in the crisp, clear air. Four rifle cracks from an honor guard blasted from the distance, and a baby wailed. Weinhold's colleagues, in brown dress uniforms and white gloves, folded the American flag from their friend's casket and gave it to Julie Weinhold, who held a drowsy daughter Christine in her arms.
The sun began to lower in the sky, illuminating the golden trees. The silent officers broke rank. Some wiped tears away from their faces, hugged their colleagues, and then began crying like children.
They had put their faithful warrior to rest.
Christine Byers • 314-340-8087
@christinedbyers on Twitter