ST. LOUIS COUNTY • "Get busy living, or get busy dying."
The line from Mathew Crosby's favorite movie, "The Shawshank Redemption," is now his creed.
His wheelchair has become more a shelf than a tool for independence — holding candy, chewing tobacco, mail, tissues and a gripping device. He has lain next to it, naked, in bed, since a pressure wound developed under his left leg in July.
Disputes with health providers about the level of care he needed led him to spend too many nights unattended in his wheelchair, he said.
Crosby was at Mercy Hospital St. Louis, in Creve Coeur, for the first of three surgeries on the sore when Ballwin Officer Michael Flamion was brought in July 8 with a gunshot wound that paralyzed him from the neck down.
The men's parents connected, and Crosby told what he knew of rehabilitation hospitals. Flamion returned from one of them on Thursday.
After Hazelwood Officer Craig Tudor was paralyzed from the chest down in an on-duty traffic crash Aug. 25, Crosby found a link there too: He knew Tudor's wife, Christine, who used to live on his beat.
Crosby said he wept at news of the newly injured, sending his mother to their fundraisers and buying T-shirts in their honor.
"It brought me back to when this first happened to me and all of the thoughts and feelings I had," he said during an interview this month. "I just know how hard this life is, and there was a lot of stuff I haven't thought about in a while."

Crosby and his partner had responded to a domestic disturbance on April 8, 2010, when he was shot.
"In the beginning, I thought, 'I'd rather be dead.' It's such a big change in lifestyle, physically and mentally. But once you get past that, you can start to see things ahead of you getting better."
Within about a year, Crosby, who had been a married career cop with two children and a stepchild, found himself divorced, sharing custody and living without special accommodations in a family friend's 900-square-foot vacation home in St. Charles.
He described an up-and-down life. The divorce settlement took some of the money raised for him after he was shot. Several times he found and lost romances. He turned to alcohol and gambling for comfort and likely pushed some people away, he said, although he hasn't gambled in two years and he's "not drinking as much."
He has lived for four years in a somewhat-accessible rental home in St. Louis County and keeps his sons, Ian, now 13, and Luke, now 14, every other week. But when they're not around, he said, depression creeps in.
His parents, John and Virginia Crosby, shuttle his kids. Virginia cooks for them at her son's house, and the family frequently dines on tray tables around Crosby's bed.
"It sucks for my kids and other people to have to take care of me," he said. "It sucks for my kids that I'm different. But I'm still here teaching them things and watching them get older and become young men."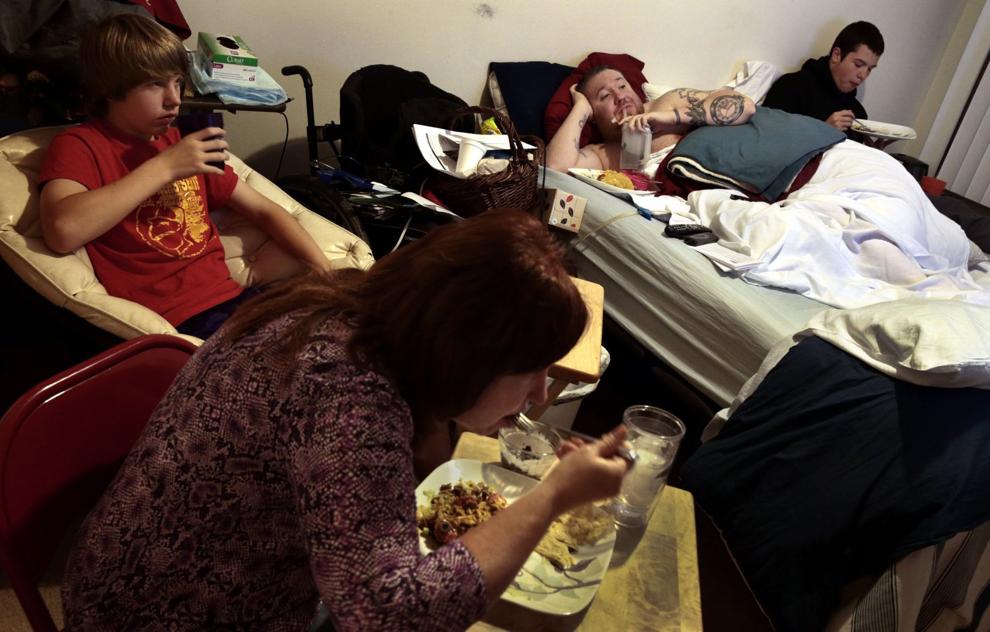 Crosby regrets not having a home large enough to give his sons separate rooms, and dreams of building one near Christian Brothers College high school, which will provide their tuition for free. Beneath a Facebook posting about a nonprofit that is building Flamion a "smart home," Crosby posted, "I wish someone would do that for me."
Symbols of his police life can be seen in ink on his left arm. Tattoos include badges from his four years as a Pine Lawn officer before joining Rock Hill for four more. His partner's badge. A clock stopped on the time he got shot: 11:40 p.m.
But he feels isolated from that life and his comrades in blue, unwilling to reach out to them. "I know they say the phone works both ways, but when you go through depression, you're not going to pick up the phone," Crosby said.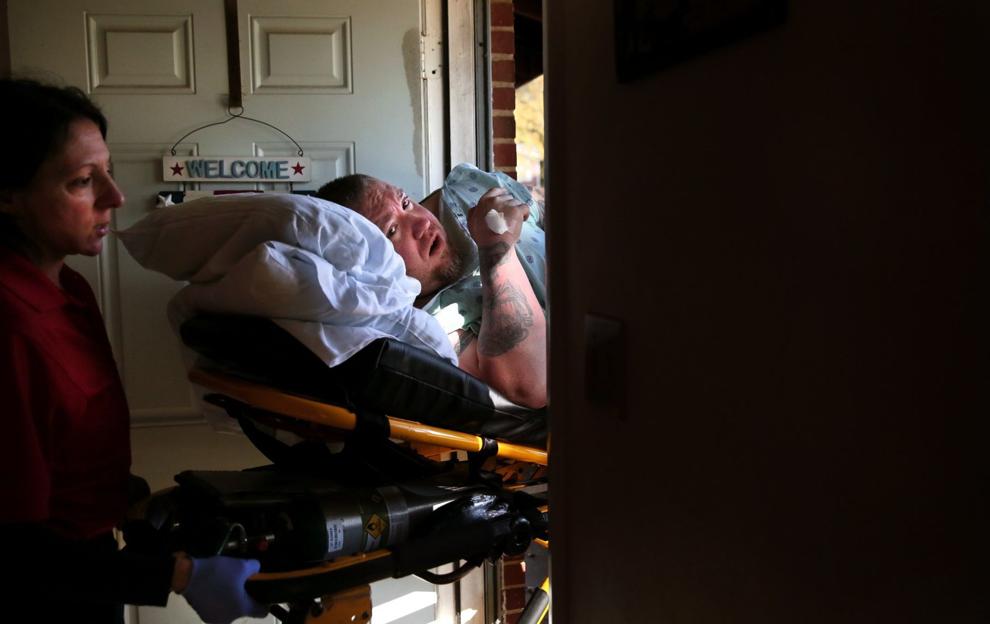 One of his regrets is not going early on to Shepherd Hospital in Atlanta, where he spent three weeks about a year ago. A psychologist there diagnosed him with post-traumatic stress disorder. Knowing the root of his nightmares and fears helps, he said.
Looking toward life beyond bed rest helps him get through it. He hopes to once again use his specially equipped truck, which he paid for himself, to pick up his sons from school and take them to sports events, hunting and fishing. And he wants to teach at the Eastern Missouri Police Academy in St. Peters.
He researches spinal cord injuries and treatments and wants to use what he has learned to encourage Flamion and Tudor.
"If doctors say, 'You'll never walk again,' don't listen to them," Crosby said. "There are people all over the world researching for a cure for paralysis and making progress every day. One day, we'll all walk again. But until then, you have a good life still ahead of you.
"And never give up hope. Never."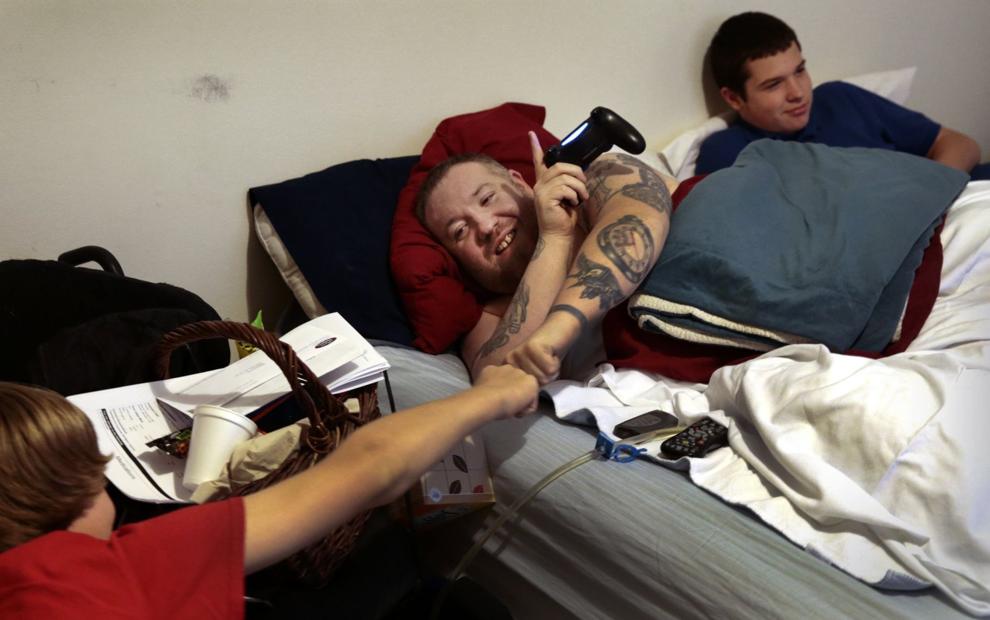 He admits he did come close when sepsis from his pressure wound set in. Intravenous antibiotics pulled him out of kidney failure.
Aides care for him full time, rolling him over in his bed every two hours to relieve pressure points. An ambulance takes him to medical appointments. Doctors say he needs about two more months of bed rest.
His body ink remains on display to anyone who visits.
He answers, "What's the point?"
But, Crosby says, at least it's living.