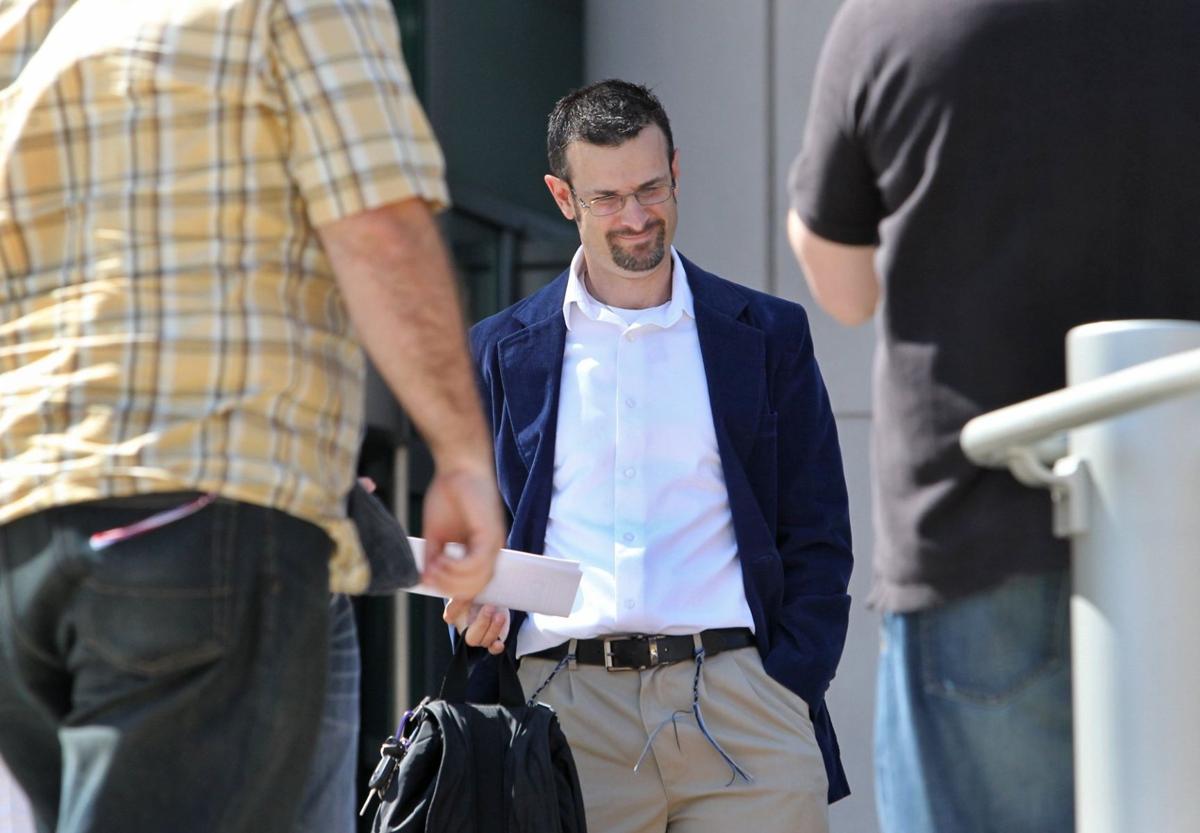 ST. LOUIS • Pastor Jim Staley became a lightning rod for more than his controversial beliefs.
Some critics accused the St. Charles pastor, who attracted worldwide online attention to his Passion For Truth Ministries, of heresy, spending church money on himself and cheating others out of cash.
Until Thursday, Staley, 40, who rents a $1 million home after making excuses for a foreclosed house and unpaid taxes, blamed complaints on "enemies of the Father."
But rather than face trial, Staley stood in a federal courtroom packed with supporters here Thursday and pleaded guilty of four counts of wire fraud. He admitted that, as owner of a financial consulting firm, he had cheated 16 investors out of $3.3 million while making $570,000 for himself.
Defense attorney Scott Rosenblum said after the hearing that Staley was shamed and "completely accepted responsibility." The attorney stressed that the crime "had nothing to do with his role as a pastor."
Assistant U.S. Attorney Dianna Collins said the victims were elderly, and some invested because he was a "nice religious man" who referred to at least several by endearing terms such as "Grandma."
"Seniors tend to be more trusting and give people the benefit of the doubt, particularly people who hold themselves out as religious leaders," Collins said.
Under federal guidelines, Staley could face six to eight years in prison at his sentencing July 29. His attorneys will ask for less.
Staley was a Missouri-licensed insurance agent from 1999 to 2008. In 2008, he formed Wealth Financial International, and also became a sales agent for a California company named B&B Equity Group.
He convinced some Wealth Financial clients to cash in annuities and invest the money in B&B, officials said, knowing they would lose "substantial surrender fees."
Staley later became B&B's national sales manager. Officials said he continued recruiting salespeople, even after realizing that the product — bundled life insurance policies — wasn't selling and after receiving a cease-and-desist order from the Missouri Secretary of State's office in 2009. He did not disclose that order to prospective investors.
Years later, he would insist to supporters that he sold a sound financial product that was recognized in 34 states, just not in Missouri.
In 2011, Staley and others were ordered by the state to return commissions of $350,000 and repay $2.5 million. Staley was ordered to pay civil fines of $14,000. It was not clear whether he complied.
None of the investors belonged to his church, prosecutors said.
Staley's church website says he taught Bible study classes in the St. Louis area for years and helped "Christians learn to defend the Bible and evangelize."
He "had a supernatural experience and introduction to understanding the Bible through the original authors' mindset and those in the First Century Church," it says, and dedicated his life since 2007 to teaching "amazing life-changing truths" to others.
Staley and other "Christian Roots Movement" followers advocate a return to the first Christians' walk of faith and obedience to the Torah. He calls it returning to the core Bible teaching "from the original author's perspective" before churches "started adding and subtracting from the word of God."
Menachem Kaiser, who has researched and written about the movement — but not Staley in particular — said many of their ministries had much larger online presences than in-person congregations. He said the movement was relatively new, with no umbrella organization and an evolving belief system.
Staley incorporated Passion for Truth Ministries in 2008 and began live-streaming his messages the next year. In 2010, basement Bible study groups hosted by Staley moved to a rented building. In 2011, the group rented a different building, at 1402 South First Capitol Drive in St. Charles, from a Baptist church.
The church says Staley also appeared on multiple Christian TV networks and several radio stations around the country, and the ministry grew to about 200 area members with an international following.
From January to November 2012, the church had revenue of $1.34 million and expenses of $1.37 million, with $89,000 in the bank, according to a church video.
Staley said that YouTube views grew to 2.8 million in 2013 from more than 1.2 million in 2012, and that channels were added in Russian and Spanish. Facebook "likes" grew to 116,000 from 22,000 in the same period.
Tony Yu, a Roots Movement critic behind the "Hebrew Roots Heresy" Facebook page, said Staley had been "one of the major players" with "influence in a large circle all over the world."
As the church grew, so did the criticism.
The Roots Movement has been controversial with mainstream religion. But in social media posts and online videos, Staley's personal critics also complain of financial problems such as the fraud case, tax liens and foreclosure of his former home in Wentzville. They've also accused him of misspending church money.
Some also criticize Staley's lifestyle. He, his wife, Cheryl, and their six daughters live in a 5,000-square-foot, $1 million home in St. Charles County that they rent from Robert Keppel, a former professional baseball player.
Keppel would not disclose how much he charges in rent but said the amount was wired to him, always on time. He described the Staleys as nice people who took good care of his property.
In a 35-minute video response to critics that went online Jan. 2, 2013, Staley said he left a "deep six-figure" income to go into the ministry, and then earned less than the median for pastors in the county. He spoke of an independent accounting firm that conducts weekly audits.
He blamed the mortgage industry and court delays for foreclosure of his former home, worth about $500,000, in Wentzville.
According to court records, he had to be ordered out of the house after filing two unsuccessful lawsuits to stop the foreclosure.
Staley also said in the video that he had not paid his income taxes for years, saying he "was going by the letter of the law" but later changed his mind and started catching up. In a later video, he said he simply got behind.
And, he insisted, "I was not conning little old ladies out of their money."
Yu said it was possible that Staley really had repented, but he doubted it: "He can confess anything he wants in court, but when he gets in front of his congregation or YouTube, he can spin it any way he wants."
In a video posted after his indictment, Staley said that investors lost their money because of the economic downturn, and that supporters' visions of "two high-ranking demonic generals" represented two FBI agents investigating him.
In court Thursday, U.S. District Judge E. Richard Webber warned Staley against making further claims denying responsibility for the fraud he admitted in court, saying it could cost him extra prison time.
Josh Ernst, of Warrenton, said he was one of just four or five people who began Bible study in Staley's basement in 2006. He said he left the church in 2012, among several others bothered by Staley's financial problems.
"The dishonesty was a big problem for me," Ernst said. "I started to see a pattern — he used the same sorts of excuses, blamed other people, and nothing was ever his fault or his responsibility. That happened one too many times."
Ernst said he hoped the guilty plea would be instructive to friends he lost over criticism of Staley.
But the courtroom overflowed with so many Staley supporters Thursday that some federal agents and court staff were relocated to open up more seats. After the hearing, Staley thanked members of the crowd for coming. They responded with applause.