ST. LOUIS • The latest homemade video of a daring stunt motorcyclist is making the rounds on social media — and St. Louis police are featured in an unlikely role.
Stunt riders long have boasted that St. Louis is a haven for them. Some say St. Louis police are so preoccupied with violent crime that they don't crack down on the bikers' antics.
The latest video, posted several places online over the weekend, shows a rider standing on the seat of a motorcycle doing a wheelie in the 4900 block of Natural Bridge in broad daylight. As the westbound motorcycle catches up to a marked police car from the Sixth District, the rider extends his right foot to the outstretched hand of the police officer.
Both directions of Natural Bridge are fairly crowded at the time, and the police car and motorcyclist ride in tandem and appear to touch as they pass through the intersection of North Kingshighway. The rider then does an additional stunt — jumping to push his legs above the handlebars in a V shape, all while a motorcyclist behind him records the event.
The motorcycle is moving in the left lane, and the officer in the right. After a few blocks, the police officer pulls ahead and appears to continue on his way.
One Facebook post has more than 116,000 views and has been shared nearly 2,000 times. Two men who appear from social media posts to be involved in the video could not immediately be reached for comment.
St. Louis police are aware of the video, and an internal investigation is under way, said a department spokesman, Sgt. Keith Barrett.
"If an officer were to witness a stunt rider, they would be ticketed for whatever traffic violations they committed," such as careless and imprudent driving, Barrett said in an email.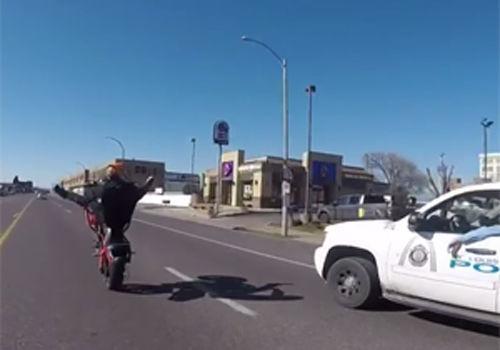 'Not in control'
Missouri Highway Patrol spokesman Juston Wheetley said he has seen clips of the video but is not familiar with the specifics of what happened that day. Because the video involves another agency, Wheetley said he could speak only in general terms about how stunt riders are treated by the patrol.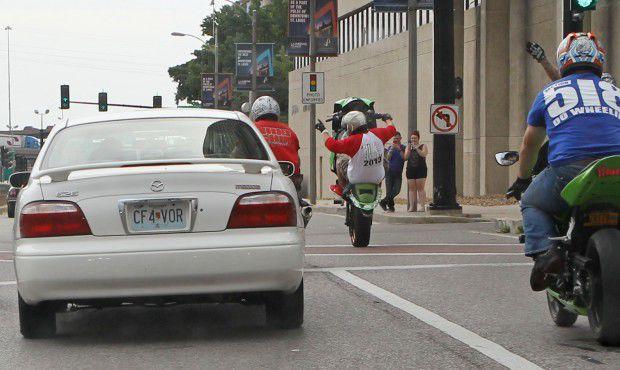 Wheetley said Missouri law requires riders to have control of their vehicle. Someone who is standing up on a bike and doing a wheelie is not in control, Wheetley said.
"They are not in control of the vehicle because their steering wheel is not on the ground," he said. "They have to be seated and driving it the way it was intended to be driven or ridden."
Riders caught doing wheelies are typically cited for careless and imprudent driving, a misdemeanor punishable by up to a year in jail and a $1,000 fine. Other tickets can be tacked on for speeding and license or insurance violations.
When the stunts are performed on interstates, they are particularly dangerous, Wheetley said. "If they lose control, a lot of things could go wrong. If you fall off your bike at the speeds they are traveling on interstates, it could result in death."
Wheetley said stunt riding is worse in summer months. A trooper who sees a stunt rider next to him would try to stop the rider, Wheetley said, assuming it was safe to do so and the trooper wasn't on his way to a more serious call.
Zero tolerance
St. Louis has cracked down on riders before. Area police officials came together in a news conference in 2013 to say they would have zero tolerance for any mischief when 3,000 riders were coming to town as part of the "Streetfighterz Ride of the Century" event.
Stunt cycles flood downtown St. Louis
The annual "Ride of the Century" was held in downtown St. Louis as thousands of motorcycles gathered on St. Louis streets on Sunday, Sept. 1, 2013. Large groups of speeding cycles blocked traffic and ignored traffic laws while performing stunts on their bikes. St. Louis police were kept busy trying to control the participants.
Ride participants say most who rode in the annual celebration were law-abiding, and that police were unfairly singling them out.
On the eve of the massive motorcycle event, St. Louis police arrested nearly two dozen motorcyclists. A police department spokeswoman then said, "While we welcome motorcyclists to our city, participating in reckless and dangerous behavior on our roadways will not be tolerated."
In a documentary called "Delirious" about the St. Louis street bike scene posted last year on YouTube, riders called St. Louis the capital of stunt riding and said police here let them get away with it because crime is so bad they have other worries.
"You can come to St. Louis and pretty much ride all day," one man in the video said. "And the cops really don't mess with you around here."
One of the riders in the documentary goes by the nickname "Junkyard Kenny." Contacted by the Post-Dispatch, Kenny asked that his last name be withheld because he is worried about backlash from police. He said he saw the video posted Saturday but doesn't know the rider. A Metro East resident, Kenny has been riding six years and said avid riders spread the word that police in St. Louis aren't as aggressive about stopping the stunt riders as police in other jurisdictions.
"Illinois cops are so bored, if they see a wheelie, they will chase you until you almost die," he said. "In St. Louis, it's 'Well, just another street race.' There are so many murders and drug dealers, why not go catch the next heroin dealer?"
Kenny said he has been caught for aggravated reckless driving in Illinois and his bikes have been taken. He disagrees, however, that what stunt riders do is necessarily dangerous. "We have more control on our bikes than the person in the car texting," he said.