PARK HILLS, Mo. — A coroner's inquest held Friday about 90 miles south of St. Louis ruled that a Park Hills, Missouri, man did not die in April by suicide, as initially determined, but as a result of violence.
The jury's decision, while welcomed by the man's family, has only added to the mystery of what happened on April 25 in a rural Missouri home that led to Derontae Martin's death. Martin's family lived in the St. Louis area until about a decade ago, when they moved to Park Hills.
Martin, 19, was found unconscious, with a gunshot to his head, in the attic of a home near Fredericktown. A birthday party had taken place at the home, and some of the people who were at the gathering told police that Martin had shot himself.
The initial ruling of suicide was questioned by the man's family and community members, so a coroner's inquest was scheduled to review evidence and witness testimony, allowing a six-person jury to make the call on Martin's death.
The jury had to decide among four options: that Martin's death was the result of violence, suicide, accident or natural causes.
Jury members listened and took notes as Madison County Prosecutor M. Dwight Robbins called nearly 20 witnesses, including Missouri Highway Patrol officers and people who were at the party, and he also presented evidence gathered at the scene.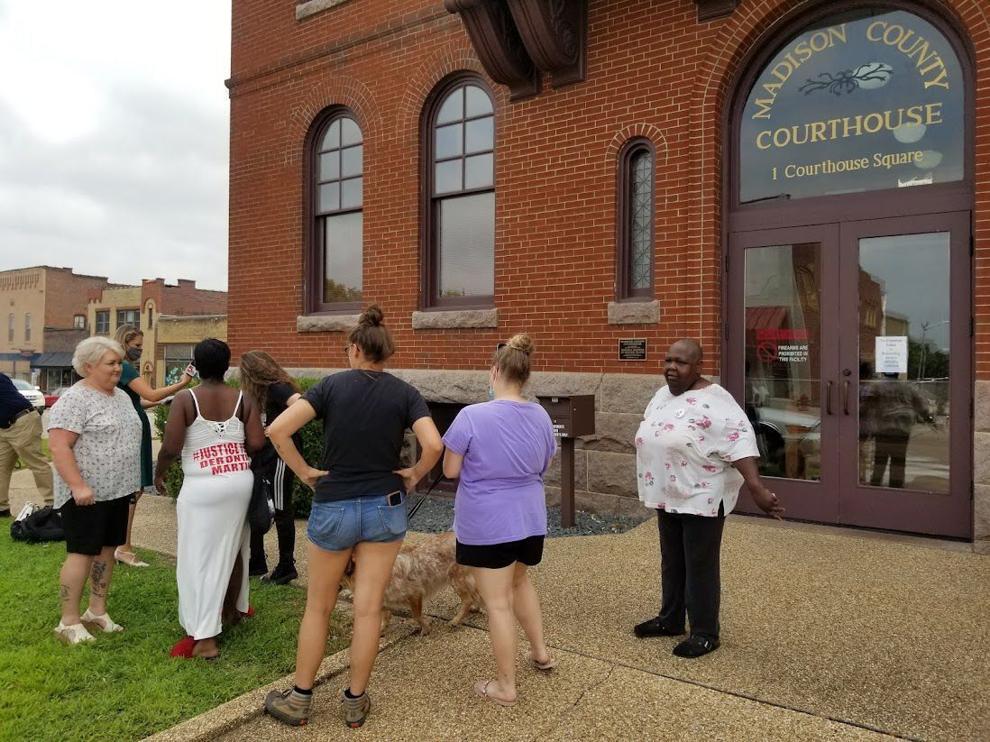 Dr. Russell Deidiker, the pathologist who performed the autopsy on Martin, testified that the 19-year-old had died of a gunshot wound to his left temple. He said that a soot ring indicated the gun was fired at near contact to Martin's head.
A second autopsy, which was commissioned by Martin's family, indicated the gun had been fired from a different range. Deidiker said the second autopsy had been performed after Martin's body had already been cleaned and prepared. Because of this, the pathologist said it didn't change his opinion.
Toxicology results also showed drugs in Martin's system, Deidiker testified.
The jury heard from other witnesses along with written statements from people who attended the birthday party. Some described Martin's behavior as paranoid.
Others claimed various people at the party may have been involved in Martin's death.
The party was held for the daughter of the homeowner, James Wade, who on Facebook has mocked foreign accents and defended the Confederate flag. Earlier this year, he posted a meme showing a hand flipping the middle finger. It reads: "Here's my apology for being white."
Another witness statement alleged that Wade and two others had murdered Martin, while another witness said Wade told him that "he did it." A deputy said that the allegation was not supported by any evidence.
Wade also testified, admitting he has used racial slurs but denied saying he shot Martin, a Black man.
The evidence portion of the inquest ended at 11:15 a.m., and the jury deliberated for nearly two hours. The jury returned at 1:23 p.m. with their verdict: The cause of death was violence, not suicide.
It is unclear exactly how the case proceeds now. Robbins, the prosecutor, declined requests for comment after the inquiry was adjourned.
Martin's mother and grandmother were overjoyed with the jury's decision. Martin's mother, Ericka Lotts, danced in the courthouse hall, shouting praise to God before briefly collapsing in a chair and crying heavily.
Kimberly Lotts, Martin's grandmother, said she was thankful for the outcome but acknowledged that much work still needed to be done to get justice in Martin's death.
"I am happy," Lotts exclaimed. "I am happy that somebody else saw. Glory to God. I could just shout. But we got a long way to go, so we'll just keep on praying and keep on trusting in the Lord."