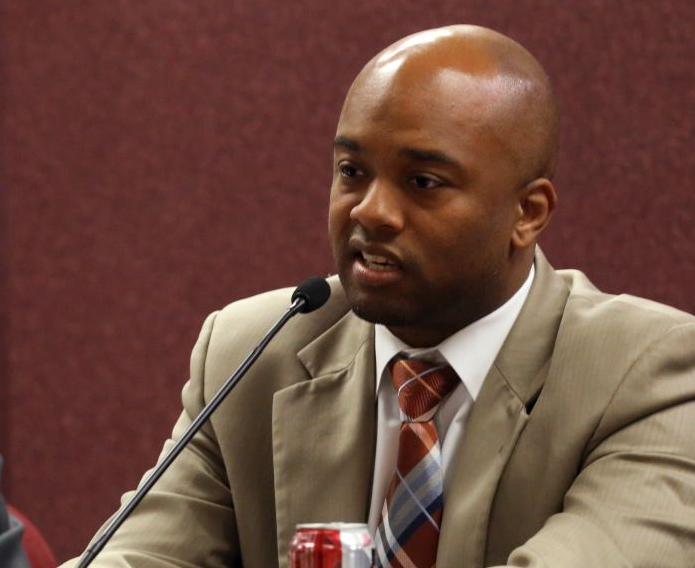 CLAYTON — A former state representative who has worked for the past year as assistant to St. Louis County Councilwoman Rita Heard Days is resigning amid a federal criminal investigation, Days said Saturday.
Courtney Curtis, 39, will resign effective Oct. 31, Days told the Post-Dispatch. Days said Curtis told her that he had reached an agreement with federal prosecutors to plead guilty to a criminal case in U.S. District Court in St. Louis — and that he could not talk about the details with her.
Curtis did not respond to multiple requests for comment. Days said Curtis told her the investigation springs from findings by state ethics regulators — widely covered by local news outlets — that he had used his campaign funds to pay for personal expenses.
Days, a Democrat and former state representative and senator who now represents the county's 1st council district, said she did not think the federal investigation had anything to do with Page's complaint or any work Curtis did for the county.
County Counselor Beth Orwick said Saturday that it would not be appropriate to confirm or deny the county had been ordered to produce documents or witnesses in a criminal case.
Days said Curtis told her of the investigation when a "couple of weeks ago he came and said he had given it his best shot" to defend himself against the accusations of financial misconduct involving his campaign funds. "He thought he was able to work things out with whoever it was and that does not seem to be the case at this point."
She said Curtis told her he was pleading guilty to something in federal court after the allegations in the state ethics cases "morphed into a federal investigation of some kind. ... It got to the federal level and that's what he's pleading guilty to."
"To be honest with you, very little of this has been discussed with me because his rationale is, 'I don't really want you to have to answer any questions for me, that if they want to know things, then they can ask me,'" she said.
Days said Curtis had previously submitted a resignation letter to her and told her: "That resignation is there for you whenever you need to use it, or if you wanted to use it." She said she told him, "Let's just see how this plays out, if there's anything else that can be done, and then we'll go from there."
Days said Curtis had done "an exemplary job, as far as I'm concerned."
11 bank accounts
Curtis, a Democrat, represented Missouri's 73rd District starting in 2013. In July 2017, the state fined Curtis $114,050, for maintaining at least 11 bank accounts for his reelection fund, potentially allowing him to use some of the donation for personal use. He also accepted cash donations in excess of state limits, deposited campaign contributions into a personal bank account and used campaign funds to pay for items that were already covered by the state.
He resigned from the Legislature in December 2018, waiting until the last minute to avoid a new constitutional amendment that could have limited his ability to lobby in the future. Around that time, then-1st District Councilwoman Hazel Erby appointed Curtis to represent her district on a commission that would spend all of the following year reviewing and suggesting revisions to the county charter.
In April 2019, the council selected Page to become county executive after the resignation of Steve Stenger amid a federal pay-to-play sting. Erby resigned from the council to join Page's administration as the county's diversity director. In a special election in August 2019, voters in the 1st council district chose Days to succeed Erby.
Ethics panel levies fine
Days hired Curtis as her assistant in mid-September 2019. Within days, the Missouri Ethics Commission fined Curtis $77,500 for a variety of alleged transgressions, including spending money from his account on gas and hotels while also receiving daily expense reimbursements from the state during his time as a member of the House. Curtis also failed to report 10 contributions, including a $25,000 check from Republican mega donor David Humphreys of Joplin.
The ethics commission said there was probable cause to believe Curtis failed to report 722 expenditures that included visits to spas, casinos, bars and restaurants in Columbia and Jefferson City.
Days told a reporter then that Curtis denied the allegations — and that she believed him. She said Curtis claimed he was not able to make statements defending himself to the ethics commission and planned to appeal.
On Saturday, Days said Curtis had "made an effort to fight" the ethics charges against him but "wasn't successful."