ST. LOUIS — The woman seen in a sex video recorded by Cal Harris, former chief of staff to County Executive Sam Page, said Thursday she did not know she had been recorded or that the recording had been shared.
The video, which had been turned over to law enforcement last week, appears to have led to Harris' abrupt resignation from his $156,000-a-year job on Wednesday.
Grant C. Boyd, the woman's attorney, described the situation to the Post-Dispatch as "horrific."
"The victim did not know it was being recorded, did not consent to the recording and did not consent to any dissemination of such recording," Boyd said.
"At this time, the victim requests privacy as she navigates this horrific situation," he said.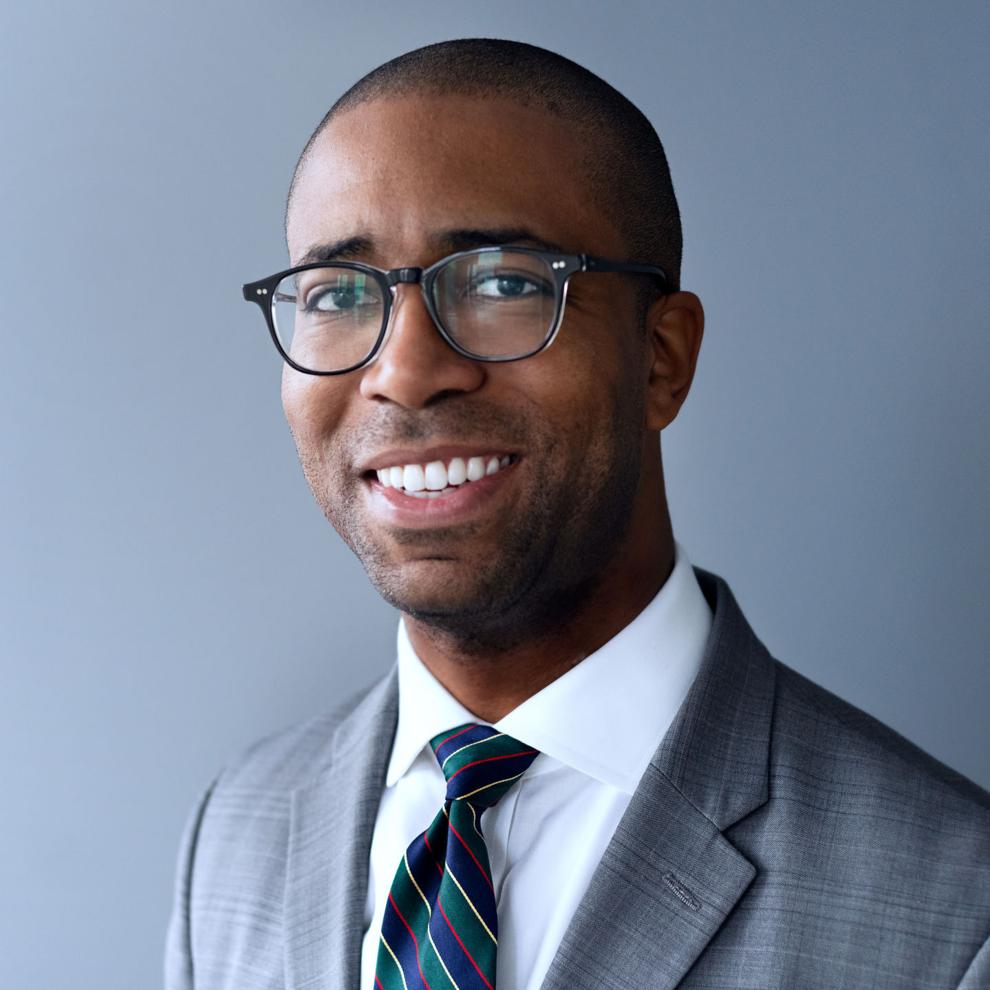 The Post-Dispatch does not identify victims in cases in which a sex crime is alleged. The woman is not an employee of St. Louis County.
Harris did not respond to a request for comment.
If the woman did not consent to have the recording shared with outside parties, it could constitute a violation of a state law that prohibits "nonconsensual dissemination of private sexual images."
The law, sometimes referred to as the "Greitens Law," came into being during the scandal involving former Missouri Gov. Eric Greitens, who was accused of undressing a woman he was having an affair with, snapping a photo and threatening to disseminate it if she told anyone about the affair.
The crime is a Class D felony and is punishable by up to seven years in prison and a $10,000 fine.
What's on the video
A copy of the Harris video was obtained by the Post-Dispatch through a records request Thursday.
The video, 52 seconds long, included audio and appeared to have been recorded by the man engaged in the sex act, using a cellphone he held in one hand.
The man's identification badge, with the name "Calvin Harris" and Harris' photo, is visible for 14 seconds before the man adjusts his lanyard, moving the badge out of frame.
In the last seconds of the video, the man redirects the camera toward his face, and identifying facial features are visible for a moment before the recording ends. The man's voice can be heard during the recording, and he speaks briefly.
The act occurred next to a desk that holds a keyboard, two computer monitors, a laptop, a phone and various other items including what appears to be a personal photograph of the man in the video. The recording does not capture the woman's face, and the woman does not appear to see the phone or show awareness that she is being recorded.
The video, according to an email released in response to a Sunshine request, had been sent June 22 to the public email account of state Rep. Shamed Dogan, R-Ballwin. Dogan is a candidate for county executive.
The email was sent from an anonymous account, "stlcountyconcernedcitizen", that used the domain "@proton.me" — a free domain offered by a privacy company that provides complete encryption of email communications. The company, Proton.me, is based in Switzerland.
The email to Dogan was sent with the subject line "Tax Dollars GROSSLY Misused at County Executive Office."
The email said: "A video from the county office has captured that Sam Page doesn't have control over his staff. While he is a practicing physician, his chief of staff is practicing inappropriate behavior in the office while being in charge. New leadership is needed."
In addition to the video, the email included six images apparently captured from the recording, including a cropped photo of Harris' ID badge, with his name and photo visible.
Harris resigned abruptly Wednesday, a week after Councilman Mark Harder, R-7th District, asked law enforcement officers to investigate the video. In his resignation, Harris made no mention of an investigation, but instead cited "the recent death of a close relative and upcoming family relocation."
Harder said in a news release late Wednesday that he had received a video on June 22 of a male county employee in a sexual act with a woman in what appeared to be an office on the executive floor of the county building in downtown Clayton. Harder did not name the employee.
Believing the woman might be a possible crime victim, Harder said he met with law enforcement officers on June 23.
He declined to comment to the Post-Dispatch, referring questions to the Missouri Highway Patrol.
The highway patrol did not respond to requests for comment.
Clayton police Cpl. Jenny Schwartz said her department was "made aware" of the alleged video June 22 but referred the matter to the highway patrol. She said she could not discuss more details.
In a statement Thursday afternoon, Page spokesman Doug Moore said, "Everyone is looking forward to the Missouri Highway Patrol finding out how Councilman Harder got the video and who he shared it with. No one in the county executive's office has spoken with the highway patrol, but we will certainly cooperate fully."
Moore issued a second statement nearly four hours later, calling it "reprehensible that a video was taken and circulated without the woman's consent. And it's reprehensible that it was passed hand-to-hand among politicians. The Highway Patrol is investigating to determine what crimes occurred. Our office first learned of this on Wednesday."
Fitch calls for a council hearing
Councilman Tim Fitch, R-3rd District, said in a tweet that Harder had reported the video to him and that he had advised Harder report it to law enforcement of concern distribution of the video violated state law barring explicit videos from being shared without consent. Fitch said he had not seen the video.
In an interview, Fitch called for a council hearing to probe the allegations and explore "administrative issues we need to deal with."
"The county executive has a lot of answering he owes to the public and to the council about his direct reportee," Fitch said. "We need to have a meeting to discuss this and what our options are as a council, to have the executive meet with us as a Council and tell us what is going on in our buildings," he said.
Fitch said the resignation statement released by the county indicated Page "wasn't about to admit that there was any investigation going on."
"I think it just goes to show he's already trying to cover it up and not be transparent with the public," he said.
Council Chair Rita Heard Days, D-1st District, said Fitch hadn't requested a committee hearing from her yet.
"If what has been circulating in the media is true, I find his actions reprehensible and unprofessional," Days said in a text. "No woman deserves this, which is why we have Greitens law."
"I pray for his family. Interestingly enough, no one is concerned about how this will affect the woman involved. Beyond that, there is nothing more that needs to be said. It is a sad day in St. Louis County," Days said.
Updated at 6:30 p.m. Thursday, June 30.