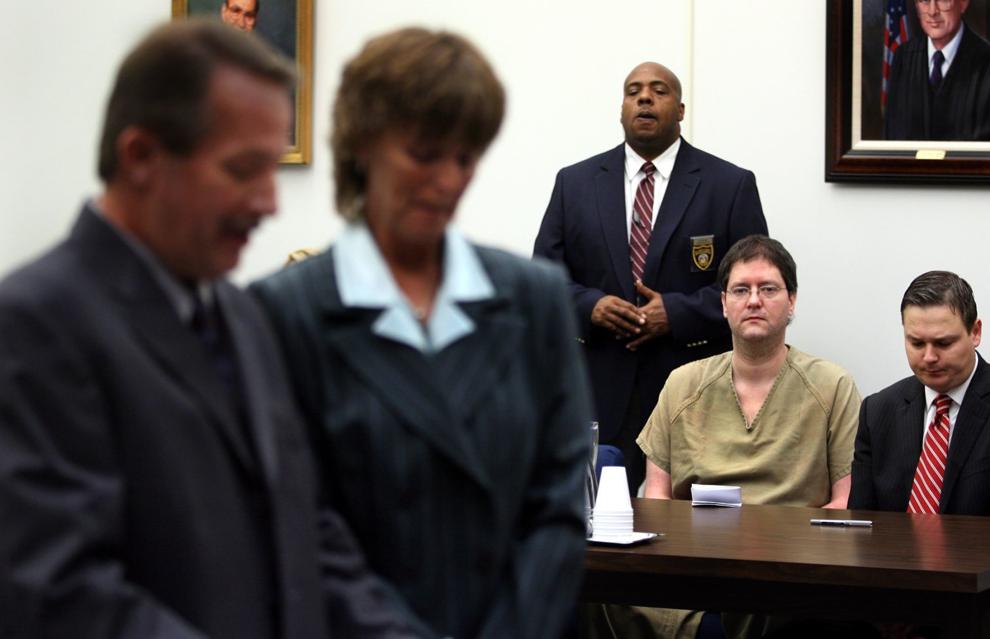 RICHWOODS, Mo. — Craig Akers refused to give up his quest to find his kidnapped son, Shawn Hornbeck, during the four years and three months he was missing — even if it meant ignoring his own health, according to his wife.
He suffered from a vascular disease and once had several bypasses performed on his right leg. The surgeon saw news coverage of him searching for Shawn in a wooded area well before his six-week post-op checkup when he should have been resting it, Pam Akers recalled in an interview Saturday.
"The surgeon told him, 'I can't believe you're back out there,'" Pam Akers said. "He got a little bit of a chewing out. But that's how he was. He was dedicated to his kids and his family and now his grandkids."
In June, Craig Akers was diagnosed with stage 4 bladder cancer. He died Monday, (July 15, 2019.) He was 57.
His death occurred 12 years after being reunited with Shawn, who, at age 16, was found alive in January 2007 in a Kirkwood apartment along with another boy, Ben Ownby, 13, who had gone missing four days earlier.
"Craig was so grateful he got to spend more time with Shawn," she said. "We were one of the lucky ones, got our child back before we passed.
"I'm hoping that maybe now Craig is up in heaven so he can guide some other kids home and guide other parents through some comfort because I know he's looking over all of them now."
Shawn has since married and become a father. He lives in the St. Louis area. He turned 28 three days after Craig Akers died.
"Shawn has grown up, and they see things differently, but Shawn sees the devotion Craig had while he was gone," Pam Akers said.
Craig Akers met his wife 28 years ago when she worked as a secretary for his parents' custom homebuilding company. At the time, her daughters were 5 and 6 and Shawn was only 6 months old.
"They never called him a step-dad," Pam Akers said. "They said he was their bonus dad."
The Akers would have celebrated their 20th wedding anniversary at the end of the month. "He was my rock," Pam Akers said. "I don't think I could have made it without him.
"He assured me he would never give up and that he would always find an answer for me. Anytime I wanted to give up he would push me, tell me I couldn't and to keep going. A lot of couples don't make it through something like that, but we sure did. We leaned on each other. We comforted each other."
After Shawn's rescue, Craig Akers continued his quest to help find answers for families of other missing children. But, ultimately, his right leg had to be amputated up to his hip after complications from the vascular disease.
"If his health would have allowed him, Craig would have stayed involved, but he could no longer search and walk through the woods with a search dog," Pam Akers said. "For me, I tried to continue the work, but every time I showed up for a search, my nightmares started up again."
"I thought that was something I could do but unfortunately for me, it was like living it all over again. I would have the same vivid dreams even though Shawn was home safe. I know that parent's pain. I don't think that's something you ever get over. It will always affect us for the rest of our lives."
Survivors include his parents, Lester Akers of Richwoods and Anna Quinn of St. Louis; the two daughters, Jackie Huncovsky of Dittmer and Jennifer Maxwell of Richwoods and a brother, Rodney Akers of Sullivan.
"We appreciate what everybody did for us, all of the prayers, but this is a private moment," Pam Akers said. "This is going to be very hard on our family. This is a private family heartbreak that we're going through."
The funeral and burial will be private.