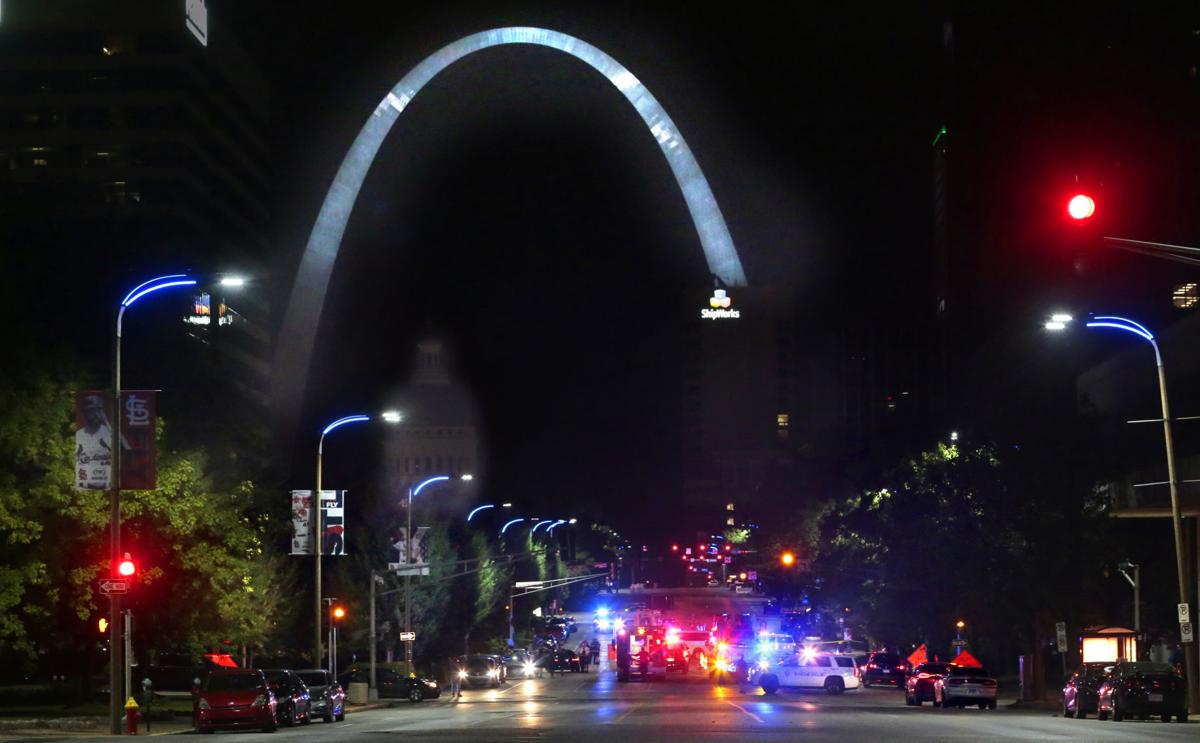 ST. CHARLES — Missouri lawmakers' passage of increasingly lax gun laws and policies preventing stricter firearm rules and enforcement have stymied local efforts to beat back violent crime, St. Louis Mayor Tishaura O. Jones told a state Senate panel Monday.
Jones joined other regional leaders to testify at the first meeting of a special Missouri Senate committee formed by Senate President Dave Schatz, R-Sullivan, to explore problems facing the state's largest metropolitan region and what the state Legislature, dominated by rural Republicans, can do to help.
Largely, Jones said, Missouri legislators could help by leaving St. Louis alone.
"A one-size-fits-all approach handed down from Jefferson City has not worked and will not work if continued in the future," she said during the hearing at Lindenwood University in St. Charles. "So when I see requests for legislation that will benefit St. Louis, I ask the Legislature this: Respect our autonomy and our ability to know what's best for our families and our neighborhoods."
Despite a number of regional issues discussed by St. Louis area leaders, the senate panel seems likely to zero in on crime in St. Louis, which could help set the agenda when lawmakers reconvene for an election-year legislative session in January.
Business executives considering the region "look at these murder rates, the rates of carjacking, the rates of violent crime, an understaffed police force, it's got to hold people back," said Sen. Bob Onder, R-Lake Saint Louis. "Forget labor laws and right to work and all that, unless people can be assured that they are safe."
Jones' administration has recently moved to tamp down lawless behavior downtown, yanking the liquor license of a nightclub where several nearby shootings occurred and disbanding a homeless encampment next to a prominent corporate office. Jones said she and business leaders plan to announce this week a new approach to public safety downtown. It's expected to include an emphasis on events to boost pedestrian activity, which helps deter crime, and a possible reallocation of some police resources.
Though the mayor mentioned other issues, such as the state's strict abortion regulations, Jones said "crime and public safety" was the No. 1 issue facing St. Louis.
"The relaxation of gun safety laws and our inability to pass commonsense gun safety on the local level has led to an increase in gun deaths," Jones said.
Schatz, though, said policies such as abortion cheapen human life and contribute to the violence that has plagued St. Louis for decades.
"I truly believe there is something, some element missing other than the fact that we need stricter gun laws," Schatz said. "We need morals. We need values. We need Christian morals. Christian values."
He pressed Jones on her support of the St. Louis police. Jones, who pushed to reallocate $4 million for unfilled police officer positions in one of her first actions as mayor, said she supports the department but that she believed "they are adequately staffed." Jones pointed to her efforts to hire mental health and social workers to respond to some emergency calls, freeing up police officers "to do the work they were trained to do."
The city, Jones said, is "in the process" of hiring 30 additional social workers in other departments.
St. Charles County Executive Steve Ehlmann, who also testified to the panel, said that although the city's 300,000 population makes it smaller than his suburban county, it is "still the face of the region." Crime is "an impediment to the entire region attracting business," he added. Fighting poverty and the root causes of crime is important, Ehlmann said, but it will take years to see results.
"The fact of the matter is, we've got a crime problem right now," Ehlmann said. "What can we do in the short term so in the long term these other things will prove effective?"
Jason Hall, head of local business group Greater St. Louis Inc., put less of a focus on crime. Rather, he called on lawmakers to partner with leaders in the St. Louis region, which he pointed out generates some 44% of the state's Gross Domestic Product, to make population and economic growth the top priority.
"The St. Louis metro must win this decade," Hall said. "The economy and growth must be our top priority. So many of our challenges that we've started to talk about this morning are solved if we can get this metro area growing again."