ST. LOUIS COUNTY — A half-square-mile neighborhood in north St. Louis County, long riddled with violence, is now the frontier of crime prevention: A group of residents, researchers and cops are experimenting with crime-fighting tools — from painting murals to cleaning up vacant lots to installing street lights — and then tracking how those steps reduce crime.
"This community needs restored hope," said Shonte Jamison, who is working on the project in her role as community engagement coordinator for the St. Louis County police.
Castle Point is a few dozen blocks of mostly single-family homes just east of Ferguson and north of Moline Acres. There used to be more businesses here, residents said. There used to be more homeowners in the neighborhood.
Gradually, the small unincorporated community deteriorated — houses were left vacant, their windows boarded over, their yards accumulated trash. Unemployment and poverty grew. Burglars stripped empty houses of copper piping and wiring. Drugs changed hands in the abandoned structures. The sound of gunfire became more commonplace, and people started dying.
Now Castle Point faces more violent crime and higher rates of poverty than St. Louis County as a whole. Although Castle Point makes up less than 1% of the county's population, the area accounted for more than 20% of its homicides in 2016 when the grant proposal was written.
"It offends me, and it makes me want to do something," said resident Gea Johnson, also the president of the Castle Point Community Alliance.
For a while, residents felt helpless. No one really knew how to tackle the problem, Johnson said.
Then, in October 2017, the U.S. Department of Justice awarded St. Louis County police a $1 million crime reduction grant. The county has since been planning, talking with residents and accumulating crime data. Now it has an approved budget, a steering committee and a plan of action.
Police tapped Southern Illinois University Carbondale criminal justice and criminology students as research partners. Led by professor Tammy Kochel, they've spent months surveying residents and looking at the number of gunshots recorded by the ShotSpotter system — a gunshot detection sensor — and analyzing the number of calls to police. The researchers will measure crime again next spring and again in the spring of 2021.
"My hope would be that we would see illegal dumping go down, see residents take action to address smaller problems, see a reduction in social disorder and a reduced number of shots fired," Kochel said.
The grant will pay for the creation of a community garden tended by residents, a skid loader to clear heavy brush and debris on vacant properties, jersey barriers in front of abandoned homes, and the installation of an electronic message board to broadcast community updates at the entrance to Castle Point park.
It will cover some police overtime and several policing tools, including the installation of a third 360-degree camera on a Castle Point sign post, handheld metal detectors to help police find shell casings, and paper notices with police contact information that can be left on front-door handles.
The grant will also fund the installation of streetlights at 10 locations throughout the community, which the steering committee believes will help cut down on crime taking place in dark areas of Castle Point at night.
"After dark this street is pitch black," said David Whitfield, who moved to the area six months ago and is considering buying a home there.
The new measures add to work done before the arrival of grant dollars: community cleanups, free yoga classes and a Castle Point Facebook page to help residents share information.
"I grew up here, and my heart is here," said Johnson, the community alliance president. She'd like to see even more from the county: a youth center, a food pantry, another basketball court. 
One recent morning, county employees and youth volunteers pulled on work gloves and installed murals on the fronts of three boarded-up houses at the corner of Duke and Duchess drives. Teenagers had painted the St. Louis-themed murals as a part of the St. Louis ArtWorks program. Next summer, Castle Point youth will get the chance to participate.
"The pictures almost look like a dream," Whitfield said, looking at the new murals. "I like that. You can see more than just the humdrum, everyday … It changes your whole perception."
Murals funded by grant help beautify Castle Point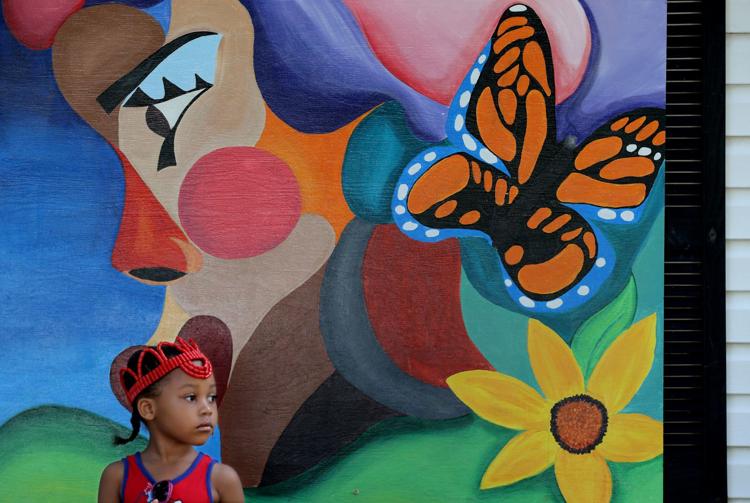 Murals funded by grant help beautify Castle Point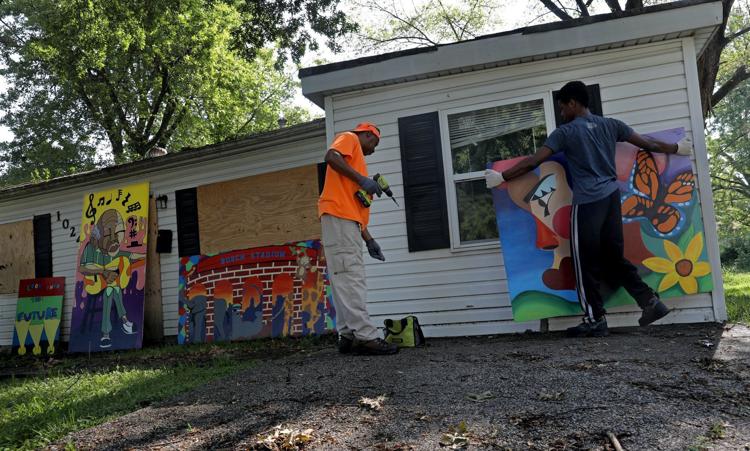 Murals funded by grant help beautify Castle Point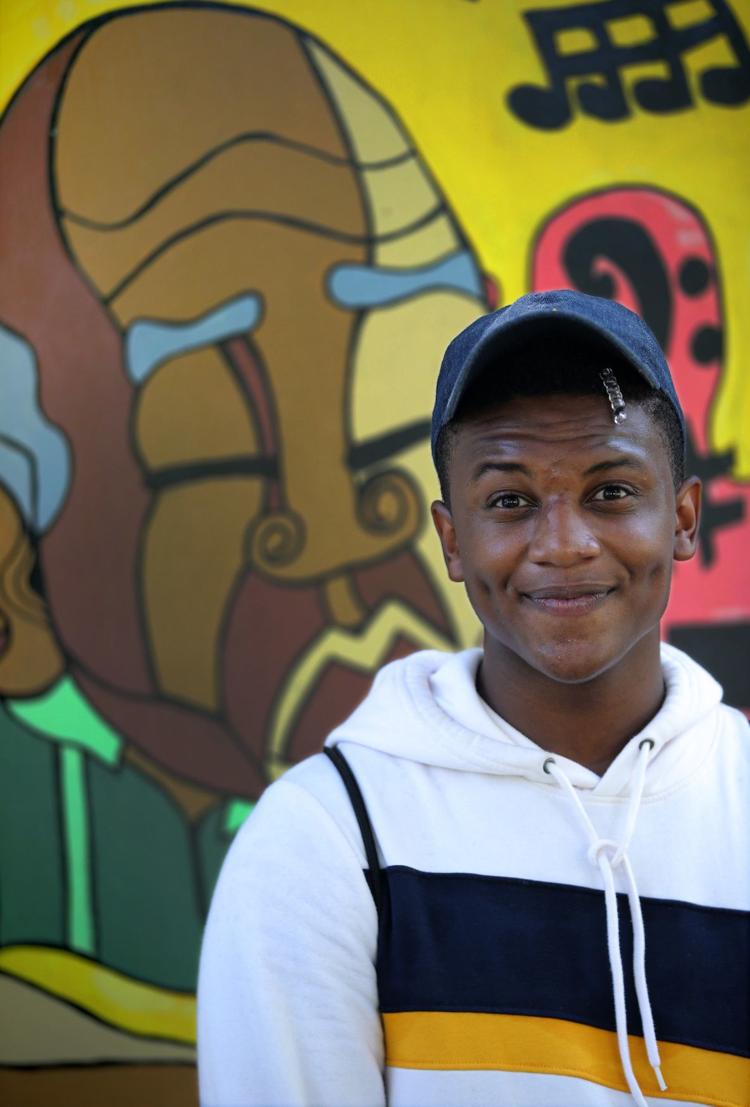 Murals funded by grant help beautify Castle Point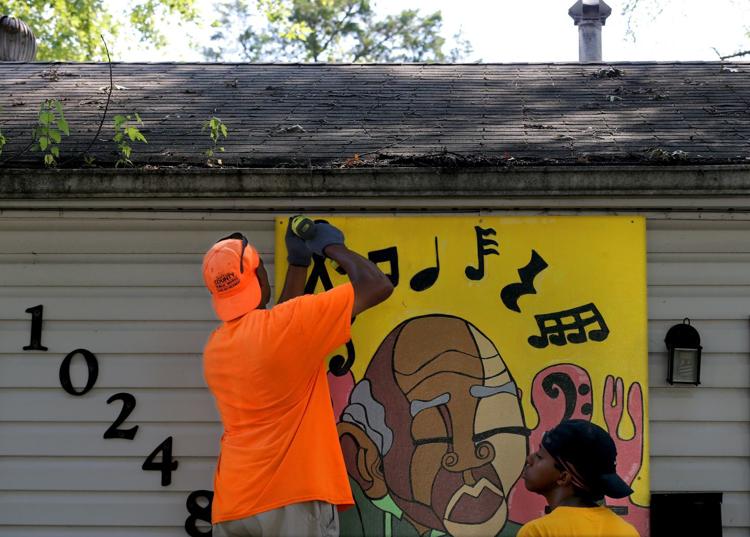 Murals funded by grant help beautify Castle Point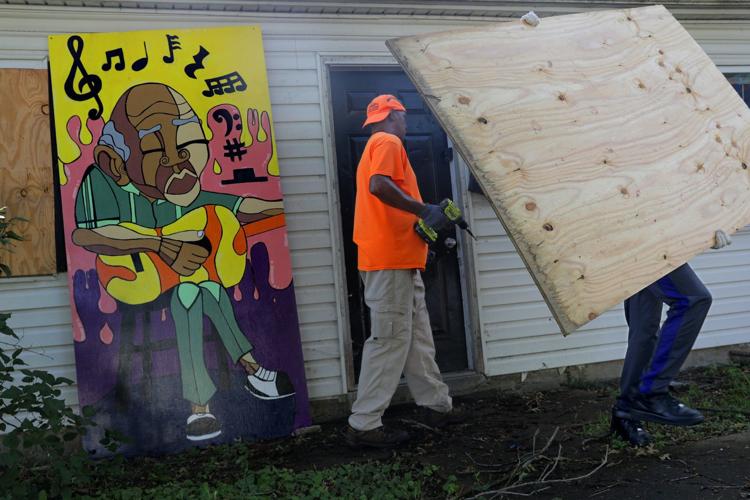 Murals funded by grant help beautify Castle Point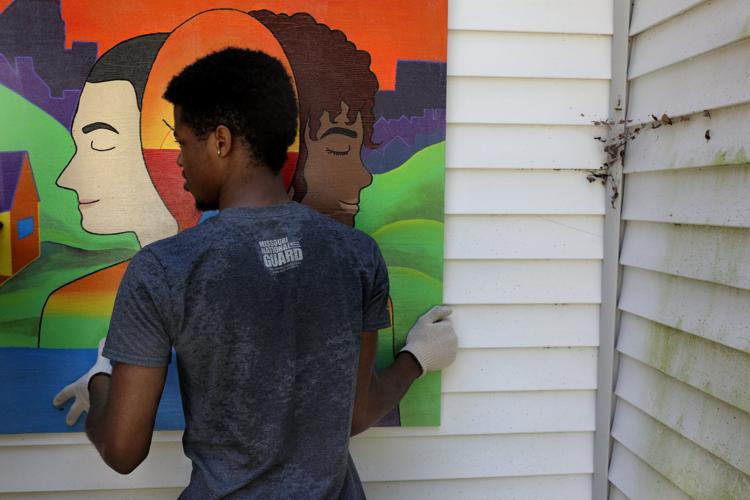 Murals funded by grant help beautify Castle Point
Shonte Jamison's name has been corrected in this story.