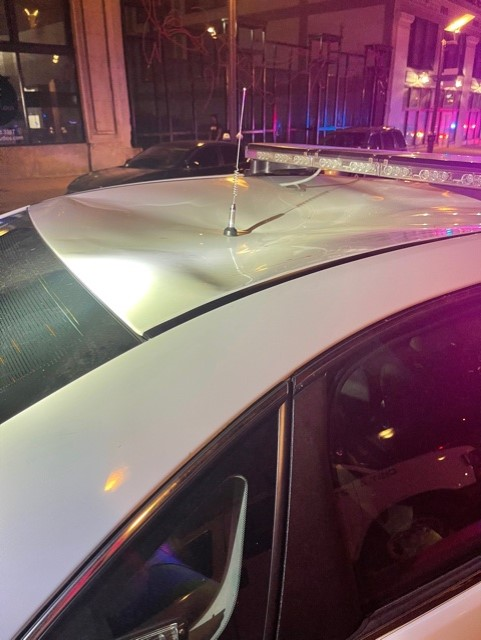 ST. LOUIS — Mayor Tishaura O. Jones said Monday that people in a crowd captured on video surrounding and damaging a St. Louis police car downtown over the weekend will "have to face consequences for their behavior."
The commotion about 2:30 a.m. Sunday was recorded and quickly spread on social media, including one video with more than 40,000 views on Facebook by Monday morning that was filmed by Dwight Taper.
People in the 1500 block of Washington Avenue were shown dancing and jumping on the patrol car and attempting to stomp through the windshield with an officer inside.
"It was just a party that went too far at the end," Taper said Monday, adding that he came downtown for a nightclub event before attending the party. "Everybody was just dancing around the car at first, but then some people got on top."
The patrol car was on scene responding to 13 calls reporting the large party on the top floor of a nearby condo building, police said. Officers attempted to break up the party and more than 100 people began to congregate in the street.
"Everybody was playing music from their cars and dancing in the street," Taper said.
Some in the group then surrounded the police car and stood on its roof. At one point a member of the crowd opened the passenger-side door, police said.
The officer put out a call for aid, and soon multiple police vehicles responded, breaking up the crowd. Police said that a short time later gunshots were fired in the vicinity.
The officer was not hurt but the car had "substantial" damage including a dented roof, police said. No one had been arrested by Monday.
"While I'm thankful our officers responded quickly and dispersed the crowd without conflict or injury, I'm disappointed in those people who will now have to face consequences for their behavior," Mayor Jones said in a statement. "Let me be clear: You can go out and have a good time without all this nonsense. If we are committed to building a stronger city, we need to show some courtesy and respect."
"This is typical of the type of lawlessness that's been going on downtown to some degree for years," Sterman said. "Frankly, I think it's a result of inattention to downtown from the city that people know they won't face consequences."
Sterman's group is pushing for the city to address the late-night problems by adopting a long-term comprehensive plan that includes stricter liquor license enforcement — with special attention paid to nightclubs and the big crowds they draw — traffic calming and attention to short-term rentals that can host large parties.
"Downtown is a precious resource. The city only has one," Sterman said. "We can't let these problems get worse again this summer."
St. Louis police are asking for the public's assistance in identifying those in the crowd Sunday. Anyone with information can call a 4th District detective directly at 314-444-2500. Anyone with a tip who wants to remain anonymous and is interested in a reward can contact CrimeStoppers at 866-371-8477.