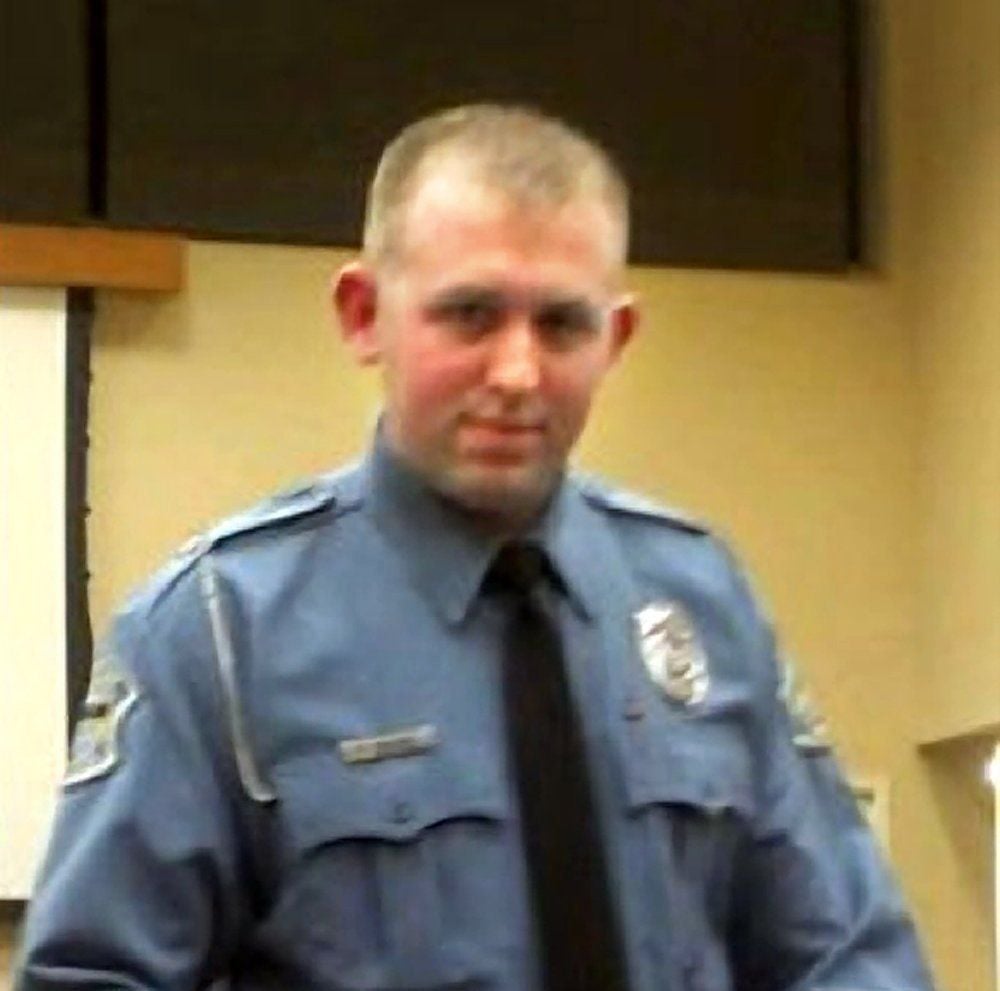 Citing threats of violence, Darren Wilson, who fatally shot Michael Brown Aug. 9, resigned from the Ferguson Police Department on Saturday.
Wilson, 28, whom a St. Louis County grand jury declined to indict in connection with the shooting, had worked for the city's police department for six years.
In a telephone interview Saturday evening, Wilson said he resigned after the police department told him it had received threats that violence would ensue if he remained an employee.
"I'm resigning of my own free will," he said. "I'm not willing to let someone else get hurt because of me."
He said resigning was "the hardest thing I've ever had to do."
Wilson's resignation, which was expected, comes after private talks between his representatives and the police department. The grand jury announced its decision in the case Monday.
Wilson's resignation letter reads, in part:
"I have been told that my continued employment may put the residents and police officers of the City of Ferguson at risk, which is a circumstance that I cannot allow. For obvious reasons, I wanted to wait until the grand jury made their decision before I officially made my decision to resign. It was my hope to continue in police work, but the safety of other police officers and the community are of paramount importance to me. It is my hope that my resignation will allow the community to heal."
Wilson, who was paid an annual salary of $45,302, said he has not received a severance package, although he said he may negotiate with the department in hopes of receiving one. He said he's been told he is not the target of any ongoing internal police investigation.
Ferguson Police Chief Thomas Jackson declined to comment.
Protesters, including Brown's family members, have accused Wilson of murder in Brown's death and called for a special prosecutor to pursue charges against Wilson.
Anthony Gray, an attorney representing the Brown family, said he believes Wilson was acting merely for his own benefit.
"It's probably in his best interest to sever his ties with the Ferguson community, as well as the Ferguson police department," Gray said. "I think this incident has severely compromised his ability to police in the way he was paid to do by the city."
Patricia Bynes, a Democratic committeewoman for Ferguson township who has been active in the protests, said the resignation is too little, too late.
"It doesn't even have the same impact that it would have months ago," she said. "It would have relieved a lot of anger and the pressure in the streets. It's been almost infuriating to get to this point and nothing has changed. There was no accountability and sense of responsibility for what has happened."
Bynes said other people involved in the investigation and its outcome — Jackson, St. Louis County Prosecuting Attorney Robert McCulloch and St. Louis County Police Chief Jon Belmar — should have either resigned or been held accountable.
"Either everybody's an imbecile, or we have some negligence that's going on that's almost criminal," she said. "So Darren Wilson? He's the lowest man on the totem pole."
Protester DeRay Mckesson said on Twitter that he and fellow protesters want an arrest, not a resignation, and that protests would continue. "Darren Wilson is not in jail, as he should be," he said. "His resignation is important but not justice."
The U.S. Justice Department is conducting separate investigations into the killing and into the practices of the Ferguson Police Department. Those investigations are ongoing.
On Tuesday, Wilson told ABC News that Brown was the aggressor in the minutes before the shooting. In an account that generally mirrored his testimony before the grand jury, Wilson said Brown had attacked him while the officer sat in his car, then fled. Wilson said he chased after Brown until Brown turned back toward him, refusing Wilson's commands to stop.
As Brown approached, Wilson said, he warned Brown to stop. When he didn't stop, Wilson repeatedly fired his handgun.
"I had to. If I don't, he will kill me if he gets to me," Wilson said in the televised interview.
Contrary to some reports, Wilson denied he had been paid for the ABC interview. "Absolutely not," he said Saturday. "I wouldn't jeopardize my integrity for a dollar."
He expressed gratitude for supporters, some of whom even offered him a home. "It's been unbelievable the amount of people who have reached out and don't even know me," he said.
Wilson recently was married to another Ferguson police officer, Barbara Spradling, 36. The couple are expecting their first child. Wilson said the department has asked that Spradling, a 12-year veteran, also resign. He said she has so far declined to do so.
He said he had no idea what job he will pursue. "I've got to figure out what do we do now," Wilson said Saturday night. "Right now I would not want to be a cop, but you never know. Only time will tell."
Valerie Schremp Hahn of the Post-Dispatch contributed to this report.
Wilson resigns, protests focus on police department
Protest sprouted up at several locations in the area and focused on the Ferguson police department in the evening after Darren Wilson resigned.