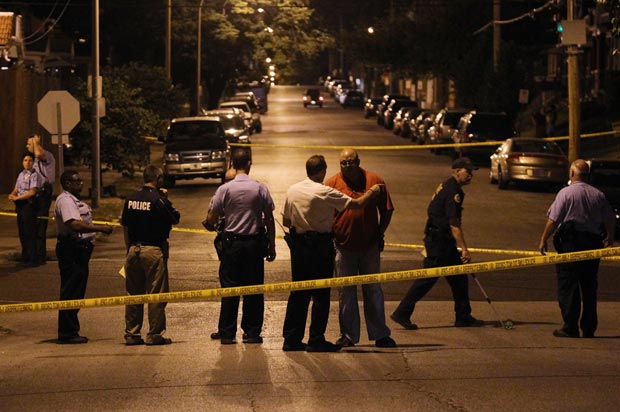 ST. LOUIS • Duane McCoy Jr.'s rap sheet includes multiple charges of unlawful use of a weapon, resisting arrest, armed criminal action and assault on a law enforcement officer. That last one was for firing his gun at a patrolman.
When the 23-year-old racked up his fourth gun charge this spring, a St. Louis Circuit Court judge set bail at $2,500.
McCoy Jr. wasn't able to post it, although it was an amount that many defendants arguably can raise. And it's a far cry from the $30,000 bail routinely set for firearm crimes last year as part of an experiment to crack down on street violence.
With recent high-profile incidents heightening public concern about gun crimes, the city's top cop and head prosecutor complain that use of a tool once embraced with so much promise — setting high, cash-only bail for all weapons offenses — is waning.
But some argue that the two officials are using public fear to promote a program fraught with constitutional concerns.
At the start of this year, crime statistics came in showing the city's homicide rate had dropped sharply in 2011, to a level not seen since 2004. Month-by month totals suggested that the dip began around the time Judge Jack Garvey launched the high-cash-bail experiment in May 2011.
At the time, Police Chief Dan Isom credited the bail program. Garvey cautiously remarked, "Wouldn't it be amazing if it was this easy?" Chiefs from other cities became interested; Philadelphia replicated the experiment.
But it was not all warm accolades here.
Defense attorneys complained that making bail punitive goes against the constitutional presumption of innocence. They say that, by statute, bail should ensure a defendant's appearance in court, measuring specific factors that include criminal, educational and family background.
Defense attorney Robert Taaffe complained then that the judiciary was overstepping its bounds.
"Judges are not supposed to legislate," he said. "It's part of the fundamental separations of power. Judges are supposed to judge on a case-by-case basis."
But Circuit Attorney Jennifer Joyce countered, "When someone has a gun illegally in the city of St. Louis, I think it's entirely reasonable to assume they are a danger to the public."
From a crime-fighting perspective, Isom said the program sends a message to criminals. He said a three-time offender like McCoy Jr. should not have any chance of returning to the streets after being caught a fourth time.
"If people in the community who are doing things illegally know there's no back-end consequence, why wouldn't they just carry guns?" he asked.
Events last month pushed the bail debate back into the public spotlight.
Days after the announcement of a 14.5 percent yearly increase in aggravated assaults, a 23-year-old St. Louis University alumnus was fatally shot while sitting in her car in the Central West End. Authorities charged two men in what they believe was a botched robbery.
Suddenly, it seemed that everyone was talking about gun violence — and not just in the context of a study, based on 2009 FBI figures, saying Missouri leads the nation in homicides among young black men.
Isom, while acknowledging the work facing his own department, faulted a "watered down" approach to gun bails since January, when the normal court rotation moved Garvey and Judge Barbara Peebles out of the divisions that see the initial phases of felony cases.
Joyce complained that Judges Philip Heagney and Paula Bryant, who took over, "haven't been proceeding with the same intensity."
But Taaffe pointed out there is no cause-and-effect link. With aggravated assaults up, he said, "Now they are saying, oh well, we're going to blame the judges for not following the policy? Instead of acknowledging the policy doesn't work, they need to blame somebody."
He added that nobody is talking about the negative consequence: more pretrial defendants in the overcrowded jails.
Crime statistics requested more recently from the Police Department show that while homicide numbers also have crept up, they are still 11.5 percent lower than at the same time last year.
And while aggravated assaults with a gun showed a steep 19.7 percent increase from last year to this, it's only about a 2 percent increase from the same time in 2010. The numbers suggest that some of what has been feared to be a new problem is actually part of the normal ebb and flow.
Jens Ludwig, director of a research group called the University of Chicago Crime Lab, said he had never heard of anything quite like the St. Louis bail experiment. He said he expects results will mesh with research that says swift and certain punishment is more effective than longer prison terms.
Meanwhile, Heagney and Bryant both insist they are following the same practice as their predecessors.
The judges say they initially set the high bail but later consider reductions based upon statute. Both emphasized that bail, by law, must be set on a case-by-case basis.
Bryant, who handles initial felony appearances, said the majority of her defendants — including those accused of gun crimes — are ultimately released under supervision.
She could not explain why she did not set an initial high bail with McCoy. She pointed out that as she expected, he was unable to post even the $2,500.
Heagney, who handles felony cases after indictments are issued, said he also sets the $30,000 cash bail for all gun defendants, with exceptions to comport with the law.
He said that if research can prove that high gun bail is part of the answer, he's eager to hear it.
He emphasized: "We just really need to figure out healthy ways to deal with this — to convince people in general, and in that community in particular, that living by the gun is a really bad, destructive way to carry on your life."