Updated at 11:30 p.m. with new information about the same car being involved in a run-in with protesters.
ST. LOUIS • Veteran Democratic fundraiser Matthew Lieberman has been charged with multiple felony gun crimes after allegedly firing a handgun and shouting racial slurs at eyewitnesses at two businesses Tuesday.
Lieberman pointed a handgun at someone at the Amoco gas station on Skinker Boulevard and Highway 40 (Interstate 64) while using racial epithets just after 11 p.m. Tuesday, according to court documents. He then allegedly fired multiple shots at the building from his car.
In court documents, investigators said surveillance footage showed Lieberman with the gun, and bullet casings at the scene matched the make and model of bullet casings found in Lieberman's car.
Less than 15 minutes later, Lieberman was at the Jack in the Box on Hampton Avenue, shouting racial epithets at maintenance workers, according to court documents. He fired a gun several times from a Mercedes sedan, the documents say.
John Remstedt, the owner of Grease Masters, a company that cleans kitchen exhaust hoods, penned a Facebook post saying his workers were attacked and shot at while working overnight at the Hampton Avenue restaurant on Tuesday.
"My crew is fine, just a little shook up," he wrote. He did not return requests for comment.
Lieberman, 38, was arrested Wednesday and now faces charges of unlawful use of a weapon and armed criminal action. One weapons charge includes a hate crime enhancement, with officers reporting that Lieberman's "conduct and use of epithets indicate his actions to be motivated by race."
Bail was set at $250,000. Court records say Lieberman lives in the 5600 block of Pershing Avenue in St. Louis.
Lieberman, who is white, heads two fundraising firms: Majority Strategies LLC, and RAL Strategic Investment Group LLC. He's been a longtime fundraiser for Democrats in Missouri, including former St. Louis Mayor Francis Slay.
Records from the Missouri Ethics Commission also indicate Lieberman has recently worked with Florissant Mayor Tom Schneider.
Lieberman's name is listed on an invitation for a September fundraiser for St. Louis County Executive Steve Stenger. Stenger spokesman Ed Rhode said Lieberman provided administrative help for the man hosting the fundraiser, that he had no role in Stenger's campaign and had not been paid by the campaign.
According to other court records, Lieberman and his then-wife sued a doctor in 2016, claiming that while treating him for chronic back pain, the doctor overprescribed opiate pain relievers. Lieberman became addicted, and suffered "immense mental and physical distress" in a rehab program, the documents say.
The doctor and the hospital denied Lieberman's claims. He later dropped the lawsuit.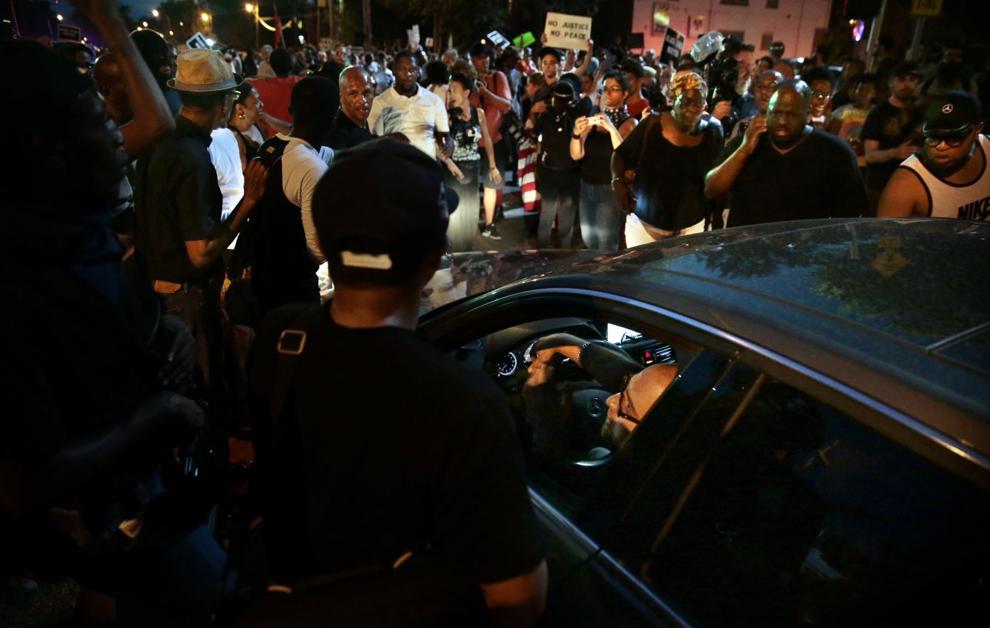 The same car that Lieberman was driving on Tuesday also was apparently involved in an incident during a protest related to the Jason Stockley verdict. The driver maneuvered the Mercedes through a crowd of marchers on Forest Park Parkway on Sept. 16. Protesters reported that the driver was armed. No one was reported to be injured in the incident.
Robert Patrick, Jeremy Kohler and Robert Cohen of the Post-Dispatch contributed to this report.