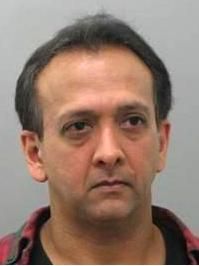 CLAYTON • Ashish "A.J." Jain was so drunk on a December afternoon in 2010 that he was unaware of slamming into two cars as he was leaving a McDonald's drive-through in Des Peres.
When police arrived at the McDonald's at 12120 Manchester Road, paramedics pulled Jain from his Infiniti and put him on a stretcher because he couldn't stand on his own, a police report says. In the Des Peres Hospital emergency room, Jain wept, denied being in an accident and told police they were "destroying his life." He then offered the cops $1,000 cash if they would let him go, according to the report.
Doctors took a blood sample from Jain that showed a blood-alcohol content of .426, more than five times the legal limit to drive a car, according to the police report. A blood test by Des Peres police about three hours after the crash showed a blood alcohol of .39.
Jain was charged with DWI — for at least the fifth time in Missouri and Illinois since 1986. But until Friday, Jain had never spent one day in prison.
Jain, 47, of the 2400 block of Barrett Heights Drive in Des Peres, was charged as a chronic offender in St. Louis County. It was his second felony DWI charge and would have meant a minimum five-year prison sentence if convicted. But St. Louis County prosecutors made a deal with Jain: Plead guilty to a lesser felony and spend four months' prison time that includes drug treatment. If he completes the program, he will be on probation for four years. Judge Richard Bresnahan sentenced Jain Friday.
"That's how the system works — on deals," said Jain's lawyer, Travis Noble.
Noble said the sentence was appropriate and will offer Jain the chance to get help with his drinking problem.
"He's in a position to succeed," Noble said. "If he doesn't, then he goes to prison for four years."
Jain's case is another instance of how chronic DWI offenders in Missouri can cut deals and avoid long-term prison time. His sentence comes just a few weeks after another chronic drunken driver, Ricky Weeden, 54, of St. Louis, was charged with murder for leaving the scene of a crash that killed a 4-year-old boy in Pagedale. The Post-Dispatch found about 150 arrests on Weeden's record including 11 DWI arrests. Weeden was also blamed in a 1983 crash in St. Louis that killed two people but he received only traffic ticket for careless driving.
Prosecutors accepted a plea deal in Jain's case because records of Jain's first misdemeanor DWI in 1986 are either missing or destroyed, said a spokesman for St. Louis County Prosecutor Robert P. McCulloch. That means prosecutors weren't sure if Jain was adequately represented by a lawyer in that case. Also, the spokesman said, because Jain's fourth DWI was reduced to a misdemeanor, his latest case represents his first felony conviction.
McCulloch couldn't be reached for comment.
Jain told police he is a graduate student taking classes through a medical school in St. Lucia, a Caribbean island. In his most recent DWI arrest in Des Peres, Jain told police he had been studying for an exam and "never" sleeps. He also told the officer he thought it was 10:30 p.m.
It was actually 2:30 p.m.
Asked the day's date, Jain said he thought it was Oct. 18.
Jain "apparently fell asleep or passed out while at the drive-thru window and accelerated forward," striking a car waiting to pull out onto Manchester Road, the police report says. Jain then reversed and backed into a parked car.
Police found a nearly empty .375-liter bottle of Popov vodka in Jain's coat pocket. Jain told the officer he had only had a couple beers at his house about 2 p.m. but stopped drinking "a long time ago."
Jain's Missouri driving record reveals his decades-long pattern of drunken driving that includes DWI arrests in 1986, 1996, 1998 and 2000. His license has been revoked since 1998.
Before sentencing Friday, Jain told an acquaintance sitting next to him in a courtroom he was ready get his sentence over with. His said his two young children think he is going back to school in the Caribbean.
Because of previous convictions, Jain was supposed to have an ignition lock that requires a sober driver to blow into the device to start it. The car Jain was driving at the McDonald's drive-through belonged to someone else and did not have such a device.
DWI HISTORYJain's 1986 DWI stemmed from a minor crash in Hazelwood. According to police reports, Jain rear-ended another car on I-270 near Highway 67. He had a .14 blood-alcohol content and told police all he could remember was the car spinning around. Jain pleaded guilty to a misdemeanor and paid a $300 fine, according to court records.
In 1996, St. Louis County police stopped Jain for making a U-turn on Big Bend Road near Highway 141. Inside his car, police found an empty 40 oz. bottle of Milwaukee's Best Light beer, three empty beer cans and an unopened six-pack of beer. Jain said he had been out drinking at a bar with friends. He refused a breath test and was arrested. He pleaded guilty to a misdemeanor and served three months' probation.
Jain got another DUI in May 1998 in Johnson County, Ill. State police stopped him on Interstate 24 for speeding and weaving. Court records say he blew a .15 on a breath test, pleaded guilty to a misdemeanor, and was sentenced to perform 100 hours of community service and pay a fine. He spent two days in jail.