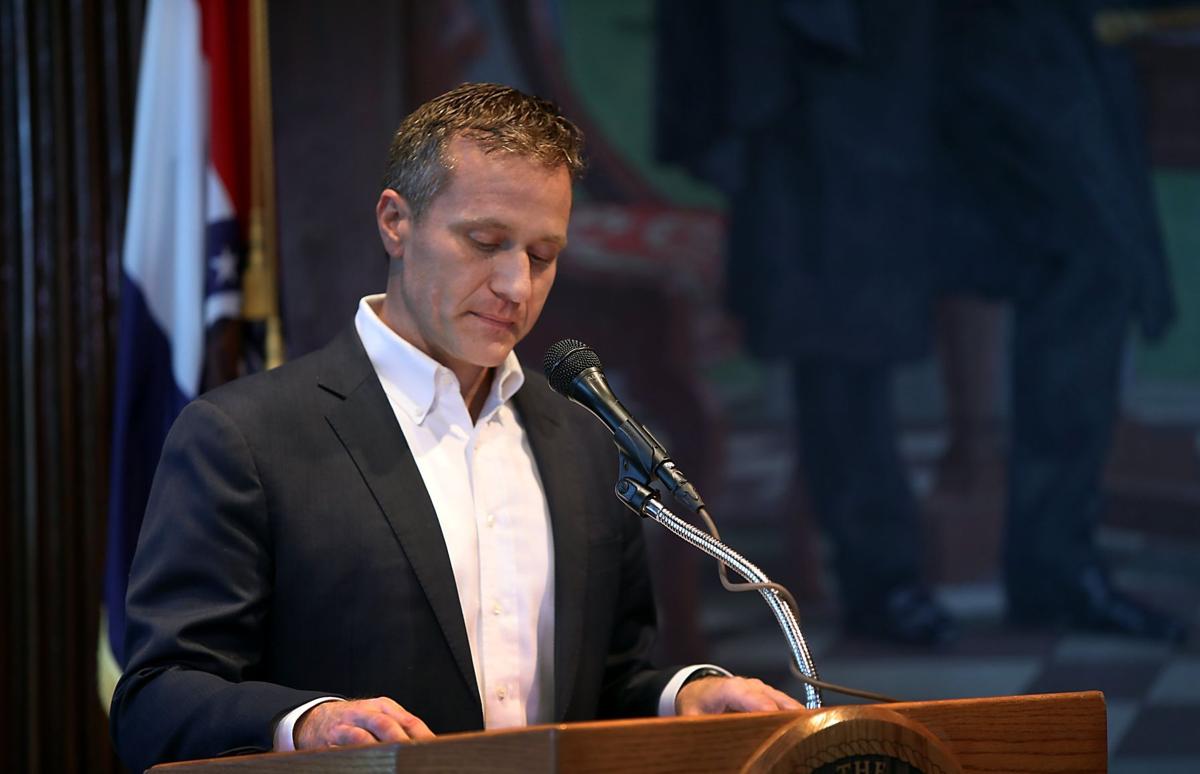 In January 2019, the Navy found itself in a tough spot.
Former Navy SEAL and Missouri Gov. Eric Greitens wanted to be reinstated to military service. He hadn't applied yet, but the Navy had received word the request was coming.
Greitens had been charged with a felony in 2018 connected to allegations of violent sexual misconduct. Though the charge was ultimately dropped, the Navy wasn't ready to welcome the former governor back at a time when the military was facing intense criticism over its response to sexual assault in its ranks.
It was after the intervention of Vice President Mike Pence's office that Greitens was allowed to return as a reservist, the documents show.
The experience forced a wider look within the Navy at how it handles misconduct — and in Greitens' case, could have resulted in the former governor facing charges for rape or sexual assault under the Uniform Code of Military Justice.
"Since he was in the IRR (Individual Ready Reserve) at the time, we had no recourse. If he were in the AC (active component), or even RC (reserve component) on active duty, we would have gone after Art 120 [Article 120 of the Uniform Code of Military Justice, rape and sexual assault)," Navy Vice Adm. Robert Burke, then chief of Navy Personnel, wrote in an email dated May 24, 2019. "But for a Reservist not on orders, or the IRR, we have no authority — it's like holding a civilian accountable. How could/should that have been accounted for in the administrative move from IRR to (Selected Reserve)?"
The behind-the-scenes tussling over allowing the former Missouri governor back into the Navy was revealed in more than 850 pages of documents provided to The Star on Friday through the Freedom of Information Act.
The revelation comes at a time when Greitens, who resigned from office in June 2018 in the face of likely impeachment and pending criminal charges, is trying to rehabilitate his image with regular spots on Fox News and ads on social media.
'Major misconduct'
Greitens' possible reinstatement came to the Navy's attention Jan. 7, 2019.
"Possible High Vis Recruit Candidate," Burke wrote to the Navy's recruiting command, after getting a request from the Pentagon's Under Secretary of Defense for Intelligence & Security, retired Vice Adm. Joseph Kernan, to review Greitens for reinstatement.
Burke noted that in his own cursory review — based on Wikipedia — he saw some cautionary flags based on the accusations of sexual assault Greitens faced in the months before he resigned from office.
"I have an opinion, and am feeling no pressure to do anything but what we think is the right thing for the Navy — so that's the lens I'm asking you to look through."
The Navy and the SEALs did just that, and found they didn't want him.
"I would be disinclined to grant a major misconduct waiver for anyone with an indictment such as his based on what we know now," Rear Adm. Brendan McLane, then commander of Navy Recruiting Command, wrote in an email dated Jan. 11, 2019.
"I have granted a few felony waivers so far, but these were way down on the scale of offense — taking a relative's car out for a joy ride, getting in a fight at school (in some places those are felonies) etc. The sexual nature of the charges are not in line with our Navy Core Values, and the campaign finance violations not only do not inspire trust and confidence in his integrity but also represent a real risk from a security clearance perspective."
As for the SEALs, "he would not meet criteria for re-entry to the SEAL community given his age and unfavorable promotion likelihood," McLane found. "Informally, the SEALs told us they won't take him."
McLane's conclusion: "If the subsequent investigations confirm what we know now, I cannot see a situation in which I could sign any waivers in good conscience."
As documents show, McLane's objections would quickly be reversed as political pressure intensified.
"I spoke with Vice Chief, VADM (Ret) Kernan, and then (redacted) on Saturday. Some updates on (redacted) status that I think will make waivers unnecessary, and he understands SEALs not an option," Burke wrote Jan. 28. "Also some interest from VPOTUS office, possible BNR (by name request) coming in."
By that evening, McLane had notified Navy leadership he'd be calling Greitens to get his reinstatement underway.
In a Jan. 30 email summary of that call, McLane wrote "He (Greitens) was appreciative of our help. He told us that VPOTUS had asked him to come work for him on a project and suggested he do it in a Navy capacity. He said that he desired to reaffiliate as a SEAL or reserve Intel officer. Already know the answer from the SEAL community, so we will dissuade him from that," McLane wrote.
Greitens and Pence have political ties through Nick Ayers, a GOP strategist who ran Greitens' 2016 gubernatorial campaign and served as the vice president's chief of staff for two years.
Ayers was also connected to dark money nonprofits that helped bankroll Greitens' successful run for governor., and his protégé continued to serve Greitens as a chief political strategist long after Ayers began working for the vice president.
'Fully exonerated'
In an email statement to The Star, Dylan Johnson, Greitens' spokesman, said the former governor has been "fully exonerated, and is proud to continue to serve in the Navy Reserve."
Johnson went on to criticize the prosecutor who filed two felony charges against Greitens in 2018, St. Louis Circuit Attorney Kimberly Gardner, noting that her lead investigator in the case was indicted on charges of perjury and evidence tampering.
Despite the fact that The Star's inquiry was based on official Navy documents obtained through a request under the Freedom of Information Act, Greitens' spokesman accused The Star of "pushing false stories on behalf of leftists and insiders" by asking about the comments from Greitens' Navy superiors.
Pence's office did not respond to a request for comment Friday afternoon.
Once the vice president's support weighed in, the Navy worked quickly to bring Greitens back, despite McLane's initial strong objections.
"Long story short, VPOTUS wants (redacted) to come work for him in D.C. but in a military capacity," the executive assistant for Naval Recruiting Command, whose name was also redacted, wrote Feb. 13. "The whole chain of command from SECDEF on down are supportive of him coming in so we're just trying to make this as painless and quick as possible."
McLane's assistant concluded, "I can tell you personally that, short of mad cow disease, RDML McLane is standing by to approve any needed waivers!"
"(Redacted) will receive a red carpet physical at 0800 on Friday, 15 February," Navy Recruiting District St. Louis wrote, where Greitens reported for commissioning. "Once he has cleared medical I will work with CDR Long to put a bow on this."
On March 5, Burke let then Chief of Navy Operations Adm. John Richardson know it was done.
"The former Missouri Governor and a former Navy SEAL has successfully re-joined the Navy as a reservist," Burke wrote.
The Navy continued to struggle with what his role should be as of late May, and whether Greitens was to be pulled into the administration.
"He has alluded to VPOTUS throughout the process, but has been very cagey in all of his discussions with us," McLane's executive assistant wrote to the command May 24. "I tried to draw him out on the subject a few weeks ago, but all he would say is that he wanted to affiliate with NOSC St. Louis and then be available to be assigned to Washington D.C. for work with the National Security Council. We have received nothing more on that front."
Avalanche of scandal
Although Greitens' time as Missouri governor was short — only 17 months from inauguration to resignation — it was marked by nonstop fights with his fellow Republicans and a deluge of allegations of corruption largely stemming from his reliance on anonymous campaign contributions routed through secretive nonprofits.
The most explosive scandal, and the one that resulted in many of his fellow Republicans calling for his resignation or impeachment, involved allegations by a woman with whom Greitens had a brief affair in 2015.
She testified under oath that Greitens taped her hands to pull-up rings in his basement, blindfolded her, spit water into her mouth, ripped open her shirt, pulled down her pants and took a photo of her to use as blackmail to keep her from talking about their relationship.
Greitens was also accused by then-Attorney General Josh Hawley of committing a felony by illegally taking a donor list from a veterans charity that he founded in 2007.
Both allegations led to felony charges in early 2018, one for invasion of privacy and one for computer tampering.
The invasion of privacy charge was dropped during jury selection when a judge agreed to allow Greitens' attorneys to call the prosecutor as a witness. A special prosecutor decided against refiling charges.
Greitens' attorneys negotiated a plea deal with Gardner to drop the computer tampering charges in exchange for him resigning as governor, which he did on June 1, 2018.
Because a host of other allegations contained in the campaign finance complaint were dismissed by the ethics commission when they announced the massive fine, Greitens declared himself exonerated and began a tour of conservative media.
In the months that followed, he became a regular guest on Fox News and other conservative media outlets, sparking speculation that he was considering a return to politics — perhaps with a run for governor this year. He ultimately never filed paperwork to enter the Republican primary.
In March, after the COVID-19 pandemic reached Missouri, Greitens organized an effort to deliver protective masks to the Kansas City Police Department and public safety agencies around the state.