WELLSTON • The abrupt end of the Wellston Police Department in a vote Monday night has spawned a new North County Police Cooperative that officials say could spread to cover other small cities.
Shortly after the Wellston City Council voted to disband their police department, Vinita Park police took over patrols of the city. Vinita Park will also take over policing the tiny nearby community of Vinita Terrace starting July 1. And Vinita Park Mayor James McGee says he would like the new cooperative to take over policing in other cities, though he would not say which ones.
"This is the start of a new day," McGee said Tuesday after a news conference to discuss the changes.
The Wellston City Council voted 5-2 in closed session Monday night to disband its police force and bring in Vinita Park officers. The Vinita Park and Wellston mayors had been negotiating the contract for months, according to Vinita Park's police chief. But the move appeared to surprise some, including Wellston's police chief.
The vote ousted Wellston Police Chief G.T. Walker, who led the department for six years, and put Vinita Park Police Chief Tim Swope in charge. It also eliminated 23 police department jobs, including those of 17 patrol officers.
Wellston Mayor Nate Griffin said it was motivated by the need to cut spending for the cash-strapped city.
"With limited resources, I think it is so important for our cities to at least consider collaborating and sharing more resources," Griffin said. "I hope that more of our sister North County cities will consider coming together."
It's not clear how much the move would save Wellston. Vinita Park and Wellston officials would not provide a copy of the contract Tuesday that established the cooperative to patrol Vinita Park, Wellston and start policing Vinita Terrace beginning July 1.
A CASH-STRAPPED DEPARTMENT
Wellston's former chief told the Post-Dispatch that his beleaguered department had been operating on a shoestring budget, forcing officers to buy their own supplies.
"They have to purchase their own guns, their own ammunition, their own bulletproof vest, everything," he said. "The only thing they received from the city was a badge and an ID card."
But Walker said he believes the decision to dissolve his police force boiled down to dirty politics. He accused one particular councilwoman of leading the charge because, he said, she was angry at police for arresting her son. On Monday morning, she was arrested, too.
That council member, Janet Dixon, was arrested on suspicion of being in possession of a defaced firearm after the county's drug unit and federal authorities searched her home Monday morning, officials said. She was released pending charges at 3 p.m. Monday and got to Wellston City Hall in time for the vote to disband the police force four hours later.
Dixon did not respond to several attempts by the Post-Dispatch to reach her for comment.
Griffin said disbanding the department was a tough decision necessary to save money by pooling resources and not the result of a "personal agenda." Griffin said the decision was difficult for him because "there are some good people who worked in our department, several I consider friends."
Councilwoman Linda Garner, who opposed the move to disband the department, said she was angry the changeover was made in haste without public discussion.
"Vinita Park was in place before we could get out the door," she said.
Vinita Park has a population of about 1,800. Wellston's population is about 2,300. They are about three miles apart, and officers leaving Vinita Park's police station would pass through two or three municipalities on their way to Wellston. Both Wellston and Vinita Park are less than a square mile.
Vinita Park has little serious crime compared with Wellston. In 2013, for example, crime statistics show that Wellston had 76 violent crimes compared with Vinita Park's four. That disparity gives Wellston's former chief pause.
"I don't think they do too many shootings or stabbings," Walker said.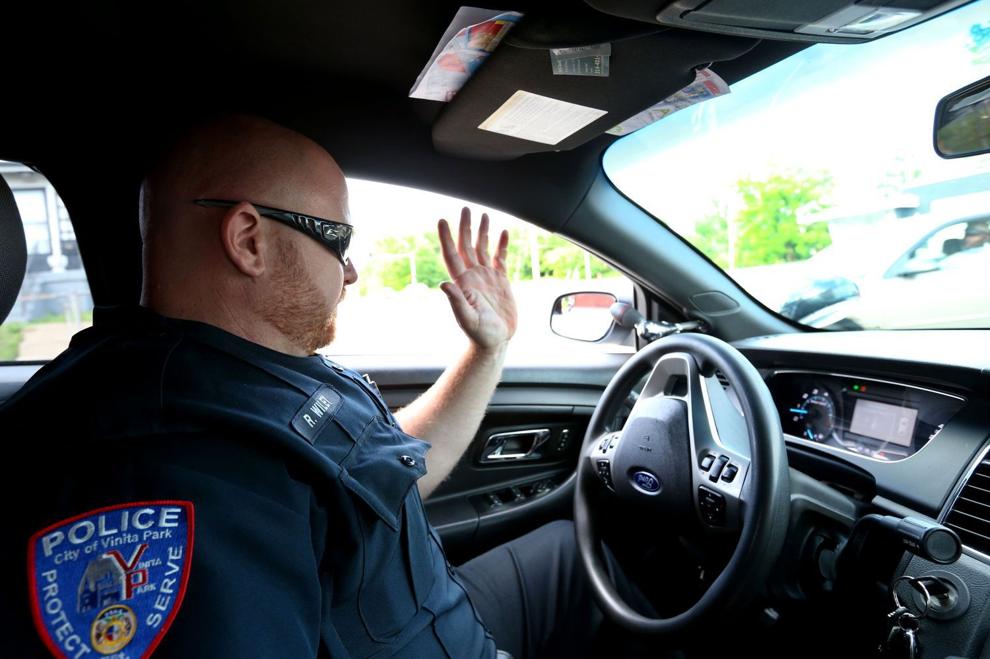 Swope, the chief of the new cooperative, is a well-known name in police and political circles in St. Charles County. He was elected as sheriff of St. Charles County in 2002 and later served as police chief in St. Charles. Swope also announced in 2008 that he would run for a Missouri House seat, but he didn't campaign and lost the race.
He and other officers from the new cooperative spent part of the day in Wellston beginning the takeover.
Swope said 911 dispatch service switched over Monday night within minutes of the signing of a contract between Wellston and Vinita Park. He said an audit of the evidence room and Wellston cases had already begun and that the co-op would work with the county prosecutor's office to follow up with ongoing cases. He said ex-Wellston officers could be subpoenaed to testify in Wellston cases even with the department dissolved. He also pledged "hot spot" policing efforts in Wellston and said he wanted to post school resource officers at schools in the area.
"We're not going to fail," Swope said.
Swope said Tuesday that he expected to add eight to 10 officers to his current roster of 21, and he encouraged former Wellston officers to apply. Swope said new hires would make about $20 per hour and get health insurance and benefits.
The police cars that will patrol Vinita Park, Vinita Terrace and Wellston will be branded with the new North County Police Cooperative name soon, Swope said.
Mark Schlinkmann of the Post-Dispatch contributed to this report.