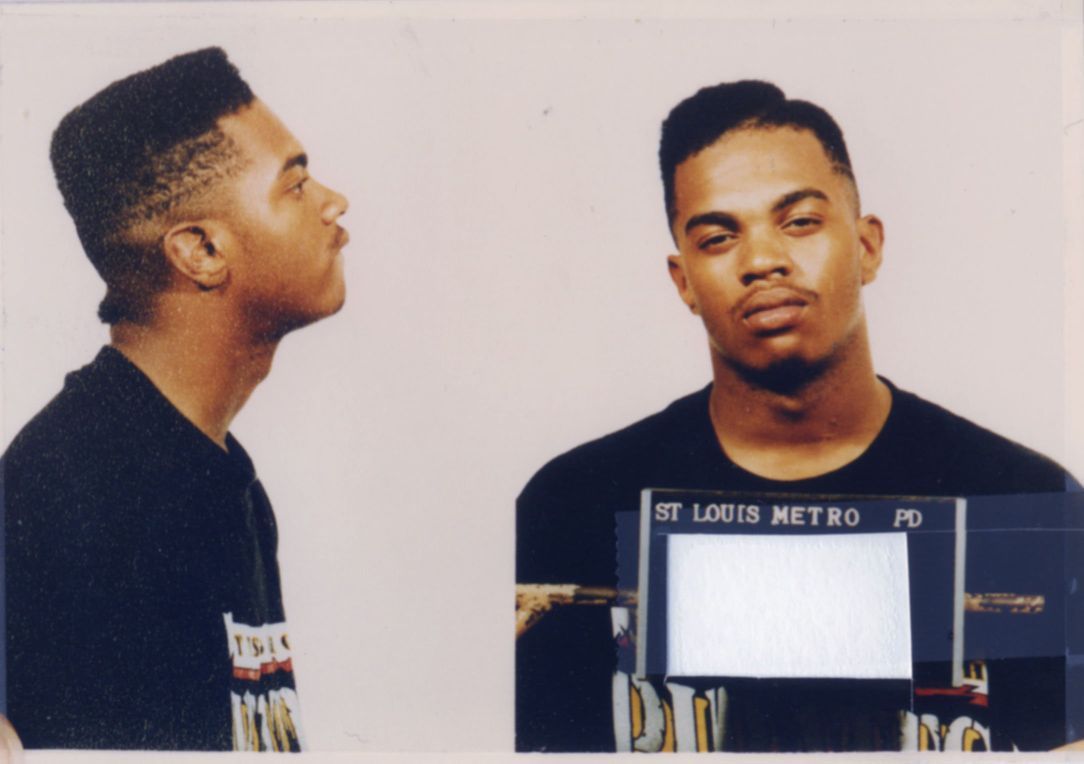 ST. LOUIS • The prosecutor in the 1997 murder trial of Leron Hornaday quipped to the jury that prosecutors wish every crime would occur in front of a busload of nuns — multiple, credible eyewitnesses.
It was meant to acknowledge the limitation of his only eyewitness.
To convict Hornaday, the jury would have to believe a prostitute with a $150-per-day crack cocaine habit, who claimed she was in his car when he pulled over and fatally shot Travis Smith, 16, on March 19, 1994.
If jurors had doubts, testimony from a St. Louis police detective may have allayed them. From the start, he testified, the witness' statements had been "very consistent."
Hornaday was convicted of first-degree murder, robbery and armed criminal action, and sentenced to life in prison.
He has since filed several state and federal appeals — some with a lawyer and some without — but all unsuccessful in claiming that his trial was unfair, and his trial attorney, Frank Eric Rathbone, was ineffective. Rathbone was disbarred not long after the trial for providing ineffective counsel to other clients.
Hornaday kept digging. In 2013, he sent a Sunshine Law request to the St. Louis police for materials from the investigation. What he got back included a VHS videotape of the eyewitness' first interview with police, made three days after the murder.
The existence of a tape — with the witness' own words — had not been disclosed to the defense.
On it, Crystal Thomas, 30, said she was high on crack during the shooting. It shows that from one telling to the next, she was anything but consistent.
The tape contains substantial differences from the version she would tell the jury three years later. Even her characterization of the motive changed.
St. Louis lawyer John Washington, who took Hornaday's case on Jan. 30, said, "I can't tell you if he's innocent, but after looking at the evidence, there is no way he should have been tried and found guilty."
Thomas could not be located for this story. She testified that she was an HIV-positive prostitute who worked in the neighborhood where Hornaday's family lived. His mother said there was word around 2000 that she had died.
Hornaday, now 43, has already lost the argument — in state and federal courts — that discovery of the video was cause for further judicial review. The Missouri attorney general's office argued that Hornaday could have done his due diligence in earlier proceedings. A three-judge panel in the 8th U.S. Circuit Court of Appeals declined to hear his appeal last March.
Washington said he will be starting from scratch with his appeals.
Experts who were asked to consider the case for the Post-Dispatch said the prosecution's failure to provide the tape to Hornaday's defense may be a violation of his right to due process.
"Under the circumstances, if the defense had a tape like that, would the prosecution have even gone forword?" asked Peter Joy, a Washington University law professor. "That tape really undermines the credibility of the witness."
Joy said the conviction should be overturned, and prosecutors given the option whether to retry Hornaday.
"It is hard to say what a jury would have done if (Thomas) had been impeached with the tape, but I think that withholding the tape undermines confidence in the verdict," he said.
The U.S. Supreme Court has made it clear that any evidence that can be used to impeach a witness' credibility must be turned over to the defense.
During a sexual assault investigation in West Virginia in 2006, a police officer saw a letter that could have been used to impeach testimony of the alleged victims. In it, they talked about framing the defendant. The letter was not given to the prosecutor. Courts there denied post-conviction relief, but the U.S. Supreme Court held that the case should be reversed because the letter undermined confidence in the verdict.
J. Gregory Mermelstein, division director for the Missouri State Public Defender's Office, said Hornaday was "an example of a poor person in prison" who needed legal help. But he said his office is too strapped to take on discretionary cases.
St. Louis police did not respond to a request for comment. The circuit attorney's office declined to comment.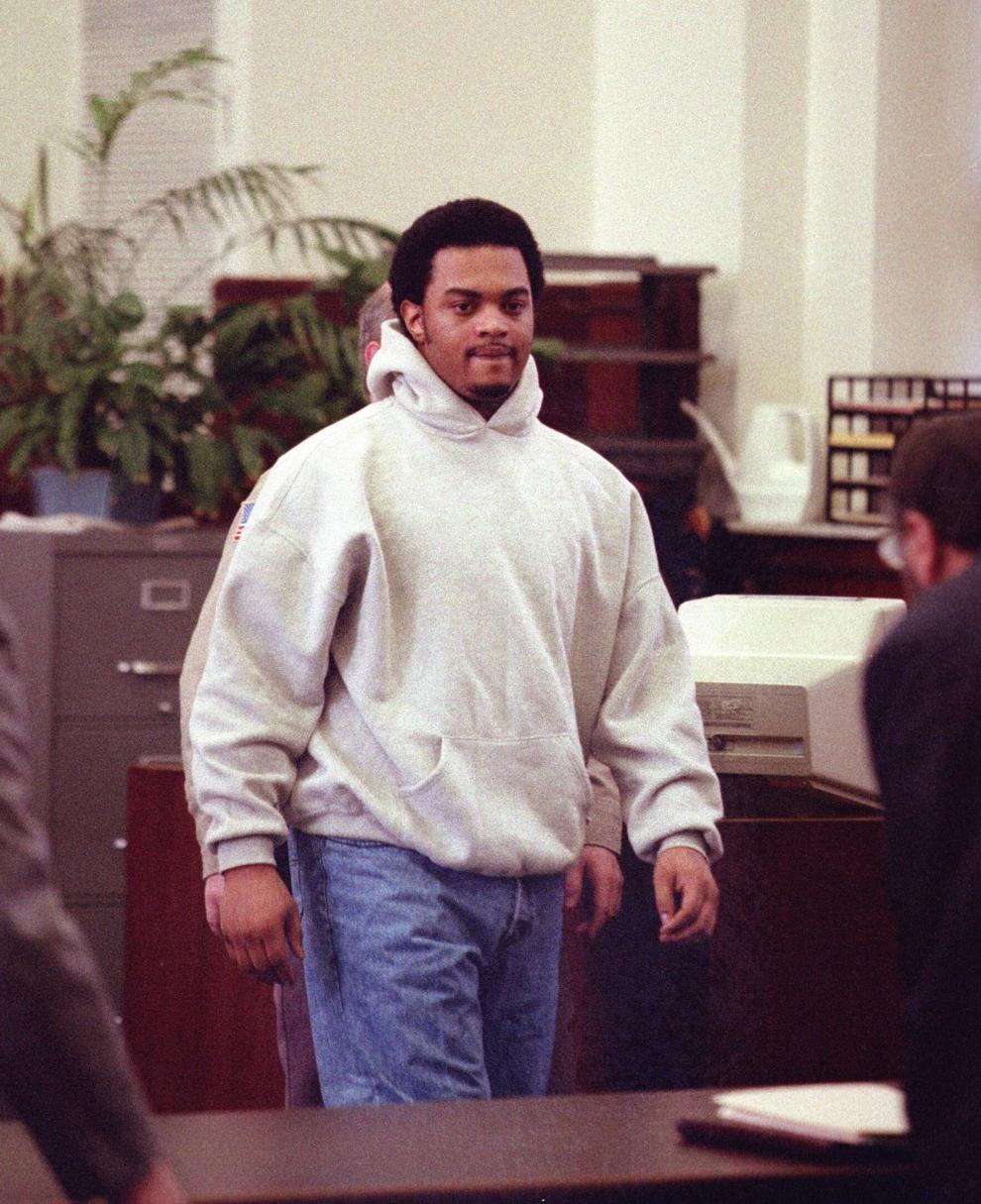 Hornaday and a friend have filed ethics complaints against the prosecutor, Donald Tyson, who has handled thousands of cases over a 33-year career and tried more than 200.
Hornaday alleges that Tyson purposefully withheld exculpatory evidence.
In responses to the Missouri Office of Chief Disciplinary Counsel, Tyson strongly denied any unethical conduct.
He responded that he didn't provide the tape because he didn't know about it; the police department never provided it to him.
"I have never withheld or hidden evidence, and I would never intentionally do so, nor would I ever adduce perjury in order to seek a conviction," he wrote.
Tyson wrote that it's not unusual to find some inconsistencies in a witness' statements.
He noted that Rathbone had a copy of a police report with partial summary of Thomas' statements after the murder, and thus was "in a position to cross-examine Ms. Thomas about that inconsistency."
But a defense attorney cannot typically use statements summarized in a police report to attack the credibility of a witness, experts said. The police report is hearsay — what someone said someone else said.
Tyson also suggested Rathbone could have been better prepared for inconsistent testimony. For example, Thomas made a subsequent statement to police in 1995 that was closer to her trial testimony.
Tyson said he made the audio recording of the later statement and other pieces of evidence available to Rathbone before trial, but he never came to pick them up.
Riding home from church
Travis, 16, had been riding home from a late-night rehearsal for an Easter pageant at his church, Holy Temple Church of God in Christ, in Pine Lawn.
About 2:15 a.m., in the 4300 block of Finney Avenue in the Vandeventer neighborhood, when Travis was only four blocks from home, neighbors heard at least three shots and peered out their windows. He lay dying on the street, the bike gone. He died at Barnes Hospital less than an hour later.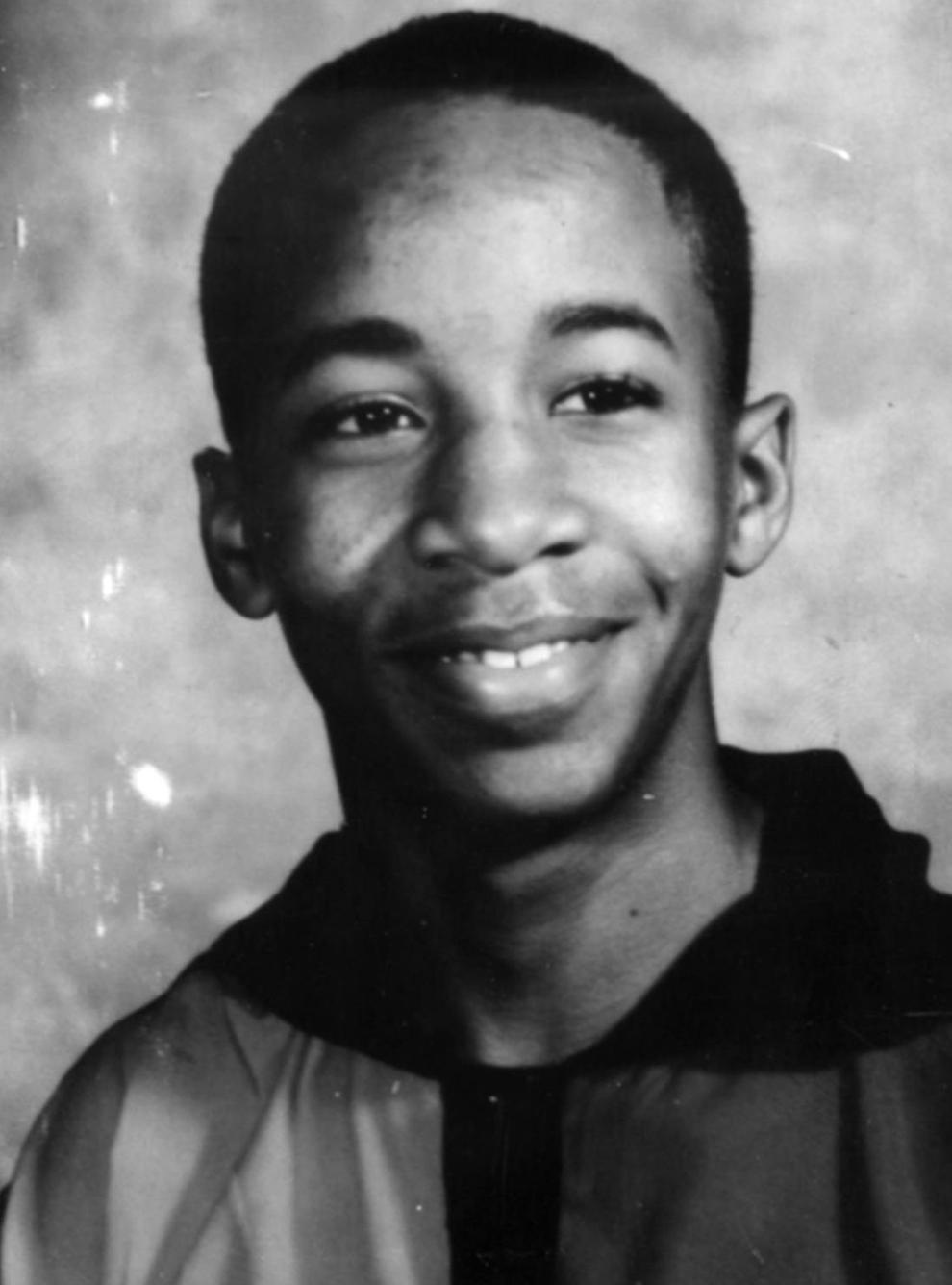 According to a police report, on the night of the murder, Thomas contacted a cousin in the police department to say she had witnessed it.
Thomas testified that the cousin told her, "'Oh, no you didn't.' And I said, 'Yes, I did.'"
She spoke with police on video three days later.
In the recording, Thomas told them she had just made money from a sex act and was walking on Cook Avenue when she flagged down Hornaday, driving a brown Cadillac, to buy $20 of crack. There were three girls in Hornaday's car; she didn't know them. She said she sat between two in the back seat, and one rode in front.
When they saw Travis on the bike, she told police, Hornaday said he would bet them $5 he could take the bike. He headed off Travis, got out of the car and took a gun out of his coat.
"The boy said you can have the bike, I just bought the bike, you can have it," she recalled. When Travis started to run, Hornaday fired four shots, put the bicycle in the trunk and drove off.
She said she didn't see Travis' body on the ground, because "I was high."
Thomas said the gun she saw him use was "big," and explained, "I don't know much about guns."
Based on Thomas' statement, officers took in Hornaday for questioning. They found a .38 caliber revolver under the hood of his car. It was not the murder weapon; Travis was shot with a 9-millimeter. But it established a fact that would hurt Hornaday at trial — he kept a gun under the hood.
Hornaday was released without charges as the police investigation focused on other suspects.
In September 1995, his girlfriend, Valerie Williams, told police the two had discussed the killing and that Hornaday told her it was an accident — he was aiming for someone else who owed him money.
She also claimed Hornaday had bragged about an unrelated 1992 murder. Police discounted it; an arrest already had been made in that case.
Williams says now that she thinks Hornaday made up his involvement in the second case to intimidate her. But she still thinks he killed Travis.
Although the motive Williams described did not match what Thomas had said about a bet and stealing the bike, police arrested Hornaday. The then-chief of detectives, Joe Mokwa, told the Post-Dispatch at the time that Travis was "an unfortunate bystander in a dispute between two men in the drug trade."
The story changes
At the trial in 1997, Thomas' story changed. She claimed she and Hornaday left together from a basement. Instead of three girls she didn't know in the car, she said there was just one she did know — Keesha Hamilton, about 13 or 14 years old.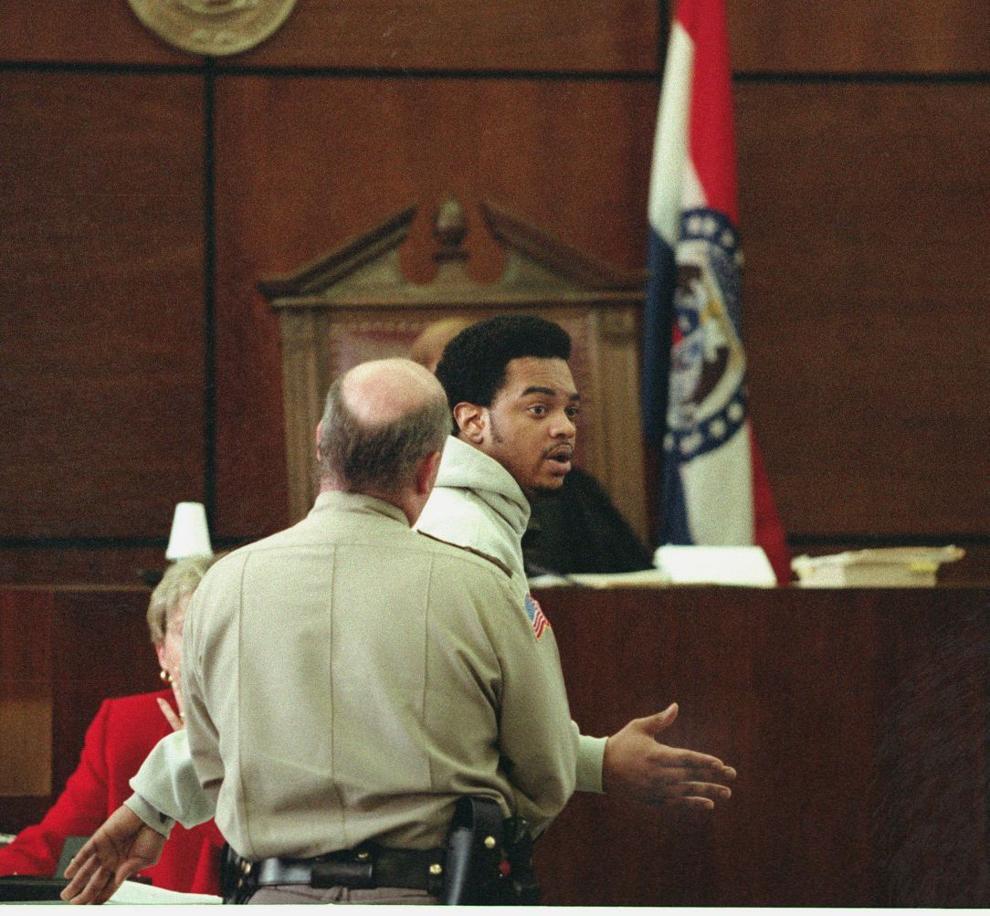 She said that when Hornaday drove by Travis, Keesha said, "There goes the little boy that likes me."
Hornaday's lawyer objected to the questions about his relationship with Keesha.
"It's motive for the crime, your honor," Tyson responded. "At least it appears to be."
The next part of Thomas' statement included two facts that weren't part of her initial statement, but matched what little physical evidence police had collected.
Three days after the murder, she had told police that Hornaday had taken some kind of gun out of his coat. At trial, she testified that he stopped the car and took a 9-millimeter pistol from under the vehicle's hood.