UPDATED Saturday, Sept. 5, with data tables of assaults, robberies.
ST. LOUIS — The spike in crime that had downtown St. Louis reeling in June and July let up slightly in August.
Statistics for the month show 27 aggravated assaults occurred downtown, the most logged for any August since the St. Louis Police Department started keeping track of crime by neighborhood designations in 2005.
It was one more than July's 26 assaults, but only about one-fourth of the large jump — 114 assaults — logged in June downtown.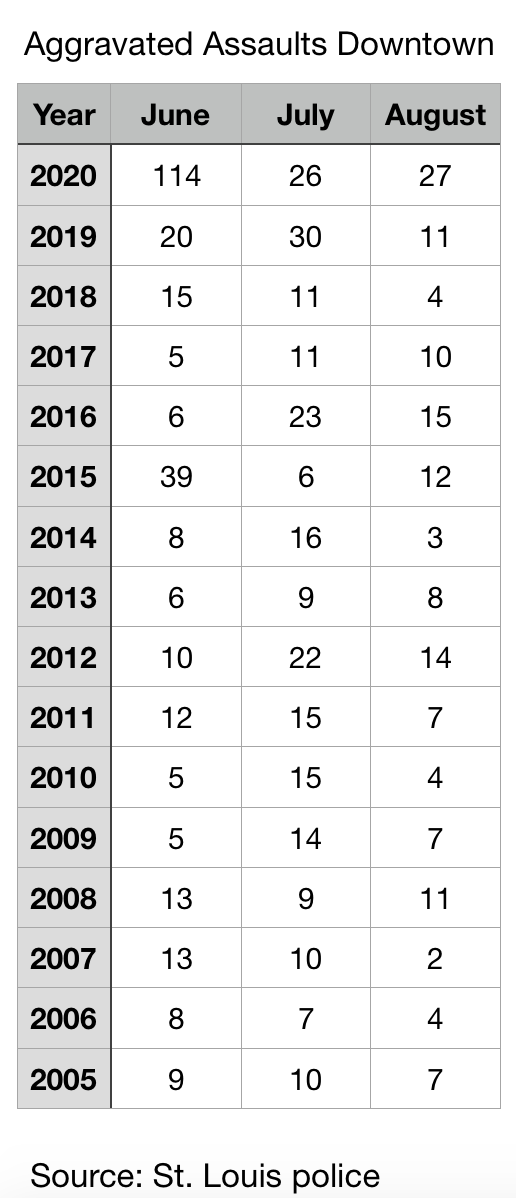 As the number of aggravated assaults downtown continued to mount, there were improvements in other categories of crime. There were 13 robberies recorded last month, representing the third highest of any August on record. But robberies were higher in June (22) and July (18).
The summer has seen a wave of violence and reckless driving downtown, prompting city leaders to narrow lanes, close the Eads Bridge and boost police patrols.
Criminologist Richard Rosenfeld with the University of Missouri-St. Louis noted Friday that while the August numbers are up over last year, they were down considerably from June when street protests were active.
Among the assaults downtown was a shooting Aug. 24 in which two men were critically injured in the 400 block of North Ninth Street. It began when one man tried to rob the other, police said, and they exchanged gunfire. Bullets were sprayed at the Marriott garage, shattering windows.
Later that night, boys who appeared to be 12 to 15 years old robbed a woman of her vehicle at gunpoint at North Sixth and Olive streets.
There were 40 violent crimes recorded for downtown in August, which more than doubled the number for August of last year when there were 18. Police said the latest numbers could fluctuate as investigations reclassify some cases or determine that others were unfounded.
 But there was some good news for the area. Property crimes declined — from 101 in August 2019 to 85 last month. Property crimes include vehicle thefts and burglaries.
After a 17-year-old girl was killed in a collision downtown on Aug. 17, police cracked down on cruising in the area. Over the Aug. 21 weekend, police said officers recovered six guns and made several arrests and had a minibike, ATVs and other vehicles towed.
Police were more hands-off earlier in the summer because of the pandemic, Capt. Renee Kriesmann said. To slow the spread of the virus, the police force went to "no self-initiated activity for six weeks," the district police captain has said. Officers were told not to make the pedestrian stops or traffic stops they normally would unless a serious criminal act was being committed. Kriesmann said the officers are back to self-initiated activity now.
Kriesmann said the August statistics show that "things are starting to go back down" now that the department has closed some streets downtown and increased visibility of police by using specialized enforcement officers. "From what we can tell, now things are getting better and improving," she said.
This summer's numbers can't really be compared with last summer's because of the pandemic and civil unrest this year, she added.
St. Louis Alderman Jack Coatar, whose ward includes part of downtown, said the August report was promising.
"The stats on robberies and aggravated assaults for August give me some hope that things are improving downtown," he said in an email. "Robberies are down and aggravated assaults remained about the same. It's far from perfect but trending in a positive direction."
He added, "In the last two to three weeks, we've made some corrections in how we're policing downtown. We've finally gotten the attention of the public safety director and police chief. We've finally gotten the resources we've been begging for."
Those resources primarily are more officers to patrol Friday, Saturday and Sunday nights, he said. Coatar said he rode with officers the first Friday night the changes were implemented and said the traffic calming measures and barricades along parts of Washington Avenue cut down on cruising and helped identify people there to "cause trouble."
"We will make some progress in the weeks to come," he said.
Kim Bell covers breaking news for STLtoday.com and the St. Louis Post-Dispatch. Follow her on Twitter here.