CLAYTON — A high-ranking county police commander sued St. Louis County Wednesday for discrimination and retaliation, alleging that County Executive Sam Page bowed to pressure from influential donors and pushed the county Board of Police Commissioners to choose someone else for chief because the commander is Black.
The lawsuit filed in St. Louis County Circuit Court also alleges Lt. Col. Troy Doyle, the only Black applicant among eight, was denied the position because he was outspoken about racial discrimination within the police force.
Page was planning to install Doyle, a 29-year department veteran, as the county's first Black chief as early as 2019, the suit asserts. It cites a series of meetings between Doyle and Page's top advisers along with other influential community members. Those included two people Page would eventually appoint to the police board, as well as a political consultant to Clayton-based health insurance giant Centene Corp., a major corporate contributor to Page's campaign.
But over the ensuing months, Page told Doyle he was facing pushback from unnamed members of the St. Louis Police Foundation and Civic Progress — influential donors to police causes and to political campaigns — who, the suit alleges, didn't want Doyle to be chief because he is Black.
Page said the pushback included disparaging comments about Doyle from "one or two members of the St. Louis Police Foundation" that "shocked" Page, leading the county executive to tell Doyle he felt he was "living in the '60s," according to the suit. Court documents also included comments attributed to two unnamed members of Civic Progress who opposed Doyle as chief and asked Page what he was "going to do about the Black guy."
Ultimately, the suit alleges, Page pressured the police board, an independent five-member panel that included four Page appointees, to support a white chief of lower rank than Doyle, out of fear that Page wouldn't receive campaign contributions from corporate donors if Doyle became chief.
Former county police Chief Jon Belmar announced his retirement in early 2020, and members of the police board voted unanimously March 19 to select Capt. Mary Barton, commander of the West County Precinct, as the department's first female chief.
None of the five police board members who voted for Barton returned a request for comment on the allegations Wednesday.
St. Louis County spokesman Doug Moore declined to comment Wednesday on behalf of Page.
St. Louis Police Foundation Chairman Doug Albrecht denied that his group's members had been involved in the process of hiring a new chief.
"The allegations made about the St. Louis Police Foundation in Lieutenant Colonel Troy Doyle's racial discrimination lawsuit are untrue," he said in a statement, adding that the foundation had never met with nor communicated verbally or in writing with Page about the position.
Civic Progress recently merged with four other regional civic groups to become Greater St. Louis Inc. The organization released a statement Wednesday, saying that Civic Progress was not involved in any internal county hiring decisions.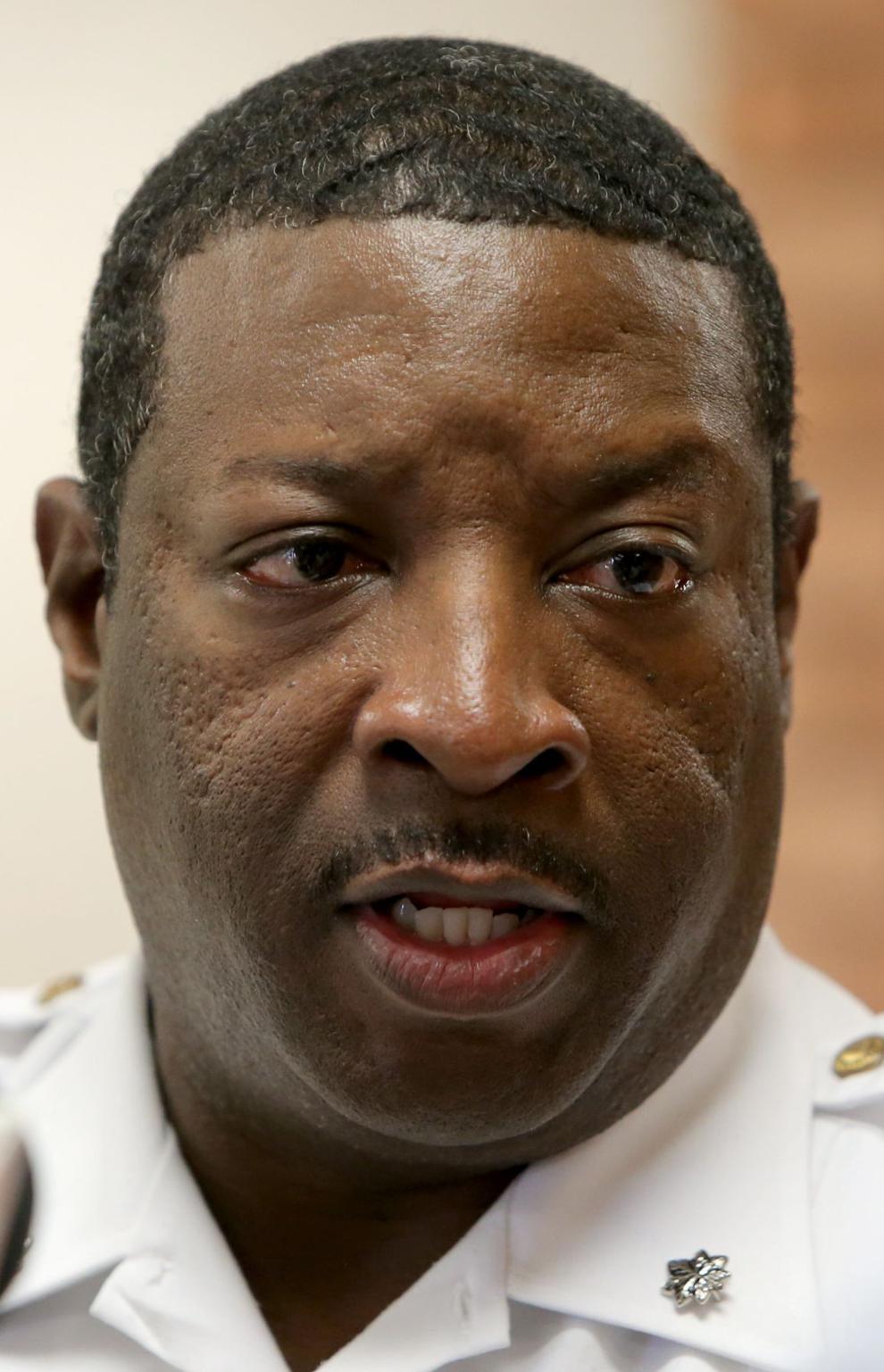 Paving the way
Doyle's lawsuit claims Page had prepped him to become the next county chief through months of meetings with campaign staff and key regional leaders.
Doyle became a well-known public face of the department, taking a key role in leading community outreach after a Ferguson officer fatally shot Michael Brown in 2014. In 2019, then-County Executive Steve Stenger appointed Doyle to help resolve problems at the county jail.
A short time later, Stenger was indicted on federal corruption charges and resigned. Page became interim county executive and invited Doyle to his house to tell him he would appoint police board members who would support Doyle as chief. At the meeting, the suit alleges, Page told Doyle he was "the right person for the job," and his elevation to chief would be "historic" and the right thing to do.
The suit claims Page soon directed Doyle to meet with his political campaign manager Richard Callow and asked him to seek the endorsement of Dr. Donald Suggs, publisher of the St. Louis American newspaper, the region's leading Black-owned news source. Page was planning to run for election in 2020 to complete the term vacated by Stenger.
Page's adviser Winston Calvert then directed Doyle to speak to former St. Louis police Chief Sam Dotson in preparation to become chief. Dotson introduced Doyle to Tom Irwin, then a political consultant for Centene, the suit says.
In October 2019, Page asked Doyle, according to the suit, to meet with two people he was planning to nominate to the police board: William Ray Price, a former chief justice of the Missouri Supreme Court, and Michelle Schwerin, a St. Louis lawyer.
Page later told Doyle both were impressed with their discussions with Doyle. Page appointed both Price and Schwerin to the police board in November 2019, and later added two others, Thomasina Hassler and LJ Punch, with County Council approval.
Over the next year, Page repeatedly told Doyle he would work to "pull this across the finish line," the suit claims.
Pushback
Shortly after Doyle clashed with the county's former police chief, Jon Belmar, the suit says, political support for his bid for chief appeared to dry up.
In December 2019, Doyle butted heads with Belmar over assignments for two Black lieutenants: James Morgan and Ray Rice, the suit claims.
According to the lawsuit, Doyle recommended Belmar appoint Morgan to head the Tactical Operations Unit, which was then under Doyle's command. Instead, Belmar announced a freeze on all transfers within the department, and on Jan. 10 Belmar transferred Doyle to a lower-ranking division, replacing him with Jeffrey Bader, who is white.
On the same day, Belmar or Bader also chose a white lieutenant over Doyle's recommendation of Morgan to command tactical operations, which, the suit claims, violated standard procedure to follow the division commander's recommendation.
That same month, Bader transferred a white lieutenant to replace Rice as commander of the Special Response Unit, and moved Rice to the midnight shift of the West County Precinct, the suit says.
In January 2020, Page told Doyle that Belmar would be leaving soon and asked him to be prepared, the suit says. But before Belmar announced his retirement in February, Page told Doyle he was getting "push back" to Doyle's appointment and was "now having difficulty pushing this across the finish line," the suit claims.
Page told Doyle he was struggling to get corporate donations to his election campaign and asked Doyle in February to encourage Missouri Rep. Shamed Dogan, a Ballwin Republican and member of the Missouri Black Caucus, to urge his donors to contribute to Page's campaign, the suit alleges.
Doyle applied March 10 for the job of chief. Meanwhile, the Board of Police Commissioners lowered requirements for candidates, to include the rank of captain and above.
Doyle's suit says he met with the police board for a total of about 20 minutes, and cites an incident, without noting time or place, in which "a white member of the Board" said the county "did not 'need' a black Chief of Police."
Doyle alleges that after he was passed over as chief, Page's office attempted to "buy off" Doyle by offering him a range of positions in county government.
The suit claims Page's chief of staff, Winston Calvert, offered to create a new public safety director role specifically for Doyle, which he declined.
After Barton's hire, Doyle also got a call from Price, chair of the police board, who asked him to serve as the county police liaison to a corporate-funded, six-month study by a consultant of county and city police, the suit says.
While Doyle considered the role, Page called to urge him to accept the position, the suit alleges. Doyle said he wasn't sure the board would approve him for the position, but Page replied that the "police board does what he tells them to do." A recording of Page's comment dated in June was released to the Post-Dispatch in July. Page said it captured an "inartful" attempt at him trying to convince Doyle to take the role.
The suit claims that after Doyle agreed to the position, Page told him he could not "wait to see the faces of the two Civic Progress guys" who had asked Page what he was "going to do about the Black guy."
Soon after he filed the complaint, Doyle received a text from Moore, Page's spokesman.
"I have a great deal of respect for you and am truly dumbfounded that you would do this to a man who really believes in you and fought for you," according to a text Doyle shared with reporters. "You have hurt a lot of people. Thought you were a good guy. Do you know how many times I've said you are a great guy with an amazing future? I'm really sad that you have treated me this way to extort money from County residents. That is not who you are. Reach deep inside yourself. This is not you. Are you also anti gay and anti women despite your talking points? Were you just playing me, pretending you were cool with gays? My guess is no. You have hurt me and disappointed me. You have no idea how profoundly this hurts me."