An elderly driver in south-central Missouri rear-ended an Amish buggy over the weekend, nine months after smacking another one with her car on the same rural roadway.
In Sunday's accident, four teenagers were hit around 6:30 p.m. as they were heading to a gathering northwest of Licking, Mo. The boys were scraped up but didn't require medical treatment, said Melanie Gray, who gave them a ride home from the crash scene.
"They said it just happened so fast," said Gray, 50. "They were following another buggy for supper. They didn't see who hit them until it was all over."
They saw Clarissa Rose Smith, 83, who was in the same 2001 Mercury Sable that plowed into another Amish buggy Sept. 1, also on Shafer Road. In that incident, Mattie Miller, 29, a pregnant newlywed, was ejected from the buggy and hit Smith's windshield.
Miller was treated and released from Texas County Memorial Hospital in nearby Houston, Mo., but died at home three days later from an apparent closed head injury with significant trauma to the brain, according to the coroner's report.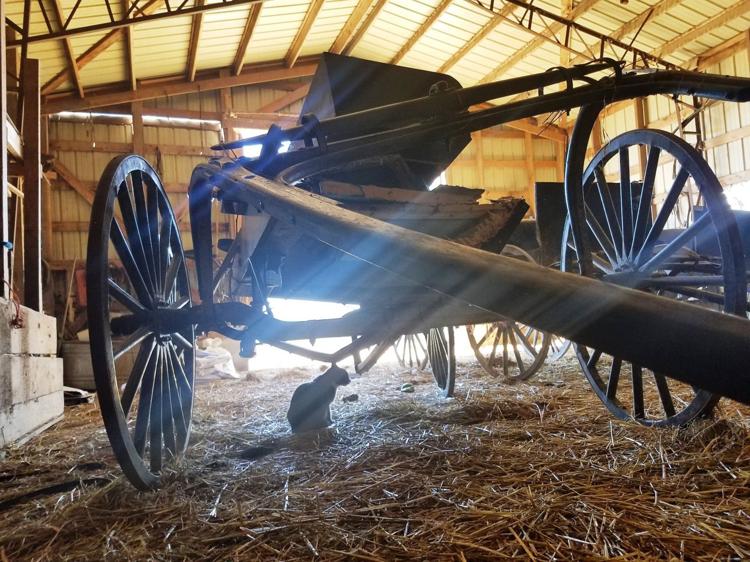 Though nobody was hurt Sunday, the crash was infuriating to Gray and others.
"I am going to make sure as a concerned citizen that, at the very least, she needs to lose her license," said Gray, adding: "It was on a straightaway. You could see both ways at least a half-mile."
Reached by telephone, Smith said she had been on the way to a Sunday evening church service when the second crash happened.
"I didn't see the buggy in time to get around it," she said. "I did cut my wheels, but I had hit them before I could get around them."
She said at least one buggy in front of her took off down the paved roadway after the accident, which knocked out her headlight and damaged the hood. She wasn't sure if it was the same buggy she hit.
"I just remember these guys jumping out," she said.
Smith lives near the accident scenes. Last fall, after the first crash, she told the Post-Dispatch that there could be a lot of buggy traffic in the area.
"It doesn't matter, except they are moving slowly," she said then. "They don't mix with fast traffic, but I guess they have a right to. Before you know it, you are right up on them."
She said she was ticketed in both cases for careless and imprudent driving.
Missouri Highway Patrol Sgt. Jeff Kinder said buggies can be hard to see, but a closer look was merited in Sunday's case, even though there weren't any injuries.
"Since this is her second time, there is going to be some extra scrutiny, I promise you that," Kinder said.
Today, about 35 Amish families are spread across at least 2,800 acres, much of the land contiguous. They have built new homes, barns and sheds that don't have electricity. They have cleared a lot of land for pasture.
Apart from farming rocky ground, it's been a challenge incorporating horse-drawn buggies into the transportation stream in Licking and rural Texas County.
In addition to Miller, 14-year-old Amos Girod died in 2014 after being rear-ended by a pickup while driving a buggy around a bend, just northeast of Licking on Highway C. He died, and two of his younger sisters were injured.
Though Amish aren't known to file lawsuits, in the Girod case a judgment was granted against the pickup driver for about $135,000, some of which covered medical and air evacuation costs, according to court records.
Last month, a $300,000 judgment was granted against Smith for the deaths of Miller and her unborn child. The wrongful deaths settlement was filed on behalf of Miller's widow and parents.
Insurance covered the tab, said Michael McCausland, whose Kansas City law firm represented Smith.
"This wasn't a lawsuit," he said. "This was a settlement that required court approval."