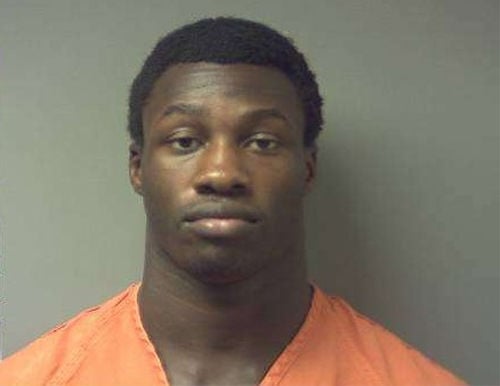 ST. CHARLES • A former Lindenwood University wrestler was sentenced Monday to 30 years in prison for recklessly infecting one sex partner with HIV and risking the infection of four others.
Jurors in May had found Michael L. Johnson, 23, guilty of five felony charges after testimony that included experts in infectious diseases and the men who had unprotected sex with him. One of the men contracted HIV, the virus that causes AIDS.
St. Charles County Circuit Judge Jon Cunningham, who issued the sentence, told Johnson he had committed "very severe" crimes. Prosecutors said he didn't tell the partners he had HIV.
"The main thing is the profound effect your actions have had on the victims and their families," the judge said.
Johnson was given 30 years on the most serious allegation and a total of 30.5 years on the four lesser charges. Those were the amounts of prison time recommended by the jury. Cunningham decided to have the terms on the lesser charges run concurrently with the 30-year sentence.
Earlier in the hearing, one victim warned that Johnson would commit similar acts again if he wasn't sent to prison.
"He will infect people for his own sick purposes," the man said. "He has lost the privilege to be free."
Johnson, in a brief statement, didn't apologize but said "I never want anyone to have to go through the pain" of having HIV.
Johnson's case attracted national news coverage because some gay rights advocates and legal reform groups say HIV criminalization is outdated, in part because of advances in treatment for the disease.
Johnson's attorney, Heather Donovan, made a similar argument Monday.
She asked the judge for a lighter 10-year prison term, saying that contracting HIV "is not a death sentence anymore" and things have changed since Missouri legislators passed the law in the 1980s.
Assistant prosecutor Philip Groenweghe said Johnson deserves severe punishment, saying he lied to his partners that he was HIV-negative. "This defendant was totally irresponsible and placed countless people at risk," Groenweghe said.
Groenweghe also said drugs currently used to deal with AIDS might lose their effectiveness. Moreover, he said HIV can be spread to less developed nations where people don't have access to the drugs available in the United States.
Johnson originally is from Indiana, where he was a state wrestling champion in 2010. Before Lindenwood, he wrestled at Lincoln College in Illinois and was a junior college All-American and national champion there.