ST. LOUIS — A former St. Louis police officer is on trial this week for assault, accused of giving two prisoners a "rough ride" last year during a trip to a police station.
Lori Wozniak, 48, faces two misdemeanor counts of misdemeanor assault in St. Louis Circuit Court.
Prosecutors say that on Aug. 2, 2018, Wozniak slammed on the brakes of a police van, causing two men in the back seat to slide forward into a metal barrier. One of them suffered a cut above his eye.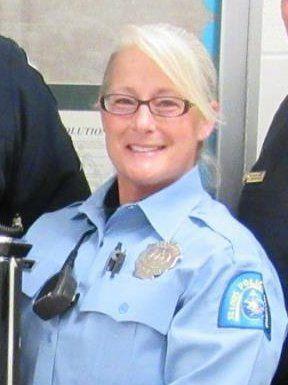 Wozniak was transporting the men, then 19 and 21, to the South Patrol station on Sublette Avenue after officers arrested them at the Kingshighway Baptist Church at 5401 South Kingshighway on suspicion of peace disturbance and property damage, authorities said. The men had allegedly kicked in the plastic glass covering the church's marquee and were fighting.
In opening statements Monday, Assistant Circuit Attorney Jeff Estes said that after the men made obscene comments about Wozniak at the scene of their arrest, she told a sergeant she wanted to drop them off and make them walk home, and stop the vehicle abruptly at every stop sign.
"We have an officer who said she was going to pull up short, her sergeant who told her not to do it but she went ahead and did it anyway," Estes told jurors in opening statements Monday.
Wozniak later lied about the incident by claiming a dog crossed the road in front of her, but in-car cameras contradicted that claim, Estes said.
Defense lawyer Brian Millikan told jurors Monday the men, Timothy Sanders and Matthew Sarich, were "highly intoxicated" after a day of drinking at a baseball game and said "despicable things" about Wozniak. He played down Wozniak's comments to her sergeant as "nothing more than police sarcasm" commonly used when they're "verbally assaulted."
Wozniak's top speed during the seven-minute drive to the station was 34 mph, and down to 14 mph when she hit the brakes and caused the men to slide forward, Millikan said. He said the dash cam and in-vehicle videos, which jurors saw Monday, failed to show anything to the sides of the van, or immediately in front of it.
"You won't hear from any witness who saw what Lori saw that night," Millikan said. "All you have is speculation."
Wozniak left the police department on Oct 30, 2018, a spokeswoman said Monday. Her departure followed an internal affairs investigation of alleged misconduct.
The term "rough ride," refers to the practice of intentionally injuring prisoners by driving erratically while they are handcuffed in police vehicles.
The practice gained notoriety in April 2015 when officers in Baltimore were accused, but not convicted, of giving a prisoner, Freddie Gray, a "rough ride" that resulted in his death.