ST. LOUIS • The former police officer was standing toward the back of the bar, nursing a can of Natural Light, when the crack of gunfire shattered the vibe.
Three armed men barged into Pooh's Corner about 11 p.m. Dec. 2 and ordered everyone to the floor. At least one fired a shot into the ceiling.
The former police officer at the bar shot his .357 Magnum snubnose at one of the robbers standing nearby, hitting him in the eye. The retired cop said the gunman collapsed, and he kicked a pistol away before emptying his cylinder at the muzzle flashes near the front door.
"Instincts kicked in," said the former city officer, 65, of St. Louis. "All of that so-called training kind of evaporates, so I won't attribute it to training. I just attribute it to survival instincts."
One of the armed robbers escaped the shootout and is still on the loose. The former officer, who served in the St. Louis Police Department for eight years in the 1970s, asked not to be identified because he fears retaliation against him or his family.
It was the second time since 2008 that the ex-cop who tends bar part-time at the Carondelet neighborhood tavern opened fire to fight off would-be robbers. Five people were wounded in the latest gunfight at Pooh's Corner, at 6023 Virginia Avenue, including the ex-cop and two of the robbers. A bar patron, Diana Lawrence, 63, of St. Louis, died the next day from a shot to the back of her head. It is not clear who shot her, but witnesses have said Lawrence was sitting at a table with her back to the robbers when she was shot. Autopsy results are not yet available.
"I lost a dear friend," the former officer said. "I believe those men had murder on their minds."
The day after the shootout at Pooh's Corner, prosecutors charged Corey R. Wade, 29, and Derreaun Davis, 20, both of St. Louis, each with 32 counts of first-degree assault, first-degree robbery, attempted robbery and armed criminal action. Wade was shot in his left eye. Davis was hit in the shoulder. They are jailed without bail, and police are still looking for a third suspect.
Murder charges are expected against them when the case is presented to a grand jury.
The bar, which opened in 1990, has long been a popular hangout for off-duty and retired police officers. Pooh's was a nickname for its original owner, but the bar's unofficial slogan is "Police Officers Official Hiding Spot."
The former city police officer left St. Louis University Hospital two weeks ago with his left leg bandaged from the wound. After stopping home to check on his dogs, the officer went straight to Pooh's Corner, where his comrades held a vigil to honor Lawrence's memory.
"It's my place," he said. "I've been going there since the doors opened, and I'm not going to let a bunch of fools run me off."
Deb King, one of the owners of the bar, said the former officer got a standing ovation when he walked into Pooh's Corner two weeks ago to attend the vigil.
"I do believe had he not been there, everyone would be dead," she said.
The bar has now been targeted by robbers three times, perhaps because of its close proximity to Interstate 55. The ex-officer was bartending at Pooh's in September 2008 when Demetric Harbin, then 27, and John Blanchard, then 22, one with a gun, burst in about midnight and announced a holdup. The former cop shot Harbin twice in the buttocks. Blanchard escaped but was caught later. Harbin is serving a 10-year prison sentence; Blanchard is serving a nine-year sentence.
In November 1995, an off-duty St. Louis narcotics detective wrestled with a robber at Pooh's and was hit in the forehead with the barrel of a sawed-off shotgun. The detective then pulled a pistol from his jacket and fatally shot the robber, Anthony Bickell, 18.
The former officer in this month's shooting has fired his gun more as a private citizen than during his time with the force.
"I had a lot of encounters, but I never had to use it (as an officer)," he said.
After he left the police department in 1978, he ran his own bar in south St. Louis for about four years before working on the assembly line for General Motors for more than two decades.
Pooh's regulars have not shied away, though people seem to be on guard, said King, who owns the bar with her husband. They've put in new carpeting and soon will replace the front door, which has two bullet holes in it, to erase reminders of the shooting. Since the shootout, the bartender is buzzing people in for added security. King said her regulars thanked her for not canceling Pooh's annual Christmas party last weekend.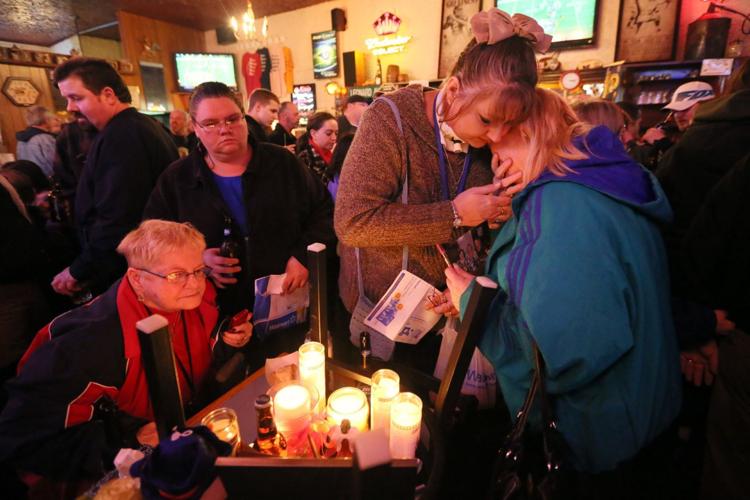 "They needed that," she said. "They needed normal in their lives. Everybody has really pulled together."
The former officer says he wants to return to his part-time bartending job at Pooh's soon, but hit a setback this week when his wound became infected, sending him back to the hospital for treatment. King said she'll welcome him back, but not until he is cleared by his doctors.
"I think he saved everyone's life," she said.
But he insists his actions were not heroic and hopes he never has to fire his gun at anyone again.
"Everybody tries to hang this hero tag on me, but I'm not," he said. "I'm just me, and I did what I needed to do. I hope I saved lives, but I lost one, and that hurts."