WELDON SPRING • A home with prime views of the third and fourth holes at Whitmoor Country Club has been vacant for two years because of a creepy crawly problem.
The home was infested with between 4,500 and 6,000 brown recluse spiders, according to one estimate.
The previous homeowners abandoned the 2,400-square-foot atrium ranch after years of pesticide treatments couldn't curb the invasion.
The home went into foreclosure and hasn't sold, apparently because no one wanted to live with its history.
Blue-and-orange striped tarps covered the house this week as an exterminator blasted the spiders and eggs with 200 pounds of sulfuryl fluoride gas, pumped in at 67 degrees below zero.
The spider problem started in October 2007, shortly after Brian and Susan Trost bought the home at 84 Gillette Field Close, according to testimony at a civil trial. The Trosts had purchased the home, built in 1988, for $450,000.
Susan Trost testified she was walking through her new home, exploring it on her first day there, when she noticed a large, stringy web wrapped around one of the light fixtures.
It hadn't been there on the walk-through date.
Neither had the webs in the bar area in the basement. In the kitchen, she tugged on a piece of loose wallpaper, and a spider skittered behind it.
She thought the home probably just needed a thorough cleaning, so she got to work.
In the following days, she saw spiders and their webs every day. They were in the mini blinds, the air registers, the pantry ceiling, the fireplace. Their exoskeletons were falling from the can lights. Once when she was showering, she dodged a spider as it fell from the ceiling and washed down the drain.
A month after living in the home, her 4-year-old son screamed frantically from the basement, and Trost saw a spider, about the size of a half dollar, inches from his foot.
Instead of smashing it, Trost trapped it in a plastic bag and looked it up on the Internet. It was a brown recluse.
Trost testified she contacted a pest control company that came in on a weekly basis, spraying the interior and exterior and setting down sticky traps.
Since brown recluse spiders often live behind walls, she hired someone to come in and remove drywall so the exterminator could spray behind it.
She hired another company to remove the insulation from the attic and put down a pesticide powder.
"After the attic treatment, it seemed to help for quite a while, although we were still capturing them," she testifiedd. "It just was a decline; they weren't gone."
In 2008, the Trosts filed a claim with their insurance company, State Farm, and a civil lawsuit against the home's previous owners, Tina and David Gault, for allegedly not disclosing the brown recluse and other problems with the home.
At a jury trial in St. Charles County in October 2011, Jamel Sandidge, a biology professor at the University of Kansas, described the brown recluse problem at the Trost home as "immense," between 4,500 and 6,000 spiders.
Most troubling was the fact, Sandidge testified, that those calculations were made in the wintertime, when the spiders are least active.
Jurors found in the Trosts' favor and awarded them $472,110, but they have never collected.
The Gaults had their defense provided by their insurers, also State Farm. But when the verdict was entered, State Farm claimed the Gaults' policy had no coverage and refused to pay, according to the Trosts' attorney, Thomas J. Magee.
Scott Harper, attorney for State Farm, could not be reached for comment.
State Farm filed an appeal of the judgment, but it was withdrawn in April 2013. The Gaults filed for bankruptcy about the same time. They could not be reached for comment.
The Trosts have since filed another lawsuit, this one against State Farm for failing to pay the claims they initially filed regarding the spider damage.
The couple declined to be interviewed for the story.
Magee said State Farm claims the policy doesn't cover spiders. However, Magee said the exclusion is for insects, and courts in other states have held that spiders are not insects.
In addition, State Farm is claiming that even though the house has thousands of spiders, that does not amount to "physical damage," he said.
After the trial, when the spiders got worse, and State Farm refused to make any payment of any kind, the Trosts felt they had no choice but to move out, Magee said.
Today the home at 84 Gillette Field Close is owned by the Federal National Mortgage Association.
A spokesman for Fannie Mae said having an exterminator treat a home is standard procedure before putting it up for sale. Tim McCarthy, president of McCarthy Pest Control, said he was contacted by the agency to take care of the brown recluse spiders.
Missouri is home to more than 300 kinds of spiders, but according to experts, only two are potentially harmful — the brown recluse and the black widow. Both can inflict bites that can cause severe pain and infection.
Deaths from black widow bites are extremely rare, and are even less likely from brown recluse bites.
But that doesn't stop people from being fearful.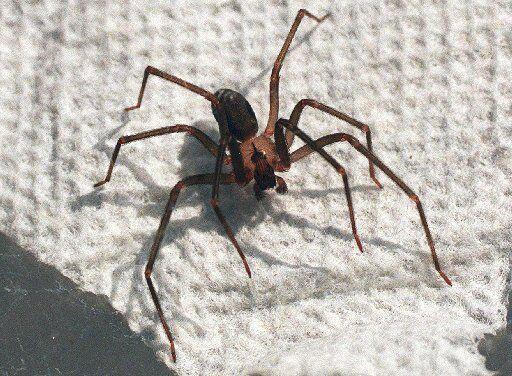 "A lot of the fear is overdone," said Matt Ormsby, naturalist with the Missouri Department of Conservation. "Sure, you need to respect the spider, but a brown recluse doesn't have the bite pressure to make it through our skin, and they are not aggressive."
The spider must be pressed against a person to be able to pierce the skin and get any venom in, he said.
Since brown recluses like to hide in places where humans don't go frequently, like storage boxes kept in the basement, people can get bit if they put on clothes or shoes they've been storing.
"The best way to prevent getting bitten is to shake out your stuff and just frequent cleaning of the house," Ormsby said.
Dr. Alok Sengupta, chair of emergency medicine at Mercy Hospital St. Louis, said the hospital treats spider bites every year, and people are always concerned about whether it came from a brown recluse.
Even if it did, Sengupta said the amount of venom injected is so small, people don't usually have any complications. Severe reactions are rare.
But they include nausea, vomiting, fever and. even rarer, anemia, a drop in red blood cell count and muscle breakdown that can spread to renal failure.
The other thing that people worry about is necrosis, or a breakdown of their skin around the bite. Sengupta said if this happens, a patient may have to see a plastic surgeon for wound debridement and treatment or a skin graft.
Ormsby said a lot of spiders are misidentified as brown recluses. The spider has a distinctive violin-shaped patch on the back of its head, where the legs are attached.
"Missouri has a couple of other species of spiders that also have a violin on their back, but it's facing a different direction," Ormsby said. "On the brown recluse, the main part of the violin is where the head is, and the neck of the violin goes towards the back."
For the past two years, McCarthy has been using tenting and fumigating — a method popularized in the South for eradicating termite infestations — to handle brown recluses, beetles, bed bugs and other pesky problems.
The treatment costs between $5,000 and $30,000, depending on the size of the home. They've used the technique about 20 times and say it has had excellent results.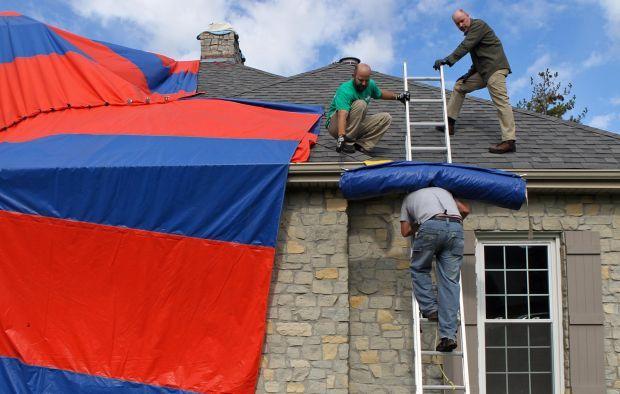 "We create a very hostile environment temporarily inside the home to kill the desired target," said Bob Richardson, staff entomologist with McCarthy.
Spiders are not good subjects to kill with pesticides, Richardson said, because of their body makeup.
"You almost have to contact them with it to get the best results because they do have collagen on the tips of their feet, and they don't absorb pesticides that you lay down."
This week, workers used nine tarps — 15,000 square feet — to cover the home at Whitmoor. They rolled edges of the tarps together and attached them with heavy duty clamps.
They filled the home with sulfuryl fluoride gas that permeated the walls to kill not only the spiders, but their eggs.
"There'll be nothing alive in there after this," Tim McCarthy said.
The tent attracted the attention of neighbor Greg Shockley, who said he has never seen a brown recluse in his home.
James Carrel, professor emeritus of biological sciences at the University of Missouri, said he is not aware of any study ever done about the prevalence of brown recluses in Missouri homes.
"But my experience is that most buildings or houses that are over 40 years old have brown recluses in them — particularly upstairs if there's a second story or in the attic – and new houses that are only 10 to 20 years old may not have them at all," he said.
Carrel said improved construction methods don't allow for many cracks and crevices for the brown recluses to hide in during the daytime.
Other than that, it's a mystery why the spiders inhabit some homes and not others. Picking a fairly new, upscale home as a place to reproduce is "just weird," he said.
"I don't know what to make of it," he said.